Submarine Cables / Câble Sous-Marins
Cartographie- Cables sous-marins en service - Google Fusion Tables. Submarine Cable Map. Greg's Cable Map. MobileMe Gallery.
Articles
TeleGeography. @TeleGeography. Tumblr. Cartographie. Register Register for our free TeleGeography Insider site to access in-depth data and analysis, including webinars, presentation slides, analyst articles, and infographics.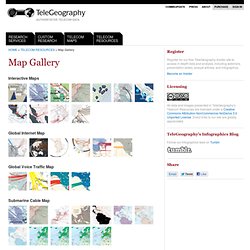 Become an Insider Licensing All data and images presented in TeleGeography's Telecom Resources are licensed under a Creative Commons Attribution-NonCommercial-NoDerivs 3.0 Unported License. Internet Exchange Points Directory. The data provided in our Internet Exchange Points Directory is now accessible via our free interactive Internet Exchange Map.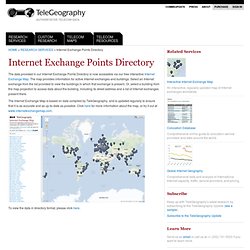 The map provides information for active Internet exchanges and buildings. Select an Internet exchange from the list provided to view the buildings in which that exchange is present.
---