Jeux Vidéos & Free2Play
fs-uae est un emulateur multi-plateformes (sur Linux , mac osX et windows) reprenant les travaux de WinUAE/E-UAE/PUAE en mettant l'accent sur l'émulation des jeux sur lecteur de disquette et CD-Rom. A noter que cette version propose un launcher dédié. Une caractéristique unique est le jeu en ligne. Vous pouvez maintenant jouer à des jeux Amiga contre (ou avec) des amis sur Internet. L'émulateur utilise le dernier code d'émulation Amiga WinUAE du projet et nécessite un ordinateur moyennement rapide avec accélération graphique (OpenGL) pour travailler. Une manette de jeu ou d'un joystick est recommandé, mais pas obligatoire (FS-UAE peut émuler une manette de jeu en utilisant les touches fléchées et Ctrl de droite / touches ALT).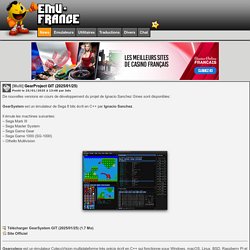 Emu-France.com
DX-Ball Download Page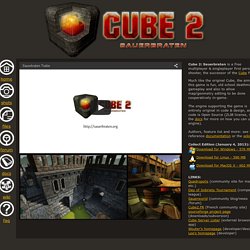 Cube 2: Sauerbraten is a free multiplayer & singleplayer first person shooter, the successor of the Cube FPS. Much like the original Cube, the aim of this game is fun, old school deathmatch gameplay and also to allow map/geometry editing to be done cooperatively in-game. The engine supporting the game is entirely original in code & design, and its code is Open Source (ZLIB license, read the docs for more on how you can use the engine). Authors, feature list and more: see the reference documentation or the wiki. Collect Edition (January 4, 2013):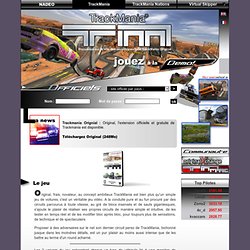 Trackmania
Original, frais, novateur, au concept ambitieux TrackMania est bien plus qu'un simple jeu de voitures, c'est un véritable jeu vidéo. A la conduite pure et au fun procuré par des circuits parcourus à toute vitesse, au gré de blocs insensés et de sauts gigantesques, s'ajoute le plaisir de réaliser ses propres circuits de manière simple et intuitive, de les tester en temps réel et de les modifier bloc après bloc, pour toujours plus de sensations, de technique et de spectaculaire. Proposer à des adversaires sur le net son dernier circuit perso de TrackMania, bichonné jusque dans les moindres détails, est un pur plaisir au moins aussi intense que de les battre au terme d'un round acharné.
Show downloadable content Estranged: Act I Adventure, Free to Play - Released: 16 Jan 2014 Free