Games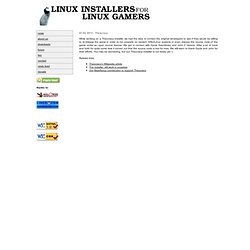 07.02.2014 - Theocracy While working on a Theocracy installer we had the idea to contact the original developers to see if they would be willing to re-release the game in order to run properly on modern GNU/Linux systems or even release the source code of the game under an open source license. We got in contact with Gyula Szentirmay and John Z Vamosi. After a lot of back and forth for quite some time it turned out that the source code is lost for ever. We still want to thank Gyula and John for their efforts.
linux installers for linux gamers
Download
Flux RSS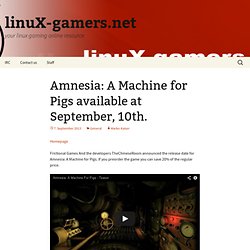 We may always encounter some problems here and there in our daily life, Such as in our life and work, we may need to transfer photos from one computer to another. But the photos were to large to transfer or it was not the suit size we need. So what should we do ? Don't worry. I will bring you a good news. No matter whether you call it a photo, image, picture or graphic, the file size of your photo can sometimes prevent you from uploading, emailing or adding it to a web site.
linuX-gamers.net
Flux RSS
Hi folks, The Linux Game Tome will shut down on April 13. Those of us who have maintained happypenguin.org over the years now lack both the time and the ambition to do what is necessary to keep the site afloat. If you've been paying attention, you've noticed the spam clogging the forums, the lack of updates and the increasing brokenness of the site. The code driving this site, written by a novice web developer in 1999, is sorely out of date.
Cube 2: Sauerbraten Free single and multi player 1st person shooter game with some satisfying fast oldskool gameplay. A large variety of gameplay modes from classic SP to fast 1 on 1 MP and objective based teamplay, with a great variety of original maps to play on. Level editing has never been so much fun: a press of a key allows you to modify the geometry / textures / entities in-game, on the fly.
Cube 2: Sauerbraten is a free multiplayer & singleplayer first person shooter, the successor of the Cube FPS. Much like the original Cube, the aim of this game is fun, old school deathmatch gameplay and also to allow map/geometry editing to be done cooperatively in-game. The engine supporting the game is entirely original in code & design, and its code is Open Source (ZLIB license, read the docs for more on how you can use the engine). Authors, feature list and more: see the reference documentation or the wiki.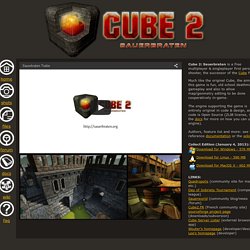 Cube Engine Games
Cube FPS - Gratuit, Shoot 3D Open Source simple et multijoueur
Cube est un "first person shooter" open source. Pour la petite histoire, ce jeu tire son nom de l'algorithme utilisé par le moteur 3D. Celui-ci conçoit en effet les décors comme un empilement de cubes qui peuvent être déplacés ou supprimés au cours du jeu. Ce FPS, basé sur un moteur 3D spécialisé dans les maps d'intérieur, fonctionne en simple comme en multijoueur. Dans ce dernier cas, il faudra lancé le serveur dédié, inclus dans le téléchargement, pour que chacun des joueurs s'y connecte.
Cube stuff by Julien Marodon aka D.plomat MAPS: Island (Preversion):Warning: This is a huge open map with lots of water, so you'll need a good machine to play it. Minimal config for this map is about 1.5 GHz CPU, GeForce3/4. On my config (Athlon XP 2000 with GeForce4MX440), i have an average 50fps and a minimum of 30fps. Download map Download cfg note: The cfg is optional.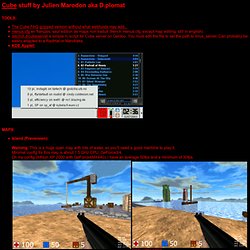 Cube stuff by Julien Marodon aka D.plomat
Linux está siendo cada vez menos ignorado como plataforma de videojuegos. Entre los múltiples proyectos en kickstarter con cliente nativo, el indudable éxito de los HumbleBundle, que hace que los desarrolladores indie con un poco de visión desarrollen sus juegos en la plataforma de pingüino, las impactantes notícias de que tanto Valve como Steam están buscando desarrolladores de Linux para portar el motor Source, en el caso de Valve, y la plataforma Steam, así como la liberación, a no mucho tardar, del código fuente del famosísimo motor id Tech 5 (Rage, Doom 4), ofrece un panorama bastante alentador para aquellos usuarios del ecosistema libre. Hoy me he enterado por reddit, que Oxeye Games ha lanzado la versión nativa para GNU/Linux de su título RTS Harvest: Massive Encounter.
Tux Juegos
A comprehensive database both in french and english for native Linux games, with videos and reviews. This database also integrated emulators, engines and other tools for the design of Linux games. Two versions are available (online and offline), it's open source and free (CC-BY license) ! (« Home » button on the upper left for the English version) Le Bottin des Jeux Linux (onglet « Online ») présente 3150 jeux Linux et 540 autres logiciels en rapport (moteurs, émulateurs, interfaces, …).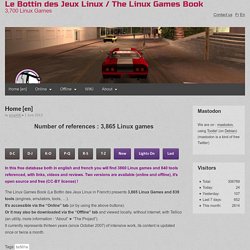 Jeux sous Linux
PlayOnLinux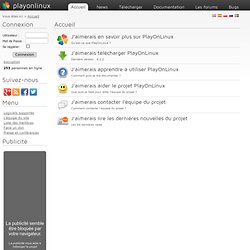 Qu'est-ce que PlayOnLinux ? PlayOnLinux est un logiciel vous permettant d'installer et d'utiliser facilement de nombreux jeux et logiciels prévus pour fonctionner exclusivement sous Windows® de Microsoft®. En effet, à l'heure actuelle, encore peu de jeux vidéo sont compatibles avec GNU/Linux, ce qui peut être un frein à l'adoption de ce système. PlayOnLinux apporte une solution accessible et efficace à ce problème, gratuitement et dans le respect du logiciel libre. Quelles sont les caractéristiques de PlayOnLinux ? Voici une liste, non exaustive, des points intéressants à connaître :
Installation de PlayOnLinux Nous allons partir d'un cas précis sous Ubuntu. Tout d'abord, il convient de rechercher et d'installer le paquetage correspondant à notre distribution. Soit en passant par le gestionnaire de paquets Synaptics, en saisissant dans l'espace de recherche le mot-clé "playonlinux" et "Appliquer".
PlayOnLinux - PlayOnMac : utiliser des logiciels Windows sous Linux et MacOS : PlayOnLinux : Mise en route et cas pratique pour une "application supportée"