Games
linux installers for linux gamers
Download
Flux RSS
linuX-gamers.net
linuX-gamers.net | your linux gaming online resource by sirchamallow Jul 17
Flux RSS
Cube 2: Sauerbraten Free single and multi player 1st person shooter game with some satisfying fast oldskool gameplay. A large variety of gameplay modes from classic SP to fast 1 on 1 MP and objective based teamplay, with a great variety of original maps to play on.
Cube Engine Games
Cube FPS - Gratuit, Shoot 3D Open Source simple et multijoueur
WTF: Those are Q2 models, with the skin converted and renamed to: skin.jpg. I separated the sounds, as using them in Cube requires some coding. Use: To test a model, you need to unpack it's zip into an existing monster dir in packages/models/monster, after making a backup of the monster's dir, as this will overwrite it's files. note: Those can't be used for the Hellpig , as it uses non Q2-standard animations frame numbers.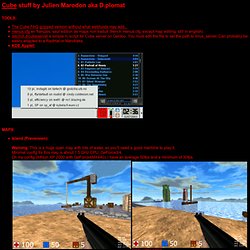 Cube stuff by Julien Marodon aka D.plomat
Tux Juegos
Jeux sous Linux
Gaming On Linux
PlayOnLinux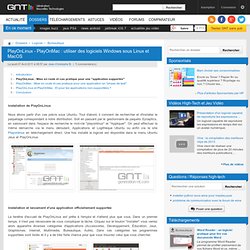 Installation de PlayOnLinux Nous allons partir d'un cas précis sous Ubuntu. Tout d'abord, il convient de rechercher et d'installer le paquetage correspondant à notre distribution. Soit en passant par le gestionnaire de paquets Synaptics, en saisissant dans l'espace de recherche le mot-clé "playonlinux" et "Appliquer".
PlayOnLinux - PlayOnMac : utiliser des logiciels Windows sous Linux et MacOS : PlayOnLinux : Mise en route et cas pratique pour une "application supportée"