Ext.Chrome
G+ Count in Title
Greatly improves readability on Google Plus, ability to star posts to read later and some other useful features ==== IMPORTANT ====== Last google update broke the extension, a fix is coming soon ==== IMPORTANT ====== This extension improves readability on Google+ and adds some useful features. Bigger screenshots Album available here : https://plus.google.com/photos/100331338428465688037/albums/5635490207023418321 Design : - small CSS changes that put the focus on the content, separating visually posts and comments, improving design on the profile page. - post infos showing up on rollover only Features : - The notification bar stays at a fixed position on top so you'll never miss a notification again ! - Displays a direct link to mute post (very handy) - Ability to star a post so that you can read it later !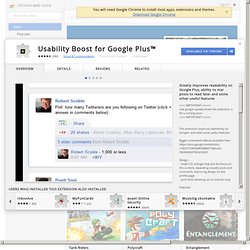 SGPlus
Downloading and watching videos direct from your phone can be quite an enjoyable experience, especially during one of those days when you have nothing but time on your hands and you just want to lie down on your bed, relax and be entertained. In order for you to download and watch videos uninterrupted from your phone, it is important to use video applications which allow you to download and stream videos live. These apps ensure clarity in terms of audio and video because the last thing you want when you are watching is video is poor/low quality sound and distorted picture. To avoid this, the following is a collection of the best apps for live streaming videos from your mobile phone: • YouTube mobile app This mobile video application makes it extremely easy to upload, live stream videos and manage your YouTube account, all while using your mobile phone.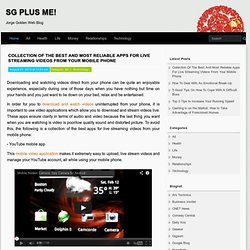 kosso.co
Notification Count
G+ Extended
Additional shortcuts for G+. Including +1 (+), share (s) and expand comments (e). This extension adds some much needed shortcuts for users of Google+. The new shortcuts are: * Press "+" for +1'ing a post. * Press "-" for removing your +1 on a post. * Press "p" to toggle your +1 on a post. * Press "s" to share a post. * Press "e" to expand older comments on a post.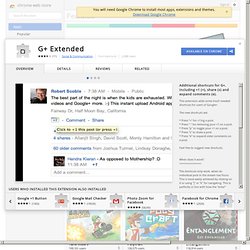 Surplus
Star posts in Google+ for later reference, just like you star emails in Gmail. Does not sync across computers. Notice that Google+ has no 'messages' feature? No worries. Just make a post private between you and another person, then add a star with this extension. It'll be there for you, as if in your inbox.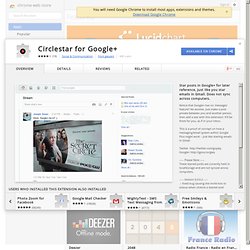 Circlestar for Google+
Move Your Photos
Hangouts finder
Beautify G+
GPlus+ Search
Helper for Goolge+
Surplus
+Photo Zoom