English
Inventor of the Web condemns UK Internet surveillance plans. Tim Berners-Lee, creator of the Web, has publicly decried the UK government's plan to introduce an Internet spying bill that allows for warrantless, real-time surveillance of the nation's clicks, email and other online communications.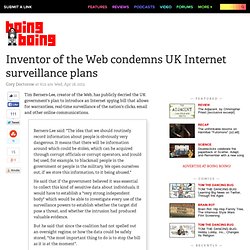 Berners-Lee said: "The idea that we should routinely record information about people is obviously very dangerous. It means that there will be information around which could be stolen, which can be acquired through corrupt officials or corrupt operators, and [could be] used, for example, to blackmail people in the government or people in the military. Father of the Internet is Concerned About UK Snooping Bill. As we noted last week, the UK government is toying around with the idea of introducing laws that would open up email and social networks to more surveillance, in an effort that is claimed to be counter-terroristic.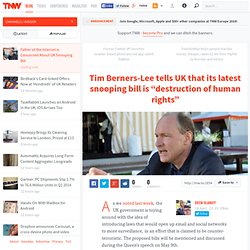 The proposed bills will be mentioned and discussed during the Queen's speech on May 9th. The inventor of the world wide web is having none of this, and has spoken out against the government's proposal by calling it "destruction of human rights". He didn't stop there though, raising the point to The Guardian that if the government were to get this heavily involved in our daily lives and interactions, it would have to create a strong independent third-party to monitor the goings on: The idea that we should routinely record information about people is obviously very dangerous. "Go out in the streets and complain" says www inventor. The inventor of the world wide web, Tim Berners Lee, has urged people to take to the streets and protest new laws he says are threatening democracy and the openness of the internet.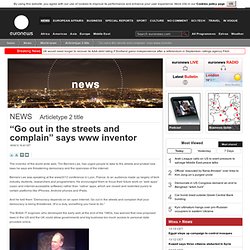 Berners Lee was speaking at the www2012 conference in Lyon, France, to an audience made up largely of tech industry students, researchers and programmers. He encouraged them to focus their future work on 'web apps' (open and internet-accessible software) rather than 'native' apps, which are closed and restricted purely to certain platforms like iPhones, Android phones and iPads. And he told them "Democracy depends on an open internet. Go out in the streets and complain that your democracy is being threatened. Web inventor Berners-Lee shoots down CISPA. This week the inventor of the internet Tim Berners-Lee spoke on several subjects involving data sharing on the web - perhaps most important of all on CISPA, a bill currently up for review in Washington.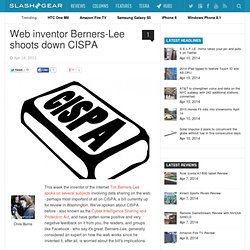 We've spoken about CISPA before - also known as the Cyber Intelligence Sharing and Protection Act, and have gotten some positive and very negative feedback on it from you, the readers, and groups like Facebook - who say it's great. Berners-Lee, generally considered an expert on how the web works since he invented it, after all, is worried about the bill's implications. Speaking this week with The Guardian, Berners-Lee expressed his worry on the CISPA bill passing through our government right this minute. Unlike Facebook, Berners-Lee doesn't have as much hope for the future of this and other similar bills attempting to add rules and regulations to the way the web works.
Heed is words: Tim Berners-Lee: deep packet inspection a 'really serious' privacy breach. The deep packet inspection techniques proposed by the UK government represent a "really serious" breach of privacy, according to Tim Berners-Lee speaking during his keynote speech at W3C.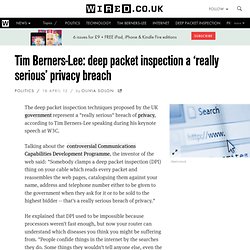 Talking about the controversial Communications Capabilities Development Programme, the inventor of the web said: "Somebody clamps a deep packet inspection (DPI) thing on your cable which reads every packet and reassembles the web pages, cataloguing them against your name, address and telephone number either to be given to the government when they ask for it or to be sold to the highest bidder -- that's a really serious breach of privacy. " He explained that DPI used to be impossible because processors weren't fast enough, but now your router can understand which diseases you think you might be suffering from. "People confide things in the internet by the searches they do. Sir Tim Berners-Lee: email snooping plan should be dropped. Web Inventor Tim Berners-Lee Speaks Out Against CISPA. Tim Berners-Lee on internet data and privacy - audio | Technology. Google's Sergey Brin: state filtering of dissent threatens web freedom | Technology. Google's Sergey Brin has hit back at critics of his comments about web freedom.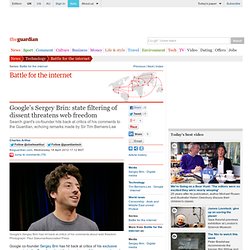 Photograph: Paul Sakuma/Associated Press Google co-founder Sergey Brin has hit back at critics of his exclusive comments to the Guardian about the importance of the open web, and emphasised that he thinks "government filtering of political dissent" poses the biggest threat to internet freedom. His words echo those of Sir Tim Berners-Lee, the inventor of the web, who told the Guardian this week that the UK government's plans for internet surveillance were dangerous.
Google's Sergey Brin Talks Government Censorship, Apple, Facebook - Liz Gannes. Google co-founder Sergey Brin wrote on his Google+ account today to clarify his recent comments about threats to the open Internet by "very powerful forces," including government censorship, Apple and Facebook.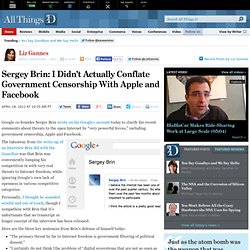 The takeaway from the write-up of an interview Brin did with the Guardian was that Brin was conveniently lumping his competition in with very real threats to Internet freedom, while ignoring Google's own lack of openness in various competitive categories. Personally, I thought he sounded wistful and out of touch, though I sympathize with Brin that it's unfortunate that no transcript or longer excerpt of the interview has been released. Here are the three key sentences from Brin's defense of himself today: "The primary threat by far to Internet freedom is government filtering of political dissent." Tim Berners-Lee: We Don't Need Arbitrary New TLDs | Epicenter. Tim Berners-Lee, the inventor of the web, is "not a fan" of the arbitrary new top level domains (TLDs) that the Internet Corporation for Assigned Names and Numbers (ICANN) is currently offering, he told Wired.co.uk in a press conference at W3C.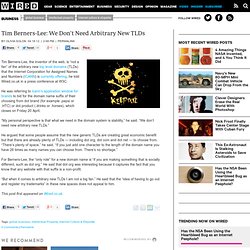 He was referring to Icann's application window for brands to bid for the domain name suffix of their choosing from dot brand (for example .pepsi or .HTC) or dot product (.drinks or .horses), which closes on Friday 20 April. "My personal perspective is that what we need in the domain system is stability," he said. "We don't need new arbitrary new TLDs." Berners-Lee: Net snoop law tosses human rights into the shredder. High performance access to file storage Sir Tim Berners-Lee has warned the Tory-led Coalition not to push through a bill to legislate plans to massively increase surveillance of the internet.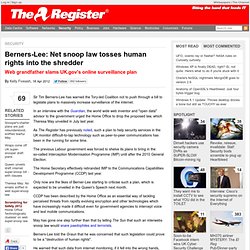 In an interview with the Guardian, the world wide web inventor and "open data" advisor to the government urged the Home Office to drop the proposed law, which Theresa May unveiled in July last year. As The Register has previously noted, such a plan to help security services in the UK monitor difficult-to-tap technology such as peer-to-peer communications has been in the running for some time.
The previous Labour government was forced to shelve its plans to bring in the so-called Interception Modernisation Programme (IMP) until after the 2010 General Election. Tim Berners-Lee warns about web firms and CISPA. WORLD WIDE WEB INVENTOR Sir Tim Berners-Lee is not very happy with the way his baby is turning out and has called on people and firms to stop using it in the ways they do.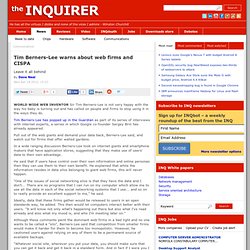 Tim Berners-Lee has popped up in the Guardian as part of its series of interviews with internet experts, a series in which Google co-founder Sergey Brin has already appeared. Pull out of the web giants and demand your data back, Berners-Lee said, and watch out for firms that offer walled gardens. In a wide ranging discussion Berners-Lee took on internet giants and smartphone makers that have application stores, suggesting that they make use of users' data to their own advantage. Tim Berners-Lee: Tell Facebook, Google you want your data back | Internet & Media. Tim Berners-Lee, known as the father of the World Wide Web, says Internet users should demand all of their inaccessible data from Facebook, Google, and every other major Web site.
"One of the issues of social networking silos is that they have the data and I don't," Berners-Lee told The Guardian in an interview published today. "There are no programs that I can run on my computer which allow me to use all the data in each of the social networking systems that I use plus all the data in my calendar plus in my running map site, plus the data in my little fitness gadget and so on to really provide an excellent support to me.
" To Berners-Lee, technology has the unique ability to understand more about its users than we might give it credit for. Patent lawsuits aimed at big and small operators threaten web freedoms. In the first week of February, Sir Tim Berners-Lee stood in front of a jury in east Texas. His task was daunting: he had to invalidate a set of patents claimed by a company called Eolas and the University of California. If he failed, almost everyone running a website with moving pictures or streaming video would have to pay a stipend to those two for each use. Berners-Lee famously didn't patent the world wide web when he invented it as a method of tying together data from different locations on the internet. The web – confusing though it might seem – is a layer on top of the basic "internet" connection that comes into your home or office or smartphone.
---