Backup
Wordpress Plugin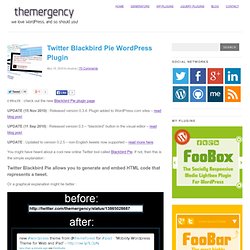 UPDATE : check out the new Blackbird Pie plugin page UPDATE (15 Nov 2010) : Released version 0.3.4. Plugin added to WordPress.com sites – read blog post.
Export.ly
Ever thought to yourself that you wish there was some way you could take a look back and see what you tweeted around this time last year? Or perhaps you remember that time you tweeted about that hilarious viral video, and now you can't find it? By installing Tweet Nest on your own web server, now you can! Features include: Archive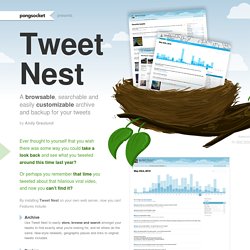 It's hard to know where to start - We've officially closed our doors at Downstream and it's a weird feeling. Something you've spent every waking moment thinking about (and many weird dreams) is now a thing of the past. It's not something we need to think about anymore. On the one hand, we're sad that this venture didn't work out the way we hoped. However on the other hand, we're excited to clear our heads and take everything we've learned and do it much better on whatever may be next.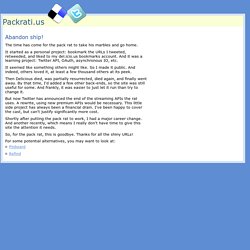 This site provides a simple bookmarking service. We follow your twitter feed, and whenever a status you tweet or re-tweet contains URLs, we add them to your favorite bookmarking service: Delicious, Pinboard, Diigo, historious, Instapaper, Pocket (Read It Later), or your own Scuttle server. Optionally, bookmark URLs in @replies to you, and in tweets you mark as Favorites.
TweetGuard