Backup
Wordpress Plugin. UPDATE : check out the new Blackbird Pie plugin page UPDATE (15 Nov 2010) : Released version 0.3.4.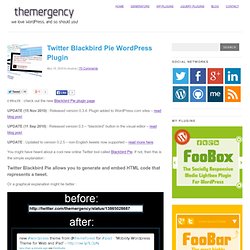 Plugin added to WordPress.com sites – read blog post. Export.ly. Tweet Nest. Ever thought to yourself that you wish there was some way you could take a look back and see what you tweeted around this time last year?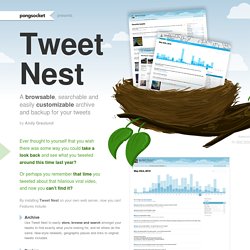 Or perhaps you remember that time you tweeted about that hilarious viral video, and now you can't find it? By installing Tweet Nest on your own web server, now you can! Features include: Archive. Tweetstream. Tweet Scan. The Archivist. Packrati.us = Twitter + Delicious. Twitter Backup. TweetGuard.
---