- 1 -
SINAPSE. Chimie 2.0. La biodiversité bactérienne pour une pile à combustible « verte » ?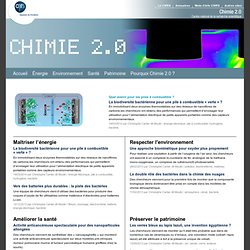 En immobilisant deux enzymes thermostables sur des réseaux de nanofibres de carbone,les chercheurs ont obtenu des performances qui permettent d'envisager leur utilisation pour l'alimentation électrique de petits appareils portables comme des capteurs environnementaux. 19/03/2014 par Christophe Cartier dit Moulin / énergie électrique, pile à combustible, hydrogène, bactérie Vers des batteries plus durables : la piste des bactéries Une équipe de chercheurs vient d'utiliser des bactéries pour produire des coques d'oxyde de fer utilisables comme matériaux d'électrodes pour batteries Li-ion. SciVee. EthicShare Community. Facebook. @EthicShare. Wiser-u. Facebook. @wiseru. Social Science Research Network (SSRN) Facebook. @SSRN. Nature Network. @NatNetNews. Academia.edu. Facebook. @academia_edu.
Unisciel. @Unisciel. Science 3.0. Facebook. @science3point0. BiomedExperts. Facebook. C@fé des sciences. Facebook. @cafe_sciences. Hypotheses.org. Facebook. @hypothesesorg. Scientix. @Scientix_eu. Enseigner les sciences. Mendeley. Facebook. @mendeley_com. Carnets 2. Facebook. @Carnets2. MyExperiment. Sciencefeed : Scientific Microblog. Research Blogging. A recently published report from the Cochrane Colloboration suggested that two drugs which are used in the treatment of human Influenza are not as effective as reported in clinical studies, so it is worth to pause a moment and recapitulate how these drugs work and take a closer look at the report before rushing to any judgment. ...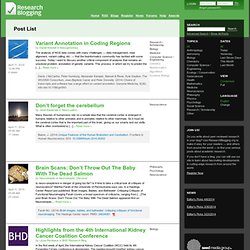 Read more » Moscona, A. (2005) Neuraminidase Inhibitors for Influenza. New England Journal of Medicine, 353(13), 1363-1373. ResearchBlogging.org. @ResearchBlogs. MyScienceWork. ResearchGate. @ResearchGate. Facebook.
---