Sci/Tech
10 Psychological Experiments That Went Horribly Wrong. Psychology as we know it is a relatively young science, but since its inception it has helped us to gain a greater understanding of ourselves and our interactions with the world.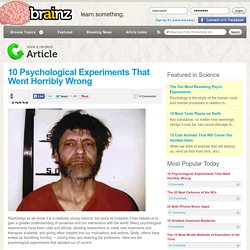 Many psychological experiments have been valid and ethical, allowing researchers to make new treatments and therapies available, and giving other insights into our motivations and actions. Sadly, others have ended up backfiring horribly — ruining lives and shaming the profession. Spy Gear.
Hidden Fingerprint of Weapons-Grade Plutonium Finally Found | Nuclear Weapons. After 50 years of searching, physicists have spotted the fingerprint of radioactive plutonium, revealing the secrets of this complex molecule behind nuclear weapons.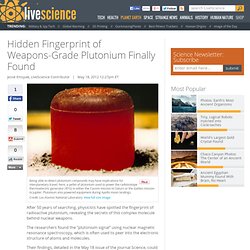 The researchers found the "plutonium signal" using nuclear magnetic resonance spectroscopy, which is often used to peer into the electronic structure of atoms and molecules. Their findings, detailed in the May 18 issue of the journal Science, could help scientists and others figure out the relative amounts of different types of plutonium (and its many compounds) in nuclear reactors, for instance. Orrery_2006.swf (application/x-shockwave-flash Object)
Environment
LED Lights Make Augmented Vision a Reality | Elemental LEDucation. LED Lights Make Augmented Vision a Reality Okay, this is just freaky.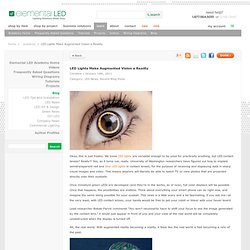 We know LED lights are versatile enough to be used for practically anything, but LED contact lenses? Really?! Yes, as it turns out, really. Gadgets. Koalas to the Max dot Com.
Planets
Earth. Newly discovered Mayan calendar goes way past 2012. Newly discovered wall writings found in Guatemala show the famed Maya culture's obsession with cycles of time.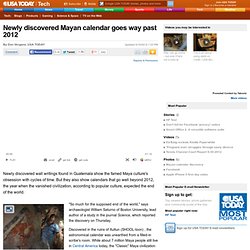 But they also show calendars that go well beyond 2012, the year when the vanished civilization, according to popular culture, expected the end of the world. "So much for the supposed end of the world," says archaeologist William Saturno of Boston University, lead author of a study in the journal Science, which reported the discovery on Thursday. Discovered in the ruins of Xultun (SHOOL-toon) , the astronomical calendar was unearthed from a filled-in scribe's room. While about 7 million Maya people still live in Central America today, the "Classic" Maya civilization of pyramid temples had collapsed there by about 900 A.D., leaving only a few birch-bark books dating to perhaps the 14th century as records of their astronomy, until now. PHOTOS: Scenes from the discovery. CBBC Newsround - 'Ghost town' being built in US to test new technologies. This page was made on Wednesday 9th May 2012Last updated at 07:47 A 'ghost town' is being built in America to test out the latest technologies such as renewable energies and terrorism security systems.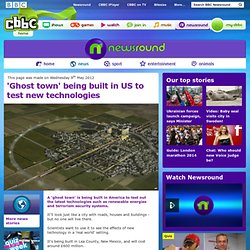 It'll look just like a city with roads, houses and buildings - but no one will live there. Nikola Tesla - The Forgotten Wizard. 12.08.2009 - Social scientists build case for 'survival of the kindest' By Yasmin Anwar, Media Relations | 08 December 2009 BERKELEY — Researchers at the University of California, Berkeley, are challenging long-held beliefs that human beings are wired to be selfish.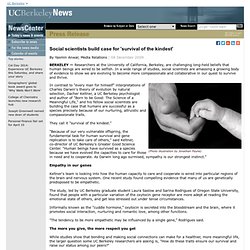 In a wide range of studies, social scientists are amassing a growing body of evidence to show we are evolving to become more compassionate and collaborative in our quest to survive and thrive. (Photo illustration by Jonathan Payne) In contrast to "every man for himself" interpretations of Charles Darwin's theory of evolution by natural selection, Dacher Keltner, a UC Berkeley psychologist and author of "Born to be Good: The Science of a Meaningful Life," and his fellow social scientists are building the case that humans are successful as a species precisely because of our nurturing, altruistic and compassionate traits.
Android integration comes to your car's mirror [w/video] Just when you thought manufacturers couldn't cram any more technology into a vehicle, CES rolls through Las Vegas to show off all-new levels of car-bound gadgetry.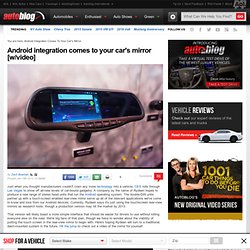 A company by the name of Rydeen hopes to produce a new range of stereo head units that run the Android operating system. The double-DIN units partner up with a touch-screen enabled rear-view mirror serve up all of the relevant applications we've come to know and love from our Android devices. Currently, Rydeen says it's just using the touchscreen rear-view mirrors as research tools, though a production version may hit the market by 2013. Scope.swf (application/x-shockwave-flash Object)
Intermission: The Robots Can Now Fly and Juggle at the Same Time - Technology. Glow-in-the-dark mushroom rediscovered after 170 years. It's something you would never expect to go missing, but one of the world's brightest glow-in-the-dark mushrooms has been rediscovered after an absence of more than 170 years, according to USA Today.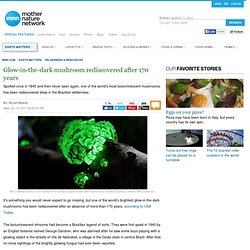 The bioluminescent shrooms had become a Brazilian legend of sorts. They were first spied in 1840 by an English botanist named George Gardner, who was alarmed after he saw some boys playing with a glowing object in the streets of Vila de Natividad, a village in the Goiás state in central Brazil. After that, no more sightings of the brightly glowing fungus had ever been reported. The mushroom was nearly forgotten until 2002, when Brazilian chemist Cassius Stevani came across Gardner's early reports. Then, in 2005, a breakthrough occurred.