Linux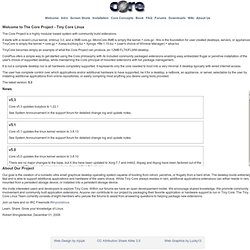 Welcome to The Core Project - Tiny Core Linux The Core Project is a highly modular based system with community build extensions. It starts with a 3.x Linux kernel, vmlinuz 3.0, and a 5MB core.gz. MicroCore 8MB is simply the kernel + core.gz - this is the foundation for user created desktops, servers, or appliances. TinyCore is simply the kernel + core.gz + Xvesa.tcz|Xorg.tcz + Xprogs +fltk-1.10.tcz + (user's choice of Window Manager) + wbar.tcz TinyCore becomes simply an example of what the Core Project can produce, an 12MB FLTK/FLWM desktop.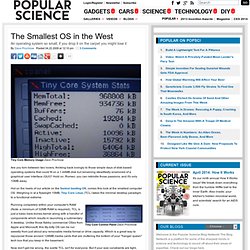 The Smallest OS in the West
An operating system so small, if you drop it on the carpet you might lose it Tiny Core Memory Usage Dave Prochnow Are you torn between two lovers, thinking back lovingly to those simple days of disk-based operating systems that could fit on a 1.44MB disk but remaining steadfastly enamored of a graphical user interface (GUI)? Hold on, Romeo: you can rekindle those passions, and it's only 10MB away.
I talk a lot about what I think is wrong with the current state of Desktop Linux. And I spend a fair bit of time talking about what I think can be done to improve it, and which applications I like the most. So I figured, why not collect my notes together... And lay out, piece-by-piece, what I think would be the ultimate Linux Desktop Distribution . And, when I say ultimate. I mean ultimate .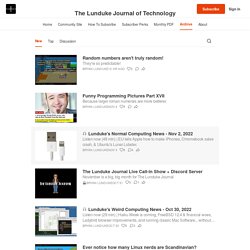 Lunduke.com
Just a list of 20 (now 28) tools for the command line. Some are little-known, some are just too useful to miss, some are pure obscure -- I hope you find something useful that you weren't aware of yet! Use your operating system's package manager to install most of them. (Thanks for the tips, everybody!) dstat & sar iostat, vmstat, ifstat and much more in one.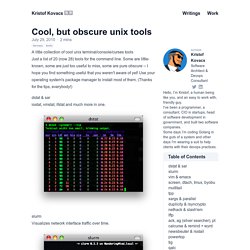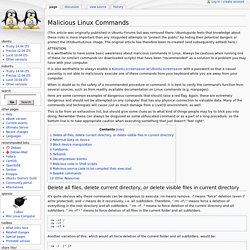 From (This article was originally published in Ubuntu Forums but was removed there. Ubuntuguide feels that knowledge about these risks is more important than any misguided attempts to "protect the public" by hiding their potential dangers or protect the (K)Ubuntu/Linux image. The original article has therefore been re-created (and subsequently edited) here.) ATTENTION: It is worthwhile to have some basic awareness about malicious commands in Linux. Always be cautious when running one of these (or similar) commands (or downloaded scripts) that have been "recommended" as a solution to a problem you may have with your computer.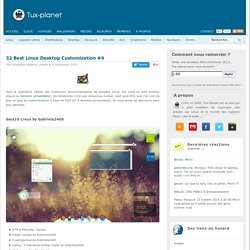 Voici la quatrième édition des meilleures personnalisations de bureaux Linux. Six mois se sont écoulés depuis la dernière présentation , les tendances n'ont pas beaucoup évolué, sauf peut-être que l'on voit de plus en plus de customizations à base de KDE (cf. 6 derniers screenshots). Je vous laisse les découvrir sans plus attendre. Gaia10 Linux by Gabriela2400
1. Before you begin You need a working Linux system that includes the bash shell, so you can practice the commands and techniques covered in this knowledge path. Our command examples are taken from Ubuntu and Fedora, but they apply to most other Linux distributions as well. 2. Get comfortable with the bash shell