En Vrac
9th: Comics/ Mangas/ Animation
Mycroft MOZDEV for Mozilla FireFox
Mises à jour et nouveautés - Questions fréquemment posées
Accueil - Geckozone - Extensions en français pour Mozilla, Firef
Ecrans
Face aux critiques, Twitter assouplit les règles d'utilisation de son API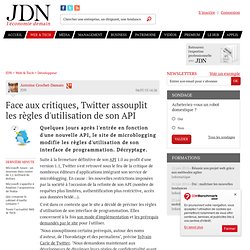 Quelques jours après l'entrée en fonction d'une nouvelle API, le site de microblogging modifie les règles d'utilisation de son interface de programmation. Décryptage. Suite à la fermeture définitive de son API 1.0 au profit d'une version 1.1, Twitter s'est retrouvé sous le feu de la critique de nombreux éditeurs d'applications intégrant son service de microblogging.
[3 questions à] Benjamin Teszner: « Prestashop compte près de 140 000 boutiques en ligne actives dans le monde »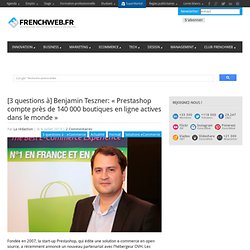 Fondée en 2007, la start-up Prestashop, qui édite une solution e-commerce en open source, a récemment annoncé un nouveau partenariat avec l'hébergeur OVH. Les détails de cette nouvelle offre et des prochains axes de développement de l'éditeur de logiciels avec Benjamin Teszner, directeur général. [FW] Quelle est la logique derrière votre récent partenariat avec OVH ? Benjamin Teszner: « Ce partenariat vient coller à la mission première de Prestashop.
Flipboard Suffering Second Outage in Two Days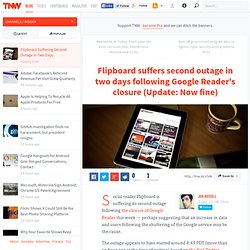 Social reader Flipboard is suffering its second outage following the closure of Google Reader this week — perhaps suggesting that an increase in data and users following the closure of Reader may be to blame (though that not been confirmed). The outage appears to have started around 8:43 PDT (more than an hour ago at the time of writing) based on the first Twitter users that raised the issue. Users are unable to load news feeds nor browser of create magazines on the service, while associated features — such as Twitter and Instagram — are not working either. Here and below are screenshots of what we at TNW got after loading the app. Flipboard acknowledged the outage, and says that its team is working on fixing the problem: The service is slightly different to a Flipboard issue earlier this week during which the company experienced issues loading migrated Google Reader feeds into its service.
The rules of engagement in markets have changed and perhaps not for the better. Before the computer age, market participants could look each other in the eye. Understanding who was buying and who was selling and why was straightforward. The raison d'etre of markets is to match the corporate world's need for capital with investors' savings.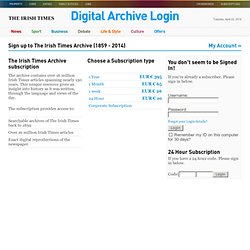 High-frequency traders push markets towards the precipice - The Irish Times - Tue, Jul 02, 2013
Contenu La CNIL est l'autorité administrative indépendante chargée de veiller au respect, par les entreprises et les administrations publiques, de la loi "Informatique et Libertés". Elle dispose d'un pouvoir de conseil, de contrôle sur place et de sanction administrative. Elle anime le réseau des correspondants Informatique et Libertés. Elle analyse les conséquences des nouveautés technologiques sur la vie privée.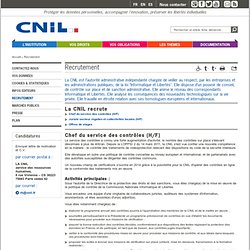 Recrutement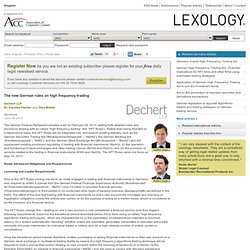 The new German rules on high frequency trading
The German Federal Parliament adopted a bill on February 28, 2013, setting forth detailed rules and provisions dealing with so-called "high frequency trading" (the "HFT Rules"). Rather than being enacted on a stand-alone basis, the HFT Rules will be integrated into, and amend, existing statutes, such as the German Securities Trading Act ( Wertpapierhandelsgesetz – "WpHG"), the German Banking Act (Kreditwesengesetz – "KWG"), and the German Stock Exchange Act ( Börsengesetz – "BörsG") and will supplement existing provisions regulating (i) trading with financial instruments (WpHG), (ii) the operation and functioning of stock exchanges and other trading venues (BörsG and WpHG), and (iii) the provision of services related to the trading in financial instruments (KWG and WpHG). The HFT Rules came into force on May 14, 2013.
Hymne de la Charente-Maritime Summer Edit Teaser
Coupure d'électricité chez l'hébergeur Online (groupe Iliad)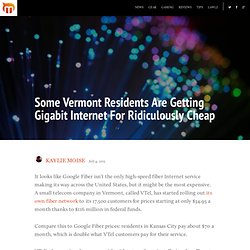 It looks like Google Fiber isn't the only high-speed fiber Internet service making its way across the United States, but it might be the most expensive. A small telecom company in Vermont, called VTel, has started rolling out its own fiber network to its 17,500 customers for prices starting at only $34.95 a month thanks to $116 million in federal funds. Compare this to Google Fiber prices: residents in Kansas City pay about $70 a month, which is double what VTel customers pay for their service. VTel's cheap price also comes with without up-front installation fees.
Some Vermont Residents Are Getting Gigabit Internet For Ridiculously Cheap | Macgasm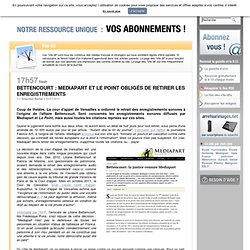 Vite Dit Les "vite dit" sont tous les contenus des médias français et étrangers qui nous semblent dignes d'être signalés. Si nécessaire, ils feront l'objet d'un traitement approfondi dans nos articles payants. La page des "vite dit" a pour fonction de donner aux non-abonnés une impression des centres d'intérêt du site.
Bettencourt : Mediapart et Le Point obligés de retirer les enregistrements - Arrêt sur images
L'Egypte se prépare ce vendredi à des manifestations des partisans du président islamiste déchu Mohamed Morsi pour dénoncer le coup militaire et la vague d'arrestations des dirigeants de son mouvement des Frères musulmans, faisant craindre un nouveau bras de fer et des violences. L'armée égyptienne a appelé au rejet de la "vengeance" et à "la réconciliation nationale", tandis qu'au Sinaï, une attaque de militants islamistes ce vendredi contre des postes de police et militaire a fait un mort et deux blessés parmi les soldats. Un soldat égyptien a, en effet, été tué dans des attaques simultanées de militants islamistes qui ont tiré à la roquette et à la mitrailleuse sur des postes de police et militaire au Sinaï, a-t-on indiqué de source médicale. Deux soldats ont été blessés dans l'attaque d'un point de contrôle de l'armée à al-Gura. Des manifestations dans la journée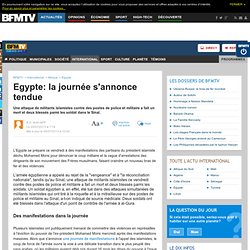 International : Egypte: Manifestations prévues après des attaques d'islamistes
Certains opérateurs ont récemment communiqué sur le lancement de pilotes dans la capitale allant jusqu'à 1 Gbit/s en réception, et 100 Mbit/s en émission. Aujourd'hui, Nerim, l'opérateur Internet et Télécom des entreprises, va encore plus loin en lançant une offre Fibre Ultra Haut Débit qui propose des débits de 1 Gbit/s ou 10 Gbit/s ! Totalement symétrique (1 Gbit/s et 10 Gbit/s en émission comme en réception), cette offre garantit 100% de la bande passante. Nerim s'appuie sur son propre réseau de fibres brutes noires, acquis en 2011, qui couvre tout Paris et une large partie des Hauts-de-Seine. Ce réseau lui permet maintenant de construire de nouvelles adductions et ainsi de raccorder ses clients afin que ceux-ci puissent profiter de ces nouvelles offres Ultra Haut Débit.
universfreebox