NICE
Wooshii | Professional Video Production Company | Online Video Advertising. Company Video Production & Online Video Promoting in 2010 | My Video Talk Tool. Online advertising spending – The eMarketer Blog. Small Business - Trend Statistics. Non-voice services for mobile operators are expected to jump from 13.3% of their revenues in 2006 to 24.5% in 2011.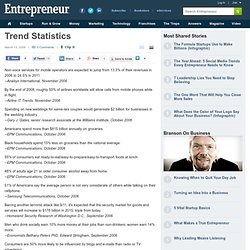 --Analsys International, November 2006 By the end of 2008, roughly 50% of airlines worldwide will allow calls from mobile phones while in flight. --Airline IT Trends, November 2006 Spending on new weddings for same-sex couples would genereate $2 billion for businesses in the wedding industry. Marketing, Small business - Marketing and Advertising Statistics. 79% of marketers are unfamiliar with the phrase web 2.0.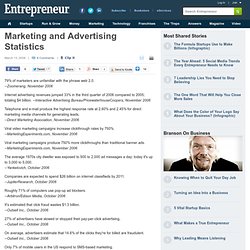 --Zoomerang, November 2006 Internet advertising revenues jumped 33% in the third quarter of 2006 compared to 2005; totaling $4 billion. --Interactive Advertising Bureau/PricewaterhouseCoopers, November 2006.
---