INTERESTING
:: Mindset Studio - The Next Generation of Social Games::
Email Previews and Rendering Tests - Litmus
Look great Preview your email on 30+ email clients and mobile devices. Does your email look beautiful everywhere? Designing emails can be hard. We've got you covered. Litmus lets you preview your campaigns across 30+ email clients and devices in minutes.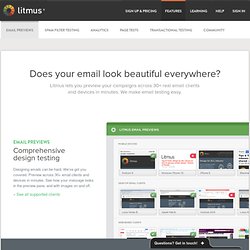 DQ Entertainment International