ENTREPRENEURSHIP
Men's Health Six - Special Report: How to get 6 Pack Abs in Just 1 Month With These 2 Simple Tips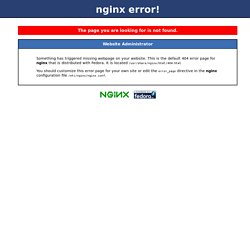 investigates a weird muscle solution that is quickly gaining popularity in the USA and around the world. Read his shocking findings to building incredible muscle mass in less than 1 month. Celebrities, like Ryan Reynolds & Gerlad Butler, have lost a signifcant amount of body fat with just these 2 diet products while at the same time adding insane amounts of muscle.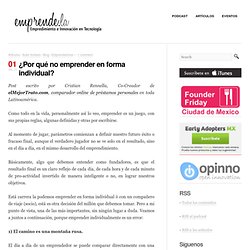 Emprende.la
Post escrito por Cristian Rennella, Co-Creador de elMejorTrato.com, comparador online de préstamos personales en toda Latinoamérica. Como todo en la vida, personalmente así lo veo, emprender es un juego, con sus propias reglas, algunas definidas y otras por escribirse. Al momento de jugar, parámetros comienzan a definir nuestro futuro éxito o fracaso final, aunque el verdadero jugador no se ve solo en el resultado, sino en el día a día, en el mismo desarrollo del emprendimiento. Básicamente, algo que debemos entender como fundadores, es que el resultado final es un claro reflejo de cada día, de cada hora y de cada minuto de pro-actividad invertido de manera inteligente o no, en lograr nuestros objetivos. Está carrera la podemos emprender en forma individual ó con un compañero de viaje (socio), está es otra decisión del millón que debemos tomar. Pero a mi punto de vista, una de las más importantes, sin ningún lugar a duda.
At a contest to teach budding entrepreneurs how to sell their business ideas in a minute, competitors learn the value of speed—and magic In a recent Fortune interview, real estate mogul Donald Trump was asked how someone who pitches him an idea can make the best impression. "They have to be enthusiastic, succinct, and fast," Trump advised. Trump echoes what other investors tell me they want when evaluating a new business idea or product: Get to the benefit, and get to it fast. Professional investors (venture capitalists, bankers, mutual fund managers, and angel investors) who are accustomed to weeding through hundreds of pitches and business plans are the toughest audiences.
The 60-Second Pitch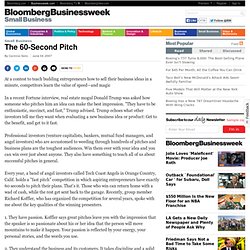 ChillOut® | Testimoniales
Guión para Fábrica de Historias - Google Docs
Austin Gerson Lehrman Group, Inc. 301 Congress Avenue Suite 900 Austin, TX 78701 Boston Gerson Lehrman Group, Inc. 211 Congress Street 6th Floor Boston, MA 02110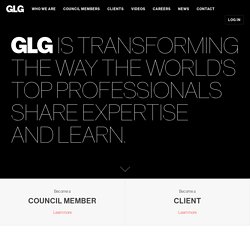 About.com: http://money.cnn.com/smbusiness/index.html
www.knowhow2go.org/main_psa.php
http://www.inc.com/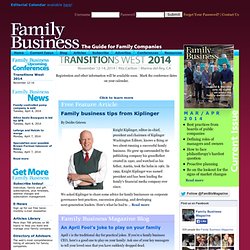 Welcome to Family Business Magazine!
November 12-14 Individual, family and gift subscriptions, plus renewals, address changes and subscription management. Sign up for our free twice-monthly e‑mail newsletter. More than 700 articles on 80 topics to help you build and manage your family company. The web's most comprehensive listing of advisers for family companies.
About.com: http://www.entrepreneur.com/bizstartups/
http://www.entrepreneur.com/
Canal Emprendedor - Endeavor | Herramientas y Apoyo al Emrpendedor
LatinIdea
Cada día una copita x Paio
Jobs - micro-documentaries
World Forum of Public Broadcasting
Generally, loans become a necessity, especially when there is a certain need or emergency that requires to be met. Most of these loans are given on certain terms and conditions and on certain specific interest rates. Additionally, these loans are required to be paid back within a given period. However, the process of applying for these loans and the period one has to wait for their approval can be very long and even at some point become disapproved for one reason or the other. In such cases, instant online payday loans become essential.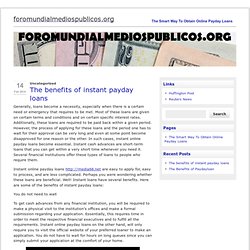 World Forum of Public Media
Comtelsat | Integrando Soluciones
Inmuebles en Guadalajara, Jalisco, Mexico | Quien te UBICA. ® , Mexico.
Presentations on social media, advertising, digital transformation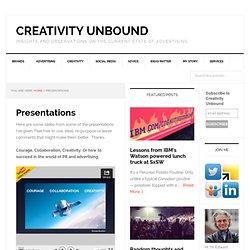 Here are some slides from some of the presentations I've given. Feel free to use, steal, re-purpose or leave comments that might make them better. Thanks.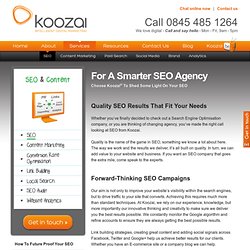 Quality SEO Results That Fit Your Needs Whether you've finally decided to check out a Search Engine Optimisation company, or you are thinking of changing agency, you've made the right call looking at SEO from Koozai. Quality is the name of the game in SEO, something we know a lot about here. The way we work and the results we deliver, it's all built on quality. In turn, we can add value to your website and business.
Search Engine Marketing Company (SEM)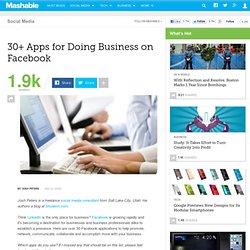 Josh Peters is a freelance social media consultant from Salt Lake City, Utah. He authors a blog at Shuaism.com. Think LinkedIn is the only place for business? Facebook is growing rapidly and it's becoming a destination for businesses and business professionals alike to establish a presence. Here are over 30 Facebook applications to help promote, network, communicate, collaborate and accomplish more with your business. Which apps do you use?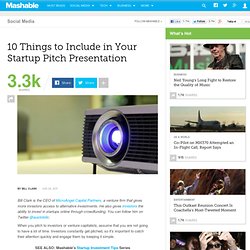 Bill Clark is the CEO of MicroAngel Capital Partners, a venture firm that gives more investors access to alternative investments. He also gives investors the ability to invest in startups online through crowdfunding. You can follow him on Twitter @austinbillc. When you pitch to investors or venture capitalists, assume that you are not going to have a lot of time. Investors constantly get pitched, so it's important to catch their attention quickly and engage them by keeping it simple.
Indaba Music