Indonesia
Indonesia. From Sabah to Brunei (And the passport stamp marathon) Batu Niah caves Sarawak About one month spent in Sabah Malaysia..!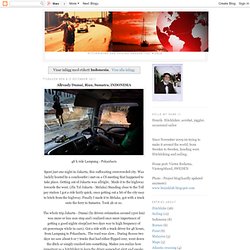 Travelling around, east, west, north, up, down, here, there. When time to leave after great time spent I headed for Brunei.. Okiokioki's Photostream. Semarang Tourism. Semarang city, the capital of Central Java province is located on the north Coast of Java Sea.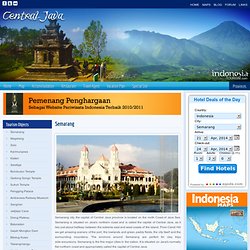 Semarang is situated on Java's northern coast and is called the capital of Central Java, as it lies just about halfway between the extreme east and west coasts of the island. From Candi Hill we get amazing scenery of the port, the lowlands and green paddy fields, the city itself and the surrounding mountains. The environs around Semarang are perfect for clay trips side-excursions. Semarang is the five major cities in the nation. Karimunjawa Islands Tourism. Karimunjawa is and island chain stretching in a northwesterly direction 83 km from Jepara.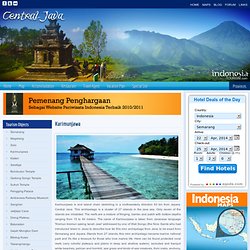 Central Java. This archipelago is a cluster of 27 islands in the java sea. Only seven of the islands are inhabited. The reefs are a mixture of fringing, barrier, and patch with bottom depths ranging from 15 to 40 meters. The name of Karimunjawa is taken from Javanese language 'Kremun kremun saking tanah Jawi' addressed by one of Wali Songo (the Nine Saints who had introduced Islam in Java) to describe how far this mini archipelago from Java, to be exact from Semarang and Jepara.
Semarang Vacations, Tourism and Semarang, Indonesia Travel Reviews. Java: Karimunjawa. Karimunjawa is a newly discovered untouched virgin paradise, said to become the "next Bali" Boasting beautiful tropical reefs and enormous well preserved national park, this new tourist destination is an experience for both the experienced traveler and the newbie.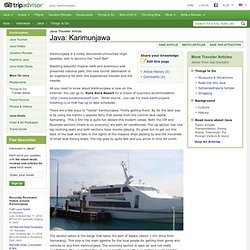 All you need to know about Karimunjawa is now on the internet. You can go to Kura Kura Resort for a choice of luxurious accommodation Other source , you can try www.karimunjawa-ticketing.co.id that has up to date schedules . There are a few ways to "tackle" Karimunjawa. Karimunjawa - Indonesia Travel Agent. The Karimunjawa archipelago is situated in the Java Sea, 45 nautical miles away from Jepara Regency and 60 Nautical miles from Semarang, the capital city of Central Java Province.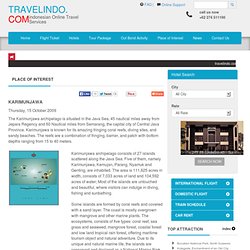 Karimunjawa is known for its amazing fringing coral reefs, diving sites, and sandy beaches. The reefs are a combination of fringing, barrier, and patch with bottom depths ranging from 15 to 40 meters. The most interesting tourism object in these islands is the marine area, there are more than 30 dive sites across Karimunjawa Marine National Park.
There are shallow dive sites with weak or even without currents for beginners, as well as the deep ones with strong currents for more advanced divers suitable for all levels of divers, from beginners to experienced ones. Interested divers can also explore several shipwrecks of old merchant ships at various depths. Karimunjawa Islands in Jakarta, Visiting Karimunjawa Islands in Jakarta, Karimunjawa Islands for Tourists in Jakarta. Located on the north coast on the western part of the island of Java, the city is accessible via two international airports and is extremely well-connected, making it easy to get to any of Jakarta's many notable attractions.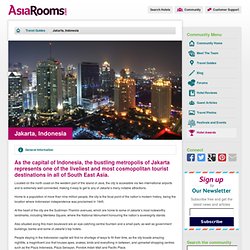 Home to a population of more than nine million people, the city is the focal point of the nation's modern history, being the location where Indonesian independence was proclaimed in 1945. At the heart of the city are the Sudirman-Thamrin avenues, which are home to some of Jakarta's most noteworthy landmarks, including Merdeka Square, where the National Monument honouring the nation's sovereignty stands. Also situated along this main boulevard are an eye-catching central fountain and a small park, as well as government buildings, banks and some of Jakarta's top hotels.
Tranquility photo - shinta djiwatampu photos at pbase. Things to Do in Bogor - Bogor Attractions. Indonesia. Thank you for all those suggestions and ideas.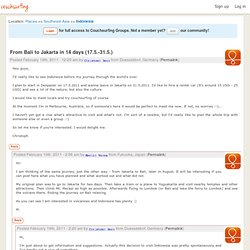 I think I rather travel in a rental car, because it's safer. I don't mind being tired. I travelled around other countries by car and it was good because of the independancy. I'm not gonna carry my bag all the time. My back is almost a cripple after walking 48 days in Japan. Bali ( Indonesia) - Sanjay P. K. - Picasa-verkkoalbumit. Java ( Indonesia) - Sanjay P. K. - Picasa-verkkoalbumit. Trips by sanjaypk in Indonesia - page 1 - order: trip date. Indonesia - Ultimate in Diversity. With a country as big and diverse as Indonesia, it would be impossible to summarize in one or two pages all its attractions.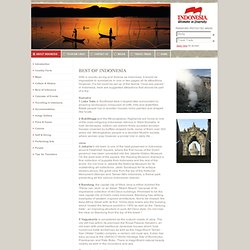 However, if a list could be set up of the twelve "must-see places" in Indonesia, here are suggested attractions that should be part of a trip: Sumatra 1 Lake Toba is Southeast Asia's largest lake surrounded by amazing landscapes composed of cliffs, hills and waterfalls. Batak people live in wooden houses richly painted and shaped like boats.