Travel
Continents. Search. Www.digitalfundraisingideas.com/try_it_free/volunteerhq. Program Cost. What do my fees pay for?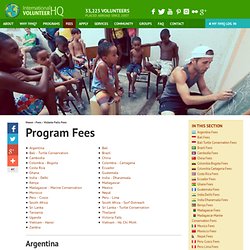 Registration Fee (refundable if you choose not to go*) – 24/7 support from IVHQ staff, program marketing costs, information pack, administration costs, IVHQ Fund, travel costs to inspect programs and communication costs with volunteers. Program Fee – airport pick-up, orientation, program supervision, accommodation and meals during volunteer program period, in-country 24/7 volunteer support and in-country administration costs. What additional costs will I have?
Visa, flights, travel insurance (mandatory), criminal background check, transport from Delhi to Dharamsala (flights are approximately US$200), transfer back to the airport at conclusion of program, vaccinations, orientation week (optional add-on - US$220), souvenirs, orientation week, spending money (volunteers in India generally find US$30 to be sufficient for basic weekly expenses). Hillman Wonders of the World. Hostels Worldwide - Online Hostel Bookings, Ratings and Reviews. Volunteer Abroad Programs, International Community Service Opportunities. Member Services. Details. 6 Ways to Travel Endlessly. Traveling the way most people do it isn't enough.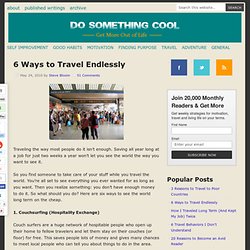 Saving all year long at a job for just two weeks a year won't let you see the world the way you want to see it. So you find someone to take care of your stuff while you travel the world. The 20 Best Travel Websites on the Internet - Golden Book Traveler. Update: Visit the 2012 version of The 20 Best Travel Websites on the Internet I hope that everyone who attended my SXSW Core Conversation panel on How to Make Money Traveling Around the World enjoyed the presentation.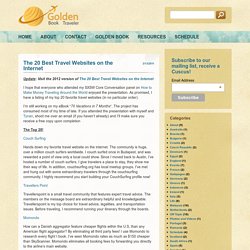 As promised, I have a listing of my top 20 favorite travel websites (in no particular order). I'm still working on my eBook "70 Vacations in 7 Months". The project has consumed most of my time of late. If you attended the presentation with myself and Tynan, shoot me over an email (if you haven't already) and I'll make sure you receive a free copy upon completion. Amazing Places To Experience Around The Globe (Part 1)
Preachers Rock, Preikestolen, Norway Blue Caves - Zakynthos Island, Greece Skaftafeli - Iceland Plitvice Lakes – Croatia Crystalline Turquoise Lake, Jiuzhaigou National Park, China Four Seasons Hotel - Bora Bora.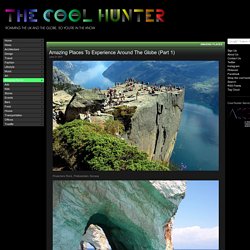 Top 100 Hotels & Resorts in the World. Rooms: 97.2Service: 98.6Food: 90.1Location: 95.9Design: 93.2 In a town 90 minutes southwest of Asheville, this European-style hotel offers "understated elegance in the best summer getaway spot east of the Mississippi.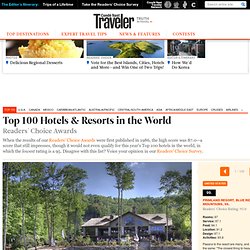 " Converted from the first boardinghouse in Highlands, the "charming old inn" has guest rooms that are individually decorated with antiques selected by the owner, with additional rooms, suites, and cottages spread across the property's several acres.
---