Twitter
13 ways Twitter Improves Education. Twitter can easily be dismissed as a waste of time in the elementary school classroom.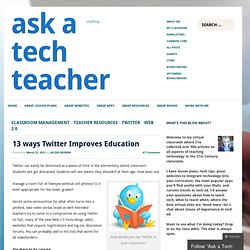 Students will get distracted. Students will see tweets they shouldn't at their age. Turn Your School Staff Into A Powerful Twitter Team. Twitterforeducation - Castine Planning. Twitter for Teachers Workshop - Additional Links. Last wednesday WiZiQ organized a mini workshop about Twitter for Teachers.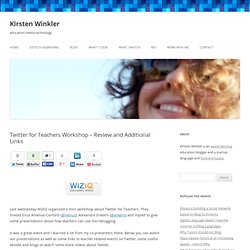 They invited Enza Antenos-Conforti (@iVenus), Alexandre Enklerli (@enkerli) and myself to give some presentations about how teachers can use microblogging. It was a great event and I learned a lot from my co-presenters there. Teachmeetnashville - Twitter for Teachers. Meeting Students Where They Are:Why Teachers Should Try Twitter. William M.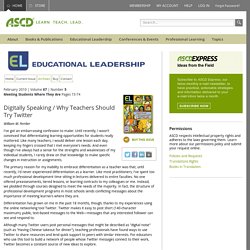 Ferriter I've got an embarrassing confession to make: Until recently, I wasn't convinced that differentiating learning opportunities for students really mattered. Twitter Guide Book – How To, Tips and Instructions by Mashable. Twitter Links @ Educators. Louisiana Ed Tech Tweeters!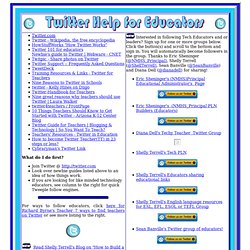 Vermilion Parish Curriculum Site Vermilion Parish Schools (Louisiana) Looking for a specific topic? Search our Vermilion sites below! Twitter Tutorial for Teachers Ppt Presentation. Slide 1: How can we use Twitter for teaching and learning?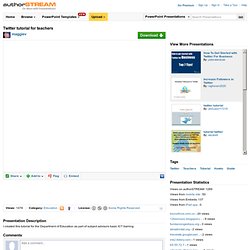 Maggie Verster BSc HED BEd Hons A+ CIW Associate www.school2.co.za Slide 2: By the end of this e-torial, you will be able to use Twitter to: Communicate on a local and global level Create a powerful personal learning network (PLN) Get your learners to tweet their way into critical thinking! This e-torial makes use of the following programmes or tools: Any browser A computer with internet /cell phone with WAP Twitter (an online tool) Outcomes Tools. FrontPage.
35 Interesting Ways to use Twitter in the Classroom. What the Heck is Twitter? There is a bazillion articles and videos, trying to explain what Twitter is all about.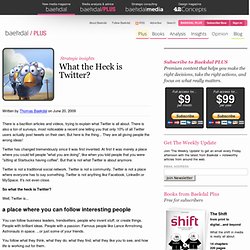 There is also a ton of surveys, most noticeable a recent one telling you that only 10% of all Twitter users actually post tweets on their own. But here is the thing... They are all giving people the wrong ideas! Twitter in Plain English.
---