Twitter
How Twitter Works & Why – Tweeting on Twitter | TRUtricks
Different people use Twitter for different reasons. There are people that use it to blog about their breakfast or there are people that blog news articles on different sources. (Example: @cameronolivier is great with design resources like myself) An example of a company doing this would be @engadget or @nytimes blogging news or tech news articles within 140 characters and then adding a link to a full article. Now what happens when you follow people is that you see all of their updates, combined with yours, on your Twitter homepage. (There are Twitter desktop clients, I will educate you on those later) If you are following 5 people and 4 of them post 3 times a day, but the 5th posts 3 times a minute – the 5th person will dominate and overpower your homepage. There are three solutions to this problem: One – You can unfollow the person that is posting a lot.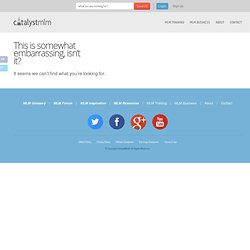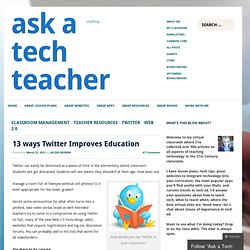 Twitter can easily be dismissed as a waste of time in the elementary school classroom. Students will get distracted. Students will see tweets they shouldn't at their age.
13 ways Twitter Improves Education
How to Teach With Technology Learn how to create custom multimedia products for your classroom or ecourse and other great ideas for the classroom. Explore this online course at Chances are if you are reading this article, you are familiar with Twitter. In fact, it is quite possible that you even found this article through your extensive and knowledgeable Twitter network.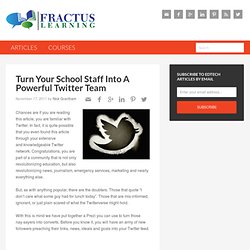 Turn Your School Staff Into A Powerful Twitter Team
twitterforeducation - Castine Planning
Last wednesday WiZiQ organized a mini workshop about Twitter for Teachers. They invited Enza Antenos-Conforti ( @iVenus ), Alexandre Enklerli ( @enkerli ) and myself to give some presentations about how teachers can use microblogging. It was a great event and I learned a lot from my co-presenters there.
Twitter for Teachers Workshop - Additional Links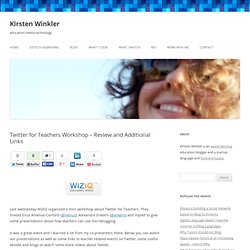 teachmeetnashville - Twitter for Teachers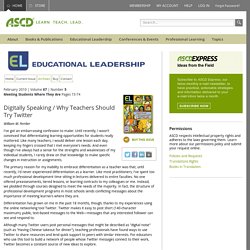 Meeting Students Where They Are:Why Teachers Should Try Twitter
William M. Ferriter I've got an embarrassing confession to make: Until recently, I wasn't convinced that differentiating learning opportunities for students really mattered.
Twitter Links @ Educators
Louisiana Ed Tech Tweeters! Vermilion Parish Curriculum Site Vermilion Parish Schools (Louisiana) Looking for a specific topic? Search our Vermilion sites below!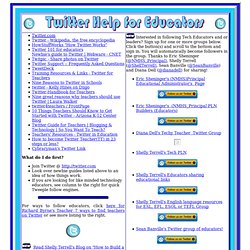 Twitter Tutorial for Teachers Ppt Presentation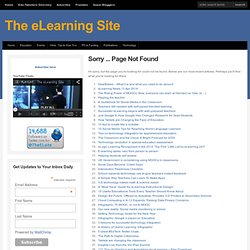 [ad] Based on a list by Chris Brogan – 50 ideas for using Twitter in Business First Steps Build an account and immediately start using Twitter Search to listen for your name, the name of your school/college/poly/uni, and words that relate to your space. (Listening always comes first.) Add a picture of yourself.
35 Interesting Ways to use Twitter in the Classroom
How to become Twitter Teacher(TT) in 23 steps or less ? | Kapil Bhatia
There is a bazillion articles and videos, trying to explain what Twitter is all about. There is also a ton of surveys, most noticeable a recent one telling you that only 10% of all Twitter users actually post tweets on their own. But here is the thing... They are all giving people the wrong ideas!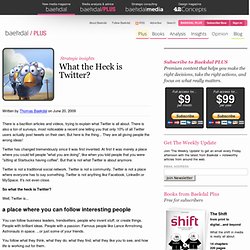 What the Heck is Twitter?
Twitter in Plain English on Vimeo