Professionaldevelopment
Plan. Guilderland. Instructional Coaching. Building or Creating a Curriculum, Delivering Curriculum, Instructional Design, Syllabi, Lesson Plans. Learning, Teaching, & Technology Central Creating Curriculum & Delivering It Some documents have local copies for quick loading at AU schools.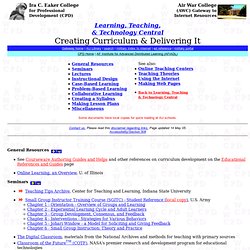 General Resources. Concept to Classroom: Resources. Cohen, G.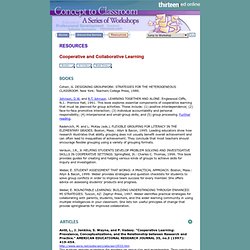 DESIGNING GROUPWORK: STRATEGIES FOR THE HETEROGENEOUS CLASSROOM. New York: Teachers College Press, 1986. Johnson, D.W. and R.T. Johnson. LEARNING TOGETHER AND ALONE. The Cooperative Learning Network. About this site...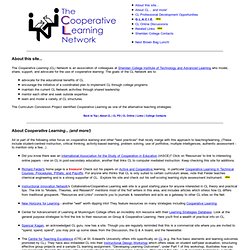 The Cooperative Learning (CL) Network is an association of colleagues at Sheridan College Institute of Technology and Advanced Learning who model, share, support, and advocate for the use of cooperative learning. The goals of the CL Network are to: advocate for the educational benefits of CL encourage the initiative of a coordinated plan to implement CL through college programs maintain the current CL Network activities through shared leadership mentor each other and seek outside expertise learn and model a variety of CL structures The Curriculum Conversion Project identified Cooperative Learning as one of the alternative teaching strategies. About Cooperative Learning... (and more!) All or part of the following sites focus on cooperative learning and other "best practices" that nicely merge with this approach to teaching/learning. Cooperative Learning in the Library.
Pre-Library Preparation Met with the teacher and talked about how to set up cooperative groups.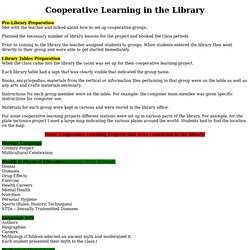 Planned the necessary number of library lessons for the project and booked the class periods. Prior to coming to the library the teacher assigned students to groups. When students entered the library they went directly to their group and were able to get started immediately. Cooperative. Some Cooperative Learning Projects by Cybrary Man Country or State Project Materials: Construction paper sheets of all the colors in each flag of the country or state.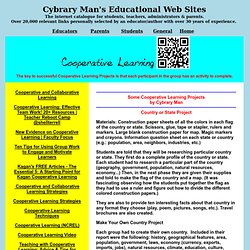 Cooperative Learning. Is a successful teaching strategy in which small teams, each with students of different levels of ability, use a variety of learning activities to improve their understanding of a subject.
Each member of a team is responsible not only for learning what is taught but also for helping teammates learn, thus creating an atmosphere of achievement. Students work through the assignment until all group members successfully understand and complete it. Cooperative Learning. Cooperative learning refers to a set of instructional strategies which include cooperative student-student interaction over subject matter as an integral part of the process.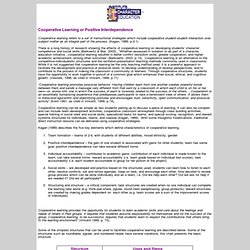 (Kagan, 1989, p.4:1) There is a long history of research showing the effects of cooperative learning on developing students' character competence and social skills (Berkowitz & Bier, 2003). "Whether assessed in isolation or as part of a character education initiative…cooperative learning resulted in better conflict resolution skills, greater cooperation, and higher academic achievement, among other outcomes" (Berkowitz, 2003, p.13). Cooperative learning is an alternative to the competitive-individualistic structures and the recitation-presentation teaching methods commonly used in classrooms. 63 No Contest. Article by Gwenn Schurgin O'Keeffe, M.D.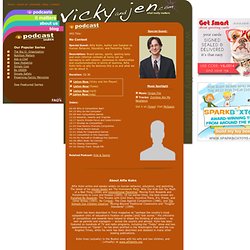 Founder and Chief Editor of Pediatrics Now Teaching Good Sportsmanship Article by Carleton Kendrick Unhealthy Competition: Young kids are training like professionals, and have the injuries to prove it. Article excerpted from Revolution in the Bleachers: How Parents Can Take Back Family Life in a World Gone Crazy Over Youth Sports by Regan McMahon. Lecture and workshop topics by alfie Kohn. Please note that this list is not exhaustive.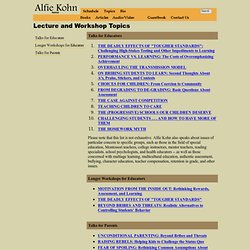 Alfie Kohn also speaks about issues of particular concern to specific groups, such as those in the field of special education, Montessori teachers, college instructors, mentor teachers, reading specialists, school psychologists, and health educators -- as well as those concerned with multiage learning, multicultural education, authentic assessment, bullying, character education, teacher compensation, retention in grade, and other issues.
The Jigsaw Classroom: A Cooperative Learning Technique. Cooperative Learning. CooperativeLearning. Welcome to the Learning Port. Pdguidance_district.pdf (application/pdf Object) Profde.pdf (application/pdf Object) PDforClassroomTeachers(Elementary).pdf (application/pdf Object) 597001 (application/pdf Object) Teachers_at_Work.pdf (application/pdf Object) Lftb.pdf (application/pdf Object)
---