Blog
Note: This year I am blogging weekly reflections at my school site (weskids.com) in order to provide more transparency in my teaching for parents, students, and the community (local and global). I will be cross-posting most of the entries here at Bit By Bit as well. You can see the original posts at the "Reflections by Mr. S" blog. "Social media attention training requires understanding your goals and priorities (intentions), and involves asking yourself, at regular intervals, whether your current activity at any moment moves you closer to your goal or serves your higher priorities (attention)… [M]indful use of social media begins with noticing when your attention has wandered, and then gently bringing it back to focus on your highest priority."Rheingold, Howard; Weeks, Anthony (2012-02-24). Net Smart (p. 247).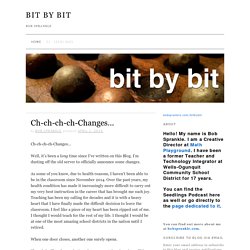 bob sprankle — bit by bit
Thursday, February 25, 2010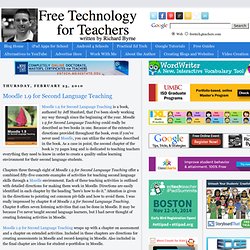 Moodle 1.9 for Second Language Teaching is a book, authored by Jeff Stanford, that I've been slowly working my way through since the beginning of the year. Moodle 1.9 for Second Language Teaching could really be described as two books in one. Because of the extensive directions provided throughout the book, even if you've never used Moodle, you can utilize the strategies described in the book. As a case in point, the second chapter of the book is 72 pages long and is dedicated to teaching teachers everything they need to know in order to create a quality online learning environment for their second language students. Chapters three through eight of Moodle 1.9 for Second Language Teaching offer a combined fifty-five concrete examples of activities for teaching second language skills through a Moodle environment.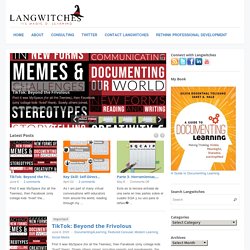 In an attempt to bring new additions to your Blog reader, I am starting to feature guest posts on Langwitches. Be assured that these guest posts are from educational bloggers, I highly value and their voices contribute significantly to my own learning. Today I am sharing a blog post and a newly published book by my friend, colleague and co-author Mike Fisher.
Evolution of the Scientific Method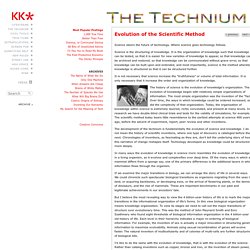 Science steers the future of technology. Where science goes technology follows.
I've been aware of 280Slides for some time now, but haven't really tried to use it much as I'm a very keen user of Keynote on my MAC, but this week I was looking around for ways to get video type lessons online and discovered what an incredibly easy and useful tool 280Slides is for this. Basically 280Slides is an online tool for creating presentations. It works in a very simple way and has a very intuitive interface which is very quick to understand. It has a few basic themes and layouts and you can do all the usual things like adding text, shapes and images to your presentations. The two key areas though that I like about 280Slides are: 1.
Getting Video Tasks Online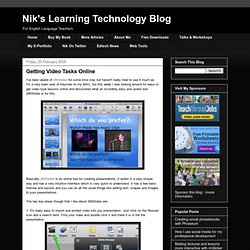 Welcome to the Gates Ideas website. Look around to find information about available topics for workshops, keynote addresses, conference presentations, resources, and consulting services that I provide. I bring to the table 33 years of classroom teaching experience in public education and a passion for the meaningful use of all things technology to empower educators to find and use the right tool(s) and strategies for the job. I believe it is not about the tool itself, it's all about getting the kids actively engaged in their learning and becoming true digital citizens. That means having the ability to locate, evaluate and understand information from the Internet, and being able to manage it and create meaning from it. I want to instill a sense of awareness, purpose and urgency with our teachers and students.
Gates Ideas