Asseessment Systems
Vantage Learning | Measuring Success One Student At a Time
Under Construction
Large-Scale K-12 Educational Assessments - Questar Assessment, Inc.
METRIA: Instructional Planning and Assessment Management
MetaMetrics - Linking Assessment with Instruction
Measurement Incorporated ® ~ Excellence in Assessment™
At Measurement Incorporated, we can extend to our clients a range of assessment technologies that will cater to their unique needs. In addition to the performance assessment scoring techniques for which we are highly respected industry wide, we offer scoring services that include online and automated scoring technologies. Perpetually researching and developing new technologies, we enhance our ability to provide rapid turnaround of reliable assessment results. These computer and online-based scoring technologies include Online Testing and Automated Essay Scoring.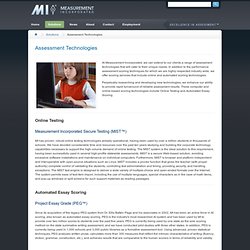 Measured Progress | K-12 Educational Assessments and Professional Development Programs - Measured Progress
LinkIt! K-12 Assessment and Instruction
Assessment Technology, Incorporated: Home of Galileo Technology for Instructional Improvement
ExamView® Assessment Suite | © eInstruction®
www.Edutest
Latest result: Website is UP Latest test time and date: 6:10:07 PM December 17, 2013 Latest test duration: 0.66 seconds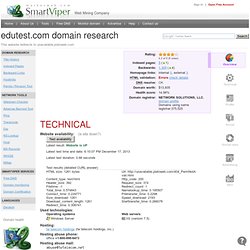 Edusoft Support for the CCSS We have loaded the National Common Core State Standards (CCSS) for all customers, and the state-specific versions of the CCSS for all districts in CA, CO, FL, GA, HI, LA, MA, NY and OR. Customers who subscribe to the Assess2Know Benchmark item bank can access items under both the National CCSS and the State-Specific CCSS. Districts who do not subscribe to the A2K Benchmark item bank may create and align their own items and report to the State-Specific CCSS sets.
Edusoft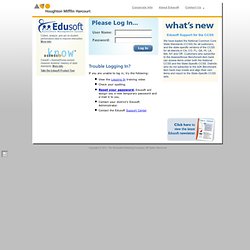 Home | EDmin
Datawise - Measured Progress
D2SC
Elementary Literacy & Math Test – Diagnostic Adaptive Assessment Tool – Children's Progress
Riverside Publishing - Assess2Know Benefits
American Institutes for Research | Applying behavioral and social science research in education, education assessment, international development and health and work and training to enhance lives worldwide
Acuity - CTB/McGraw-Hill
Prepare Your Students to Learn Real-World Skills with Acuity As schools begin to implement the Common Core, they need to rely on an assessment partner with proven success at delivering a clear and measurable link between assessment data, instruction, and student mastery, in alignment to the Common Core State Standards.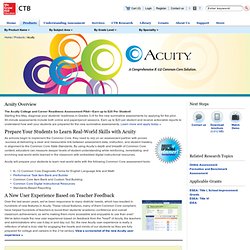 Sorry, it looks like we can't find the page you requested. The page may have been moved or deleted. Why not try using the 'Search' box to find what you're looking for?
The World's Most Successful Math Software for Schools - Accelerated Math
The World's Most Widely Used Reading Software - Accelerated Reader