Asseessment Systems
www.parcconline.org/sites/parcc/files/PARCC MCF for ELA Literacy_Fall 2011 Release %28rev%29.pdf
Vantage Learning | Measuring Success One Student At a Time
STEP™ Tool | UChicago Impact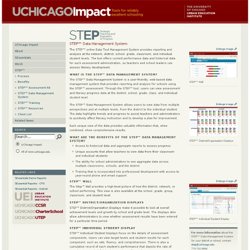 STEP™ Data Management System The STEP™ online Data Tool Management System provides reporting and analysis at the network, district, school, grade, classroom, and individual student levels. The tool offers current performance data and historical data for each assessment administration, so teachers and school leaders can assess literacy development. What is the STEP™ Data Management System? The STEP™ Data Management System is a user-friendly, web-based data management system that provides reporting and analysis for schools using the STEP™ assessment. Through the STEP™ tool, users can view assessment and literacy progress data at the district, school, grade, class, and individual student level.
Under Construction
Scantron
Large-Scale K-12 Educational Assessments - Questar Assessment, Inc.
METRIA: Instructional Planning and Assessment Management
MetaMetrics - Linking Assessment with Instruction
Measurement Incorporated ® ~ Excellence in Assessment™
At Measurement Incorporated, we can extend to our clients a range of assessment technologies that will cater to their unique needs. In addition to the performance assessment scoring techniques for which we are highly respected industry wide, we offer scoring services that include online and automated scoring technologies. Perpetually researching and developing new technologies, we enhance our ability to provide rapid turnaround of reliable assessment results. These computer and online-based scoring technologies include Online Testing and Automated Essay Scoring.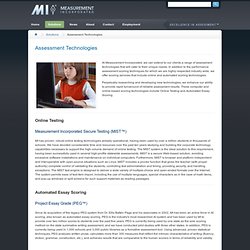 Measured Progress | K-12 Educational Assessments and Professional Development Programs - Measured Progress
LinkIt! K-12 Assessment and Instruction
Assessment Technology, Incorporated: Home of Galileo Technology for Instructional Improvement
ExamView® Assessment Suite | © eInstruction®
www.Edutest
Are you looking for website's contact or support? Do you want to become a fan on Facebook or follower on Twitter? We provide a better way to search website contacts.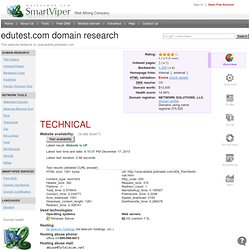 Portions of the Edusoft Assessment Management System contain copyrighted material that was obtained from other sources and are limited for use by the Licensee solely. You may obtain access to other sites on the Internet through use of this system. By providing this service Riverside is not undertaking any responsibility or liability for information or publications of third parties on the Internet even if you obtain access to them through this system. Copyright © 2011 by The Riverside Publishing Company. All rights reserved.
Edusoft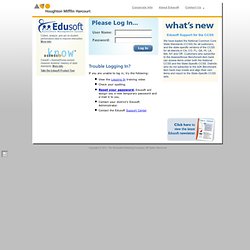 Home | EDmin
Use the Measured Progress DATAWISE TM assessment and data management platform to improve student learning in your school or district. DATAWISE simplifies assessment development and data management so that educators can use student results to make informed instructional decisions. Educators can use DATAWISE to help transition students to the Common Core by accessing components of the Measured Progress COMMON CORE TM Assessment Program directly from the DATAWISE dashboard.
Datawise - Measured Progress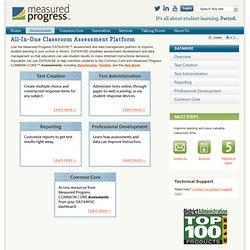 D2SC
Elementary Literacy & Math Test – Diagnostic Adaptive Assessment Tool – Children's Progress
Riverside Publishing - Assess2Know Benefits
American Institutes for Research | Applying behavioral and social science research in education, education assessment, international development and health and work and training to enhance lives worldwide
Acuity - CTB/McGraw-Hill
Featured Article Mesa Public Schools implemented Acuity to help teachers target instruction, measure progress toward state standards, and predict student performance on Arizona's Instrument to Measure Standards (AIMS). Customer Story - Jefferson County Public Schools, Golden, Colorado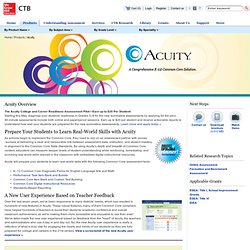 Promethean Technology in Education, Classroom Technology and Interactive Whiteboards: Promethean.
The World's Most Successful Math Software for Schools - Accelerated Math
The World's Most Widely Used Reading Software - Accelerated Reader