Asseessment Systems
Vantage Learning Can Help You Transition to Common Core and State Standards Vantage Learning's award-winning solutions align to Common Core and state standards. Together, they provide adaptive assessment, learning and remediation as well as reports for making data-driven decisions. MY Access!® is our award-winning writing development solution that utilizes artificial intelligence and linguistic technologies to enhance student learning.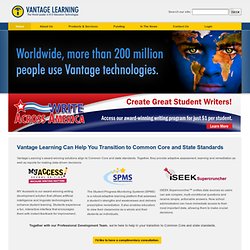 Vantage Learning | Measuring Success One Student At a Time
SchoolCity has changed the atmosphere here. The teachers are more accountable and the kids are eager to try again. Cindy Brown Principal, Cleo Gordon Elementary Fairfield-Suisun USD SchoolCity has been an invaluable partner. Dr. Jacki Cottingham-Dias Superintendant Fairfield-Suisun USD
Under Construction
Large-Scale K-12 Educational Assessments - Questar Assessment, Inc.
METRIA: Instructional Planning and Assessment Management
The Lexile® Framework for Reading Lexile® measures connect students with reading resources at the right level of challenge and monitor their progress toward goals and standards. The Quantile® Framework for Mathematics Quantile® measures target instruction and monitor progress by describing a student's ability to solve mathematical problems. The Lexile® Framework for Writing
MetaMetrics - Linking Assessment with Instruction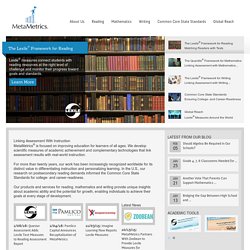 Measurement Incorporated ® ~ Excellence in Assessment™
At Measurement Incorporated, we can extend to our clients a range of assessment technologies that will cater to their unique needs. In addition to the performance assessment scoring techniques for which we are highly respected industry wide, we offer scoring services that include online and automated scoring technologies. Perpetually researching and developing new technologies, we enhance our ability to provide rapid turnaround of reliable assessment results. These computer and online-based scoring technologies include Online Testing and Automated Essay Scoring.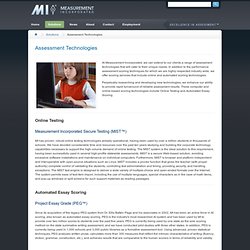 Measured Progress | K-12 Educational Assessments and Professional Development Programs - Measured Progress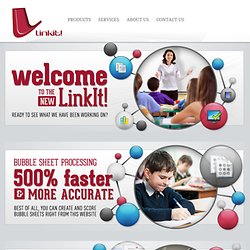 08 February 2012 - LinkIt! (http://www.linkit.com), the data-driven education technology company, announced today that they have been selected by Hunterdon County Educational Services Commission to implement a strategic data-driven instruction and evaluation system. The groundbreaking public-private partnership will provide sustainable technology designed to accelerate student performance gains and automate time-consuming data capture and analysis tasks. The collaboration between the two organizations will bring the latest in data-driven education solutions to schools in Hunterdon County and throughout the State.
LinkIt! K-12 Assessment and Instruction
Assessment Technology, Incorporated: Home of Galileo Technology for Instructional Improvement
New Birth to 3 School Readiness Scales Children acquire capabilities during their formative preschool years that have a profound effect on their successful transition to school as well as on maintaining success while attending school. One of the fundamental goals of ATI is to assist programs in meeting the school readiness needs of children. To help programs target these valued educational goals, ATI has created the Galileo School Readiness Scales.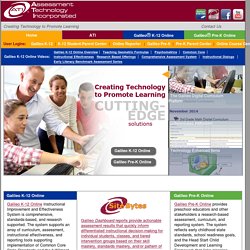 ExamView® Assessment Suite | © eInstruction®
www.Edutest
Latest result: Website is UP Latest test time and date: 6:10:07 PM December 17, 2013 Latest test duration: 0.66 seconds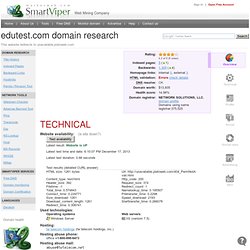 Edusoft Support for the CCSS We have loaded the National Common Core State Standards (CCSS) for all customers, and the state-specific versions of the CCSS for all districts in CA, CO, FL, GA, HI, LA, MA, NY and OR. Customers who subscribe to the Assess2Know Benchmark item bank can access items under both the National CCSS and the State-Specific CCSS. Districts who do not subscribe to the A2K Benchmark item bank may create and align their own items and report to the State-Specific CCSS sets.
Edusoft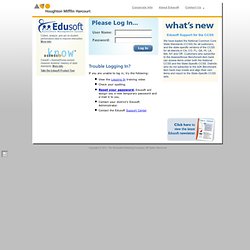 Home | EDmin
Datawise - Measured Progress
D2SC
Elementary Literacy & Math Test – Diagnostic Adaptive Assessment Tool – Children's Progress
Riverside Publishing - Assess2Know Benefits
American Institutes for Research | Applying behavioral and social science research in education, education assessment, international development and health and work and training to enhance lives worldwide
AIR Highlights AIR a Key Partner in the 2014 Surgeon General's Report on Smoking & Health The latest Surgeon General's Report, "The Health Consequences of Smoking – 50 Years of Progress," marks the 50th anniversary of the landmark reports warning about the health hazards of smoking. AIR has been partnering with the Office of the Surgeon General and the Centers for Disease Control and Prevention's … Year in Review: Most-Read Work 2013 Here are some of our publications from this past year—reports, research briefs, infographics and an article—that our visitors found especially insightful and interesting. …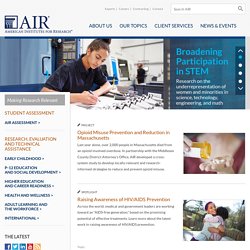 Acuity - CTB/McGraw-Hill
Prepare Your Students to Learn Real-World Skills with Acuity As schools begin to implement the Common Core, they need to rely on an assessment partner with proven success at delivering a clear and measurable link between assessment data, instruction, and student mastery, in alignment to the Common Core State Standards.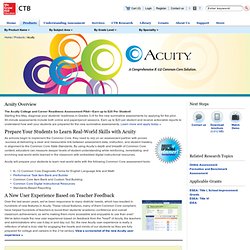 Sorry, it looks like we can't find the page you requested. The page may have been moved or deleted. Why not try using the 'Search' box to find what you're looking for?
The World's Most Successful Math Software for Schools - Accelerated Math
Accelerated Math Live helps teachers personalize math practice, differentiate instruction, monitor progress, and make data-driven decisions to guide each student to success. Make the best use of the technology you have now. With Accelerated Math Live, students can work online using 1:1 classroom computers, laptops, or tablets; they can access resources through a limited number of classroom computers; or they can use paper and pencil supported by your single classroom computer.
The World's Most Widely Used Reading Software - Accelerated Reader