Tips
Top 40 Useful Sites To Learn New Skills | This and That... The web is a powerful resource that can easily help you learn new skills.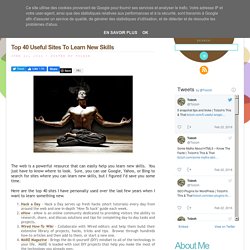 You just have to know where to look. Sure, you can use Google, Yahoo, or Bing to search for sites where you can learn new skills , but I figured I'd save you some time. Here are the top 40 sites I have personally used over the last few years when I want to learn something new. 20 Clever Daily Life Hacks Just To Make Life More Easier.
30 Challenges for 30 Days. It is been said that it takes about 30 days to form a habit.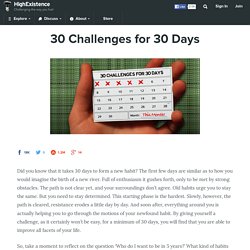 The ones that are good for you require cultivation and determination. The starting phase is the hardest, especially if you want to change an old habit into a new one. This is why giving yourself a challenge for a minimum of 30 days is a great way to improve all facets of your life. These are some useful tricks. HOW TO MAKE A WIFI EXTENDER. 50 Things You Need To Give Up Today!! When you stop chasing the wrong things, you give the right things a chance to catch you.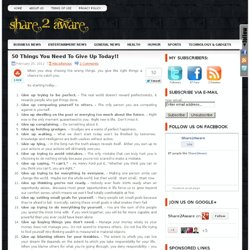 So starting today… Give up trying to be perfect. – The real world doesn't reward perfectionists, it rewards people who get things done. Give up comparing yourself to others. – The only person you are competing against is yourself. Give up dwelling on the past or worrying too much about the future. – Right now is the only moment guaranteed to you. Life Hacks. 30 Habits that Will Change your Life. Developing good habits is the basic of personal development and growth.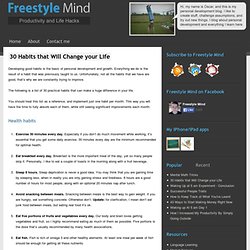 Everything we do is the result of a habit that was previously taught to us. Unfortunately, not all the habits that we have are good, that's why we are constantly trying to improve. The following is a list of 30 practical habits that can make a huge difference in your life. 101 Ways to be Happy. Do you want to be happy?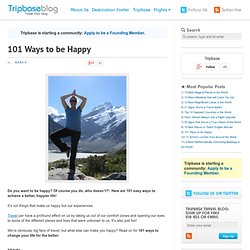 Of course you do, who doesn't?! Here are 101 easy ways to achieve a better, happier life! It's not things that make us happy but our experiences. Travel can have a profound effect on us by taking us out of our comfort zones and opening our eyes to some of the different places and lives that were unknown to us. Airplane Travel Tips - 100 Words or Less - Gadling. Don't take sleep aids until you're in the air - Airplane tip by Melanie Linn Gutowski (RSS feed) on Aug 9th, 2010 at 11:16AM Though it may seem appealing to sleep through those long waits on the tarmac, avoid the temptation to take a sleep aid until you're up in the air.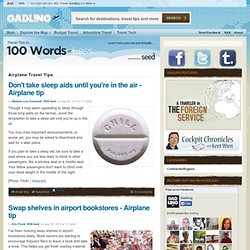 You may miss important announcements, or, worse yet, you may be asked to disembark and wait for a later plane. If you plan to take a sleep aid, be sure to take a seat where you are less likely to block in other passengers, like a window seat or a middle seat. The Top 10 Complaints About American Tourists | Pimsleur Approach.
---