Interesting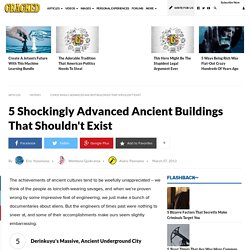 The achievements of ancient cultures tend to be woefully unappreciated -- we think of the people as loincloth-wearing savages, and when we're proven wrong by some impressive feat of engineering, we just make a bunch of documentaries about aliens. But the engineers of times past were nothing to sneer at, and some of their accomplishments make ours seem slightly embarrassing. #5. Derinkuyu's Massive, Ancient Underground City Bjorn Christian Torrissen Derinkuyu's underground city was discovered in the 1960s in Turkey, when a modern house above ground was being renovated.
Amazing Facts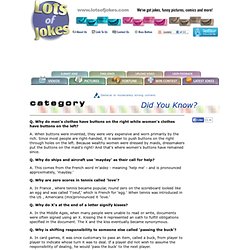 Q. Why do men's clothes have buttons on the right while women's clothes have buttons on the left? A. When buttons were invented, they were very expensive and worn primarily by the rich. Since most people are right-handed, it is easier to push buttons on the right through holes on the left.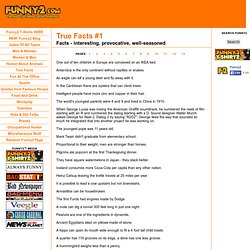 Facts - interesting, provocative, well-seasoned One out of ten children in Europe are conceived on an IKEA bed. Antarctica is the only continent without reptiles or snakes. An eagle can kill a young deer and fly away with it.