Lotro
Bonjour ! Etant donné que c'est un brin compliqué et que beaucoup d'anciens nous font le plaisir de revenir ces temps-ci, je pense qu'un petit récap sur la radiance et les set d'armures s'impose. Tout d'abord la radiance qu'est ce que c'est ? Effroi : effet de terreur qui réduit notre moral.
Radiance et sets d'armures : RECAP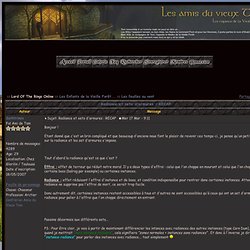 Lotro: le site de la confrerie de la revelation - Portail 2009
LOTRO - Dynamic Map - Breeland
Error: A valid username should be between 6 and 25 characters, and can contain alphanumeric characters, periods, commas, and underscores. Sequential underscores are invalid.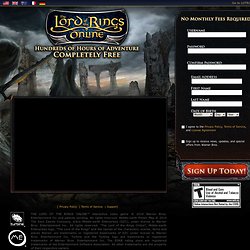 Codemasters : The Lord of the Rings Online™: Shadows of Angmar™ : Home
Lord of the Rings Online - La Forge de Kaa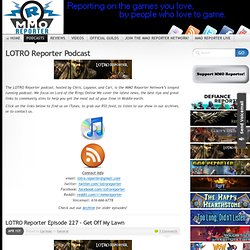 The LOTRO Reporter podcast, hosted by Chris, Layanor, and Cari, is the MMO Reporter Network's longest running podcast. We focus on Lord of the Rings Online We cover the latest news, the best tips and great links to community sites to help you get the most out of your time in Middle-earth. Click on the links below to find us on iTunes, to grab our RSS feed, to listen to our show in our archives, or to contact us. Contact Info email: lotro.reporter@gmail.com twitter: twitter.com/lotroreporter Facebook: facebook.com/lotroreporter Reddit: reddit.com/r/mmoreporter Voicemail: 616-666-6778 Check out our Archive for older episodes!
LOTRO Reporter