Social media
Path. Can We Ever Digitally Organize Our Friends? « Design « kev/null. In Design , Technology on 15 July 2011.
When Google+ launched last week, one of the most discussed features was Circles. In case you haven't read a single blog, Tweet, or Google+ post in the last week (and yet, somehow stumbled into this dark corner of the internet), Circles is Google's way of allowing you to group people. You can put anyone into a one or more Circles such as "Friends", "Acquaintances", "Co-workers", "People I Eat Brunch With", "Cyclists", etc. And you have to put a person in at least one group. How To Build A Facebook Application. The web professional's online magazine of choice.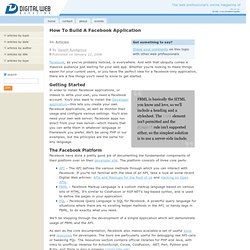 In: Articles By Gareth Rushgrove Published on January 22, 2008 Facebook, as you've probably noticed, is everywhere. The downside of Facebook as a public space: Censorship. Updated: The benefits of being on Facebook are fairly obvious by now: you can connect to friends and family and share things with them no matter where they are — and it's all free!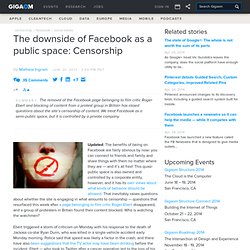 This quasi-public space is also owned and controlled by a corporate entity, however, and it has its own views about what kinds of behavior should be allowed. That inevitably raises questions about whether the site is engaging in what amounts to censorship — questions that resurfaced this week after a page belonging to film critic Roger Ebert disappeared, and a group of protesters in Britain found their content blocked.
Who is watching the watchmen? Ebert triggered a storm of criticism on Monday with his response to the death of Jackass co-star Ryan Dunn, who was killed in a single-vehicle accident early Monday morning. Police said that speed was likely a factor in the crash, and there have also been suggestions that the TV actor may have been drinking before the incident. With Full-On Twitter Integration, Path Launches A Second App. Despite the conventional wisdom these days that the broader sharing options you have, the better, Path set out to take the opposite road. 50 friend limits.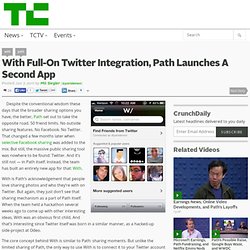 No outside sharing features. No Facebook. No Twitter. That changed a few months later when selective Facebook sharing was added to the mix. But still, the massive public sharing tool was nowhere to be found: Twitter. Create a Social Networking Site with Ning, the Best Social Site Platform. Alliance Health Raises $11 Million For Condition-Specific Social Networks. Alliance Health Networks, a company that operates health condition-specific social networks, has raised $11 million in new funding led by New World Ventures with participation from Physic Ventures, Highway 12 Ventures and Epic Ventures.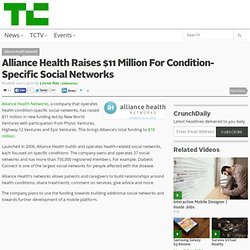 This brings Alliance's total funding to $18 million. Launched in 2006, Alliance Health builds and operates health-related social networks, each focused on specific conditions. The company owns and operates 37 social networks and has more than 750,000 registered members. For example, Diabetic Connect is one of the largest social networks for people affected with the disease.
Alliance Health's networks allows patients and caregivers to build relationships around health conditions, share treatments, comment on services, give advice and more. Facebook's New Desktop Software Team Could Build Apps to Report Media Consumption. Facebook is accepting applications from engineers to join a new desktop software team at its Seattle office.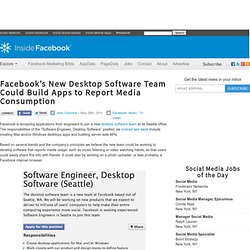 The responsibilities of the "Software Engineer, Desktop Software" position we noticed last week include creating Mac and/or Windows desktops apps and building server-side APIs. Based on several trends and the company's principles we believe the new team could be working to develop software that reports media usage, such as music listening or video watching habits, so that users could easily share this info with friends. Socialmedia. Social Media.
FriendFeed. Thingd (thingd) Instagram. Twitpic. Foodspotting. Dear Google: You Can't Threaten People Into Being Social: Tech News and Analysis « There have been signs over the past few months that Google is feeling the pressure to step up its social efforts — the +1 features it announced a week ago being just one of them.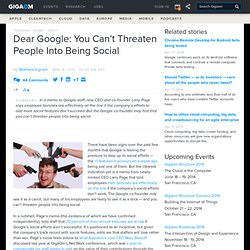 But the clearest indication yet is a memo from newly-minted CEO Larry Page that told employees their bonuses are effectively on the line if the company's social efforts don't work. The Google co-founder may see it as a carrot, but many of his employees are likely to see it as a stick — and you can't threaten people into being social. In a nutshell, Page's memo (the existence of which we have confirmed independently), tells staff that 25 percent of their annual bonuses are at risk if Google's social efforts aren't successful. It's positioned as an incentive, but given the company's track record with social features, odds are that staffers will lose rather than win. Livefyre.com | Real-time comments built for the social web.
Facebook Comments: What's Easy Isn't Always Right. Editor's note: Jordan Kretchmer is the founder of Livefyre, a realtime commenting and conversation platform for publishers and online communities.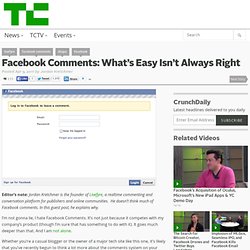 He doesn't think much of Facebook comments. In this guest post, he explains why. Www.aaai.org/ocs/index.php/AAAI/AAAI10/paper/viewFile/1822/2224. Workshops.fxpal.com/cscw2010cis/submissions/tmp26.pdf. Cs.stanford.edu/people/jure/pubs/lim-icdm10.pdf. Implicit Web Based Social Networks on Web Forums. Ideally I think that such tools are best if they extend across multiple sites.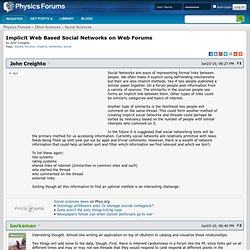 Some kind of open API would be good like RSS feeds. Tools could even be desktop based instead of web based. However, some things I would suggest to try to introduce these ideas into vbulitin are: The implicit networks might be good as a way for recommend people to follow (as opposed to friend). Friending implies something more personal and therefore people are less likely to add people.
Turning Passions into Actions | YouChoose. Redux: videos, photos, music, and websites recommended by people who love the same stuff you do. Content Discovery Platform for Publishers. P.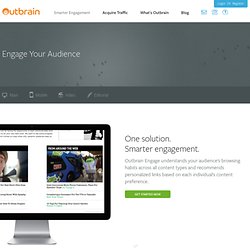 Reyhan, Digital Content at Allstate "I think of Outbrain the same way I think of a bag of my favorite tortilla chips. Once you start, you just can't stop. We saw immediate, positive results from day one onward. Outbrain is definitely a no- brainer. " The Implicit Social Graph. John Battelle wrote a gushing post about Color and what it means for mobile/social/local/realtime, augmented reality, and more. There are most certainly some big ideas in the Color app. I've never put a mobile photo app on my phone but I put Color on it last night. HOW TO: Use Facebook Social Plugins on Your Website. This post originally appeared on the American Express OPEN Forum, where Mashable regularly contributes articles about leveraging social media and technology in small business.
While many companies' early social marketing efforts were limited to social media sites such as Facebook, most are now eager to build social capabilities into the rest of their marketing efforts and turn their customers into brand advocates at every touch point. One of the easiest ways to make your online presence more social is by adding Facebook social plugins to your website. Locals Online - For hosts of neighborhood e-lists, placeblogs, and community social nets Home: E.
Welcome to the Locals Online - For hosts of neighborhood e-lists, placeblogs, and community social networks. Join over 340 peers working to connect local people online. Read the Introductions and then add your own. Use this peer to peer online group to share your experience, advice, and exchange ideas. This online community includes "hosts" of neighborhood e-mail lists, place blogs, community web forums, building or block-level social networking groups, hyper-local online communities, and online journalism sites designed for active community participation.
HootSuite - Social Media Dashboard for Teams using Twitter, Facebook, Linkedin. Interview: Cow Clicker Yields Ruminations On Social Gaming's Tense Battle Lines. Academic, author and game designer Ian Bogost is a little bit worried that his latest game, Cow Clicker -- a simple Facebook title simply about clicking on cows -- might receive more attention than anything he's done to date. If that turns out to be the case, it'll be an interesting turn of irony, the sort that motivates the sometimes-controversial designer: this is because Cow Clicker is a satire that asks players and developers alike to examine the explosive popularity of Facebook games. The game, Bogost tells Gamasutra, was initially conceived as an alternative to a straight lecture presentation he was asked to give at an NYU event; with only ten minutes to speak, and (as usual for Bogost) "a lot to say", why not show instead of tell?
Cow Clicker was intended to present the four issues that Bogost says "concern" him most about Facebook games: "enframing, compulsion, optionalism, and destroyed time," described in detail on his blog post about the title. New Facebook privacy tip: 'Super-logoff' Some users deactivate their accounts each time they log off of Facebook. Some Facebook users deactivate their accounts instead of just logging offThey then reactivate the account -- with all info maintained -- to log on againReport: Young people more likely than older counterparts to alter Facebook settings (CNN) -- If clamping down the privacy settings on your Facebook page isn't enough to help you sleep at night, take a cue from the youth of America. Visualize your LinkedIn network with InMaps «
Joseph Smarr at Web 2.0 on the New "Open Stack" « The Real McCrea. Distributed Social Networking. How people monitor their identity and search for others online. DIASPORA* Open Source Social Networking Platform. Quora. Update all of your social networks at once! PeopleBrowsr - Viral Analytics.
---