Education
Ideas in Science: Theories, Hypotheses, and Laws | Process of Science. Imagine yourself shopping in a grocery store with a good friend who happens to be a chemist.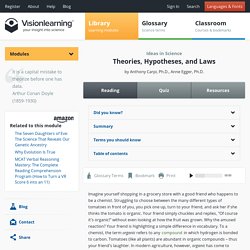 Struggling to choose between the many different types of tomatoes in front of you, you pick one up, turn to your friend, and ask her if she thinks the tomato is organic. Your friend simply chuckles and replies, "Of course it's organic! " without even looking at how the fruit was grown. Online courses need human element to educate. Online courses are proliferating, says Douglas Rushkoff, but will really succeed when they bring humanity to learning process Douglas Rushkoff: Education is under threat, but online computer courses are not to blameHe says education's value hard to measure; is it for making money or being engaged?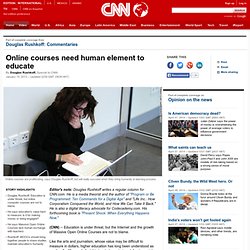 He says Massive Open Online Courses lack human exchange with teachersRushkoff: MOOCs should bring together people to share studies, maintain education's humanity Editor's note: Douglas Rushkoff writes a regular column for CNN.com. He is a media theorist and the author of "Program or Be Programmed: Ten Commands for a Digital Age" and "Life Inc.: How Corporatism Conquered the World, and How We Can Take It Back. " Learning Rocket Science With Video Games.
The Must-Have EdTech Cheat Sheet. Macmillan Knows Publishing Is Doomed, So It's Funding the Future. By Erin Griffith On July 5, 2012 Even if the dominant players in a staid, legacy industry see the writing on the wall — that the Internet will eventually kill them — it's not easy for them to do much about it.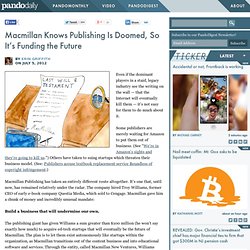 Some publishers are merely waiting for Amazon to put them out of business. (See "We're in Amazon's sights and they're going to kill us.") Save Money. Study Faster. Ace the Class. | Boundless. DIY U: Build a Personal Learning Plan | Get to Work. I guess I've come to the end of this challenge - though my learning, of course, is only just beginning.
I've been into the idea of Edupunk for a long time without knowing what to call it, so it's good to have a challenge like this to put some structure to the idea, and Anya kamenetz's books, The Edupunk Guide and DIY U, have been invaluable. As part of this challenge I have defined my path and created a plan of my proposed learning, which you can see at Visible Darkness, a website I built in Wordpress as a space to contain my work in an organized way. Here you can also see a mind map of my initial Personal Learning Network - I'm sure this grow as I progress with my learning. Touch Press - Our Vision. Scientist, author, inventor and entrepreneur; Stephen is best known for creating Mathematica, Wolfram|Alpha®, and for authoring A New Kind of Science.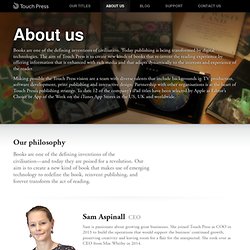 In his early years he made a number of discoveries in physics and cosmology. In the 1980s his now-classic work on cellular automata helped launch the field of complexity theory. Then in 1986 Stephen began the creation of Mathematica, founded Wolfram Research, and launched the first version of Mathematica. Stephen has served as CEO of Wolfram Research for more than two decades, and has provided the technical leadership that has made Mathematica the world's leading system for advanced computing. His company recently created Wolfram|Alpha®, the breakthrough computational knowledge engine released in 2009.
Overview. Back In 2007⋅⋅⋅ In 2007, supported by five of the most prominent textbook publishers in higher education, CourseSmart started out with the simple goal of providing instructors in college and higher education a better textbook evaluation service.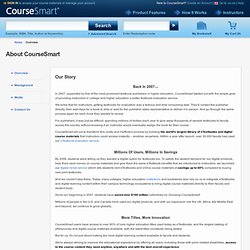 We knew that for instructors, getting textbooks for evaluation was a tedious and time consuming task. They'd contact the publisher directly, then wait days for a book to ship or wait for the publisher sales representative to deliver it in person. And go through the same process again for each book they wanted to review. For publishers, it was just as difficult, spending millions of dollars each year to give away thousands of sample textbooks to faculty across the country, without knowing if an instructor would eventually assign the book for their course.
No Child Left Behind: 10 Years Later · EdweekComm. Physicists Seek To Lose The Lecture As Teaching Tool. The lecture is one of the oldest forms of education there is.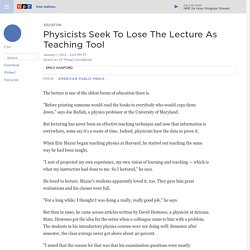 "Before printing someone would read the books to everybody who would copy them down," says Joe Redish, a physics professor at the University of Maryland. But lecturing has never been an effective teaching technique and now that information is everywhere, some say it's a waste of time. Indeed, physicists have the data to prove it. When Eric Mazur began teaching physics at Harvard, he started out teaching the same way he had been taught. National Hands-on Science Institute. Online Textbooks Aim to Make Science Leap From the Page. English teaching gets lost in translation|Top News. The eLearning Guild: A community of practice for eLearning designers, developers, and managers.
The Edupunks' Guide. The Challenges of Building a Digital Public Library of America. As books move from print to digital, there's been much hand-wringing about the impact this shift will have on libraries.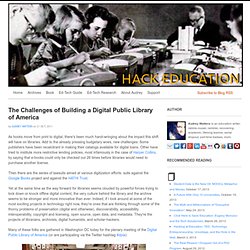 Add to the already pressing budgetary woes, new challenges: Some publishers have been recalcitrant in making their catalogs available for digital loans. Other have tried to institute more restrictive lending policies, most infamously in the case of Harper Collins, by saying that e-books could only be checked out 26 times before libraries would need to purchase another license. Then there are the series of lawsuits aimed at various digitization efforts: suits against the Google Books project and against the HATHI Trust.
Yet at the same time as the way forward for libraries seems clouded by powerful forces trying to lock down or knock offline digital content, the very culture behind the library and the archive seems to be stronger and more innovative than ever.
Geoff Mulgan: A short intro to the Studio School. Curriculum development. Higher ed. K-12. 4LTR Press | Student-Tested, Faculty Approved. Kings and Queens Come to Life: Retelling History Through Apps. How do you visualize your thoughts?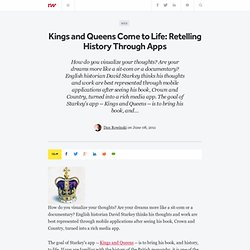 Are your dreams more like a sit-com or a documentary? English historian David Starkey thinks his thoughts and work are best represented through mobile applications after seeing his book, Crown and Country, turned into a rich media app. The goal of Starkey's app -- Kings and Queens -- is to bring his book, and history, to life. The Gallery of Teaching and Learning. AASL Announces 2011 Best Websites for Teaching and Learning « INFOdocket. From ALA: At the American Library Association's (ALA) 2011 Annual Conference in New Orleans, the American Association of School Librarians (AASL) announced the 2011 Top 25 Websites for Teaching and Learning.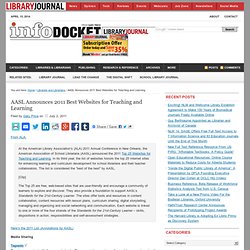 In its third year, the list of websites honors the top 25 Internet sites for enhancing learning and curriculum development for school librarians and their teacher collaborators. The list is considered the "best of the best" by AASL. [Clip]The Top 25 are free, web-based sites that are user-friendly and encourage a community of learners to explore and discover. They also provide a foundation to support AASL's Standards for the 21st-Century Learner.
Tools & Techniques. About Exploratree & Enquiring Minds. About Exploratree Exploratree is a free web resource where you can access a library of ready-made interactive thinking guides, print them, edit them or make your own. You can share them and work on them in groups too. Enquiring Minds. Learner.org. Interactive Textbooks. AcademicPub Opens Custom Textbook-Building to Faculty. E-Textbooks | News AcademicPub Opens Custom Textbook-Building to Faculty By Dian Schaffhauser04/26/11. Sofia Project. MobiStories | Digital Books for Kids | Apps for Kids - Home. 6 Companies Aiming to Digitize the Textbook Industry.
The world's readers purchased an estimated $966 million of ebooks in 2010, and Amazon has been selling more ebooks than paper books since January. But students have yet to catch on to the digital book revolution with the same fervor. A 2010 study by OnCampus Research found that 74% of college students surveyed still prefer to use a printed textbook. Where some see non-adopters, others see untapped markets, and thus large and small players alike have long been targeting the digital textbook niche. Here are some of the ways they're looking to get students to trade their print for pixels. 1.
2tor, Inc. 2tor Raises $32.5 Million Series C To Make Online Education Great. "One reason online education isn't that good is I don't think it is trying to be that good," says John Katzman, the CEO of 2tor, an online education startup that is trying to break that mold. The company, headquartered in New York City's Chelsea Piers, just raised a $32.5 million series C financing, led by Bessemer Venture Partners. All of its existing investors—Highland Capital, Redpoint, Novak Biddle, City Light—re-upped. Since it was founded in 2008, 2Tor has raised a total of $65 million.
Instead of focussing on low-hanging fruit like test prep or actual tutoring, 2tor is going straight after the higher education market, partnering with graduate programs to provide the technology platform to extend their classes online. For Educators | Symtext. Download cheap eTextbooks for iPad, Web, and Facebook. Free Science Books and Journals | Sciyo.com. Inkling - Interactive textbooks for iPad. Inkling.
Free Online Course Materials | MIT OpenCourseWare. Math is Fun - Maths Resources. Wolfram MathWorld: The Web's Most Extensive Mathematics Resource. Live Video Learning at eduFire. Online Video Lectures and Course Materials ? Open Yale Courses. VideoLectures - exchange ideas & share knowledge. Education - YouTube EDU.
The Animation Revolution Part II - E.D. Kain - American Times. Open learning. Open education resources. Virtualclassroom. OpenContent.
Traversing infowhelm: 21st Century Education for Beginners. Open education. Kids Discovery Museum...inquire...inspire....interact!...206 855 4650. Educational linkedscape by jeroen hamers. Co-Co's AdverSmarts. Quora. TutorialBlog.org. Body Browser - Google Labs. Dokeos | Open Source E-Learning. Connexions - Sharing Knowledge and Building Communities. PebblePad - not just an eportfolio. Online Education. Online Learning Solutions for Health Science | Business | IT — AES Education. Learning: online learning resources. Free video lectures, Free Online Courses, Video Lessons, Lecture Videos, Tutorials, free Download from top colleges and universities.
Getting Started at P2PU. Help Me Demonstrate The Importance Of Personal Learning Networks! | Sue Waters Blog. Edutopia. Eflresources » home.
---