Database interface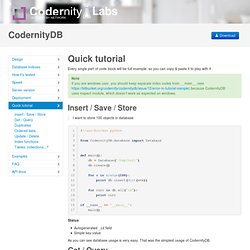 Every single part of code block will be full example, so you can copy & paste it to play with it Insert / Save / Store I want to store 100 objects in database Status Autogenerated _id fieldSimple key-value
Quick tutorial — CodernityDB
The Search API provides a model for indexing documents that contain structured data. You can search an index, and organize and present search results. The API supports partial text matching on string fields. Documents and indexes are saved in a separate persistent store optimized for search operations. The Search API can index any number of documents. However, an index search can find no more than 10,000 matching documents.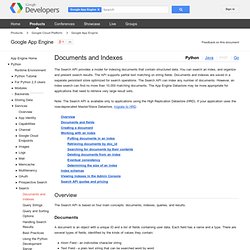 Search Overview (Python) - Google App Engine
Induction/Induction
djangoappengine - Django App Engine backends (DB, email, etc.) | All Buttons Pressed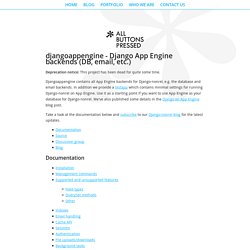 Djangoappengine contains all App Engine backends for Django-nonrel, e.g. the database and email backends.
Bulbflow: a Python Framework for the Graph Era
PyMongo 1.11 Documentation — PyMongo v1.11 documentation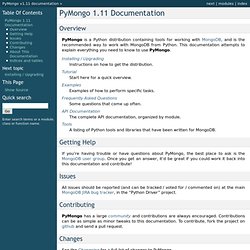 Overview PyMongo is a Python distribution containing tools for working with MongoDB, and is the recommended way to work with MongoDB from Python.
FrontPage - Storm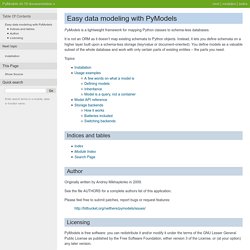 Easy data modeling with PyModels — PyModels v0.18 documentation
PyModels is a lightweight framework for mapping Python classes to schema-less databases. It is not an ORM as it doesn't map existing schemata to Python objects. Instead, it lets you define schemata on a higher layer built upon a schema-less storage (key/value or document-oriented). You define models as a valuable subset of the whole database and work with only certain parts of existing entities – the parts you need. Topics:
Fast, Easy Database Access with Python
SQLObject
Modeling Object-Relational Bridge for python