Cloud
Welcome to Cloud Foundry. Deliver and Update Applications at Velocity and Scale Pivotal CF™ is the leading enterprise PaaS, powered by Cloud Foundry.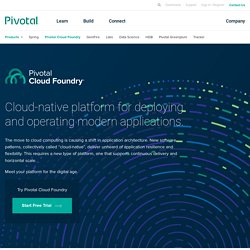 It delivers an always-available, turnkey experience for scaling and updating PaaS on the private cloud. The solution features: Pivotal CF Elastic Runtime Service – A complete, scalable runtime environment, extensible to most modern frameworks or languages running on Linux. Deployed applications enjoy built-in services and can automatically bind to new data services through a service broker or to an existing user-provided service. Cloud Foundry - Make it Yours! Python support in Cloud Foundry : Cloud Foundry Community. Cloud Computing, Managed Hosting, Dedicated Server Hosting by Rackspace. Cloud Development | Multiple language development |Windows Azure. Successful digital businesses are holistically applying the concepts of mobile, social, and big data to reimagine their business.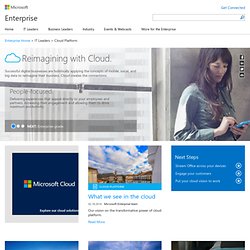 Cloud creates the connections. Learn More People-focused. Delivering experiences that appeal directly to your employees and partners, increasing their engagement and allowing them to drive maximum productivity. Heroku. Pricing overview.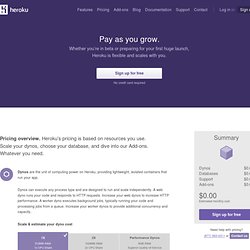 Heroku's pricing is based on resources you use. Scale your dynos, choose your database, and dive into our Add-ons. Whatever you need. Heroku Postgres is a fully managed, reliable and powerful database-as-a-service based on PostgreSQL. Heroku | Cloud Application Platform. BitNami Hosting. FAQ - BitNami documentation. Billing How much does it cost?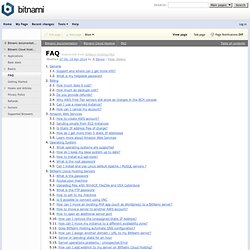 BitNami Cloud Hosting is available as a monthly subscription. You can view the available plans on the BitNami Cloud Hosting website. As you will see, we also offer a free tier of service that allows you to deploy and manage one micro os small instance for free. Please note that the BitNami monthly subscription fees are in addition to the charges you will incur from Amazon for running your servers on the Amazon Cloud. New FREE Tier for BitNami Cloud Hosting. At BitNami, we are committed to making it easy for anyone to run their favorite open source applications natively, virtually and in the cloud.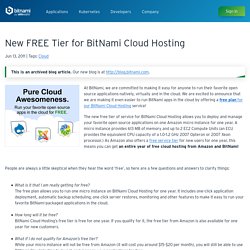 We are excited to announce that we are making it even easier to run BitNami apps in the cloud by offering a free plan for our BitNami Cloud Hosting service! The new free tier of service for BitNami Cloud Hosting allows you to deploy and manage your favorite open source applications on one Amazon micro instance for one year. A micro instance provides 613 MB of memory and up to 2 EC2 Compute Units (an ECU provides the equivalent CPU capacity of a 1.0-1.2 GHz 2007 Opteron or 2007 Xeon processor.) As Amazon also offers a free service tier for new users for one year, this means you can get an entire year of free cloud hosting from Amazon and BitNami! Welcome to Google App Engine. AWS Free Usage Tier. 750 hours of ELB per Month Data Processing.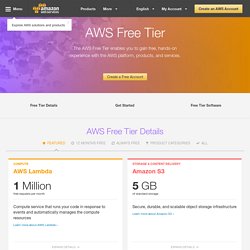 Amazon Web Services. Cloud Hosting: How GoGrid Works. Cutting the Fat Out of the Cloud Development Stack - ReadWriteCloud. "The wide availability of cloud computing offers an un-precedented opportunity to rethink how we construct applications," opens the paper Turning Down the LAMP: Software Specialisation for the Cloud (PDF) - an "unashamedly academic" exploration of building custom kernals for the cloud.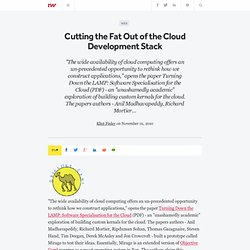 The papers authors - Anil Madhavapeddy, Richard Mortier, Ripduman Sohan, Thomas Gazagnaire, Steven Hand, Tim Deegan, Derek McAuley and Jon Crowcroft - built a prototype called Mirage to test their ideas. Essentially, Mirage is an extended version of Objective Caml running as a guest operating system in Xen. The authors claim this implementation exhibits "signi?
---