Cloud
Cloud Foundry - Make it Yours!
Python support in Cloud Foundry : Cloud Foundry Community
When the Microsoft CEO publicly declared "We're all in" on cloud computing in March 2010, he wasn't just referring to Microsoft products and platforms. He also was giving the IT organization a mandate to move to the cloud. Today, Microsoft IT has deployed more than 50 applications on Windows Azure, manages more than 40,000 email boxes and 18,000 personal Microsoft SharePoint sites on Microsoft Office 365, and is expanding the number of employees who are using Microsoft Dynamics CRM Online.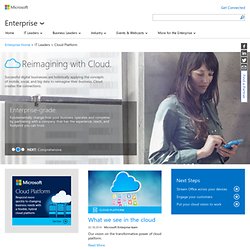 Cloud Development | Multiple language development |Windows Azure
Heroku
BitNami Hosting
Billing How much does it cost? BitNami Cloud Hosting is available as a monthly subscription. You can view the available plans on the BitNami Cloud Hosting website . As you will see, we also offer a free tier of service that allows you to deploy and manage one micro os small instance for free. Please note that the BitNami monthly subscription fees are in addition to the charges you will incur from Amazon for running your servers on the Amazon Cloud.
FAQ - BitNami documentation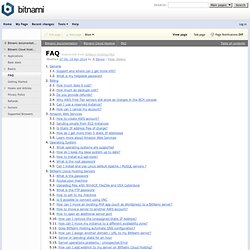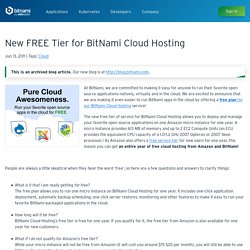 At BitNami, we are committed to making it easy for anyone to run their favorite open source applications natively, virtually and in the cloud. We are excited to announce that we are making it even easier to run BitNami apps in the cloud by offering a free plan for our BitNami Cloud Hosting service! The new free tier of service for BitNami Cloud Hosting allows you to deploy and manage your favorite open source applications on one Amazon micro instance for one year.
New FREE Tier for BitNami Cloud Hosting
Welcome to Google App Engine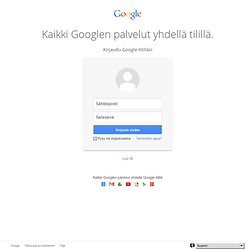 Run your web applications on Google's infrastructure. Google App Engine enables developers to build web applications on the same scalable systems that power our own applications. No assembly required. Google App Engine exposes a fully-integrated development environment . It's easy to scale. Google App Engine makes it easy to design scalable applications that grow from one to millions of users without infrastructure headaches.
AWS Free Usage Tier (Per Month): Elastic Compute Cloud (EC2) 750 hours of Amazon EC2 Linux † Micro Instance usage (613 MB of memory and 32-bit and 64-bit platform support) – enough hours to run continuously each month * 750 hours of Amazon EC2 Microsoft Windows Server ‡ Micro Instance usage (613 MB of memory and 32-bit and 64-bit platform support) – enough hours to run continuously each month * 750 hours of an Elastic Load Balancer plus 15 GB data processing* 30 GB of Amazon Elastic Block Storage , plus 2 million I/Os and 1 GB of snapshot storage *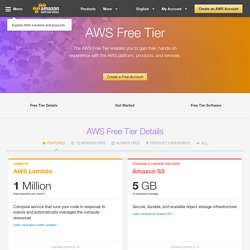 Cloud Hosting: How GoGrid Works
Featured Cloud Hosting Products GoGrid's cloud hosting platform provides automated provisioning of infrastructure over the Internet. You can provision and scale virtual and physical servers, storage, networking, load balancing, and firewalls in real time across multiple data centers using a web-based management console or GoGrid's API. GoGrid infrastructure is ideal if you need instant access to highly available multi-server environments.
Cutting the Fat Out of the Cloud Development Stack - ReadWriteCloud
"The wide availability of cloud computing offers an un-precedented opportunity to rethink how we construct applications," opens the paper Turning Down the LAMP: Software Specialisation for the Cloud (PDF) - an "unashamedly academic" exploration of building custom kernals for the cloud. The papers authors - Anil Madhavapeddy, Richard Mortier, Ripduman Sohan, Thomas Gazagnaire, Steven Hand, Tim Deegan, Derek McAuley and Jon Crowcroft - built a prototype called Mirage to test their ideas. Essentially, Mirage is an extended version of Objective Caml running as a guest operating system in Xen. The authors claim this implementation exhibits "signi?cant performance speedups for I/O and memory handling versus the same code running under Linux/Xen."