Blogs
Facebook changes privacy settings for millions of users – facial recognition is enabled
"Authentic" is dead
They should no longer be used, ever, in any context except derisive mocking: Fast and easy Putting customers first
David Kravets: Court Upholds Conviction in Dead Sea Scrolls E-Mail Impersonation Case Prof. Volokh: No First Amendment Violation in E-Mail Impersonation Case WSJ Law Blog: Judges Not Amused by Dead Sea Scrolls 'Prank' [image credit: Gigra / Shutterstock -- " wooden Pinnochio doll with long nose "] Posted by Venkat at 09:11 AM | Content Regulation January 28, 2013
Content Regulation Archives
Star Wars: Episode 1 – The Phantom Menace |
When I started my Ph.D. in Princeton, pure economic theory was king. Economists with stellar math skills were high in status and high in demand, even if their knowledge of the real world was... slight. In the following eighteen years, however, something big seems to have changed.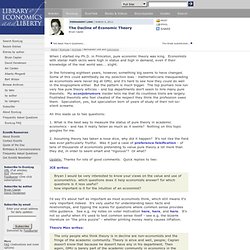 The Decline of Economic Theory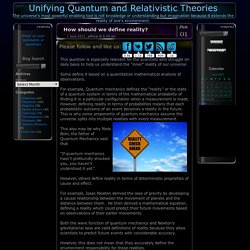 Does time have an end? If so when and where will it happen? This question is a difficult to answer definitively because if time does end no one would have the time to tell us it had. How then can we determine if it will? One was is by analyzing what we know about the present time and project it into the future.
The Imagineer's Chronicles
John Maximilian Repka sur MySpace Music - Ecoute gratuite de MP3, Photos et clips vidéos
Science teacher