Summer Camps
SCAD > The University for Creative Careers. Sail Caribbean Delta | Teen Sailing Camp in the Caribbean. Double Your Paradise.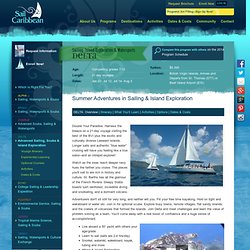 Harness the breeze on a 21-day voyage visiting the best of the BVI plus the exotic and culturally diverse Leeward Islands. Longer sails and authentic "blue water" cruising will have you feeling like a true sailor--and an intrepid explorer! Wind River Mountaineering. This empowering Leadership Expedition in Wyoming is highlighted by an alpine trek amidst glacier-carved peaks through the Bridger Wilderness in Wyoming's Wind River Range.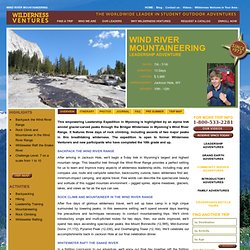 It features three days of rock climbing, including ascents of two major peaks in this breathtaking wilderness. The expedition is open to former Wilderness Venturers and new participants who have completed the 10th grade and up. Backpack The Wind River Range After arriving in Jackson Hole, we'll begin a 5-day trek in Wyoming's largest and highest mountain range. This beautiful trek through the Wind River Range provides a perfect setting for us to learn and improve many aspects of wilderness leadership skills, including map and compass use, route and campsite selection, backcountry cuisine, basic wilderness first aid, minimum-impact camping, and alpine travel. Trip overview. Our Two-Week Costa Rican community service exploration is an exciting combination of diverse adventure travel and stimulating cultural immersion in an unspoiled tropical paradise of pristine beaches, exotic wildlife, and a rainbow of colorful flowers and birds.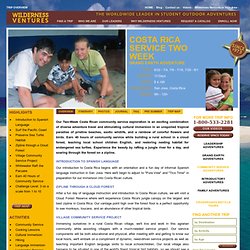 Earn 40 hours of community service while building a rural school in a cloud forest, teaching local school children English, and restoring nesting habitat for endangered sea turtles. Experience the beauty by rafting a jungle river for a day, and soaring through the forest on a zipline. Trip overview. Experience the rich traditions and culture of Fiji while living and working in small villages, then explore the vibrant beauty of these tropical islands by inflatable kayak, sailboat, and surfboard.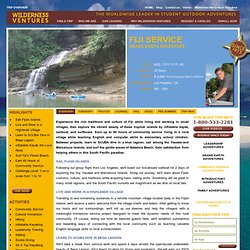 Earn up to 60 hours of community service living in a rural village while teaching English and computer skills to elementary school children. Between projects, learn to SCUBA dive in a blue lagoon, sail among the Yasawa and Mamanuca Islands, and surf the gentle waves of Natadola Beach. Gain satisfaction from helping others in this South Pacific paradise. Sail Fijian Islands Following our group flight from Los Angeles, we'll board our live-aboard sailboat for 2 days of exploring the tiny Yasawa and Mamanuca Islands.
---