Actualité Green IT
Wii Crushes Other Game Consoles in Energy Efficiency. Written by Megan Treacy on 22/12/10 A new report from the Electric Power Research Institute looked at the energy consumption of the three most popular video game consoles -- the Nintendo Wii, Microsoft Xbox 360 and Sony Playstation 3 -- and the Wii was far and away the most energy efficient, using one-sixth the power used by the other two.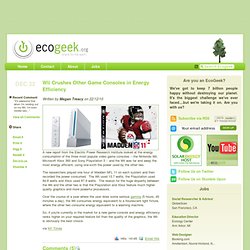 The researchers played one hour of Madden NFL 11 on each system and then recorded the power consumed. The Wii used 13.7 watts, the Playstation used 84.8 watts and Xbox used 87.9 watts. The reason for the huge disparity between the Wii and the other two is that the Playstation and Xbox feature much higher quality graphics and more powerful processors. Over the course of a year where the user does some serious gaming (5 hours, 45 minutes a day), the Wii consumes energy equivalent to a flourescent light fixture, where the other two consume energy equivalent to a washing machine.
GreenTech Pastures. Greener Computing News, Resources, and IT Tools | Computing. GreenIT.fr › Toute l'actualité du Green IT. Geekygreen.co.uk.
---