Tech
Couple of my hobbies are travelling and photography. I love to take pictures and experiment with photography. Usually after my trips, I just copy the photos to either my iPad or couple of my external hard disks. After 10 years, I have over 200K photos distributed across several disks and machines.
Detecting similar and identical images using perseptual hashes - Hacker Labs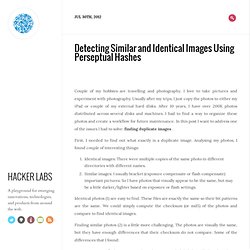 11.23.2012 pHash 0.9.5 released. Fix compilation problem with using deprecated FFmpeg functions. 10.20.2011 Cumulix 1.0 Cumulix is an extremely fast and scalable cloud-based image search and retrieval system based on pHash Pro and Neo4j. 01.31.2011 pHash 0.9.4 released. Added radial image hash to Java bindings, fixed compilation on Mac OS X with complex header type, and the examples linking to pthread. 12.24.2010 MVPTree v1.0 New download available.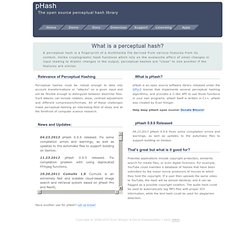 pHash.org: Home of pHash, the open source perceptual hash library
mperham/phashion
README.md Phashion Phashion is a Ruby wrapper around the pHash library, "perceptual hash", which detects duplicate and near-duplicate multimedia files (e.g. images, audio, video, though Phashion currently only supports images.).