Advertising agencys
Nowans Community Trust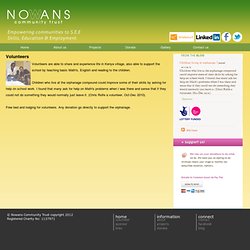 Volunteers are able to share and experience life in Kenya village, also able to support the school by teaching basic Math's, English and reading to the children. Children who live at the orphanage compound could improve some of their skills by asking for help on school work. I found that many ask for help on Math's problems when I was there and sense that if they could not do something they would normally just leave it. (Chris Rolfe a volunteer, Oct-Dec 2010). Free bed and lodging for volunteers. Any donation go directly to support the orphanage.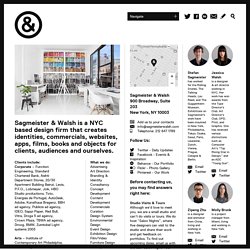 Sagmeister & Walsh - About Us
Clients include: – Function Engineering, Standard Chartered Bank, Aishti Department Stores, 20/30 Apartment Building Beirut, Levis, P.F.O., Lobmeyer, Joik, HBO Studio productions, Toto, Energias de Portugal, AutoDesk, Adobe, Kunsthaus Bregenz, BBH ad agency, Publicis ad agency, IDEO, Sappi Paper, Red Bull, Vitra, Droga 5 ad agency, Crown Plaza, TBWA ad agency, Droog, BMW – Institute of Contemporary Art Philadelphia, Deitch Projects, Museum Plaza, Guggenheim Museum, Vilcek, Casa da Musica, Art Center Pasadena, NYC, Olympic committee, Public Art Fund, Dakis Jouannou, Arup, Dakota Jackson, Museum of Modern Art, Vorarlberger Landes Museum, AIGA, Design Exchange Toronto, Les Arts Decoratifs – Other Criteria, ArtAsiaPacific Publishing, Random House Publishing, Departure Vienna, Abrams publishing, Seed Magazine, The New York Times, .copy Magazine, Appleton Paper, Annual Reviews/MIT Press, NYTimes Magazine, Technology Review
First Ad Man in Space?Written by Trevor Beattie "Space travel's in my blood, there ain't nothing I can do about it…". As someone once sang in the late 1990s. They had me at "Space". Travelling to space is the only thing I've ever REALLY wanted to do.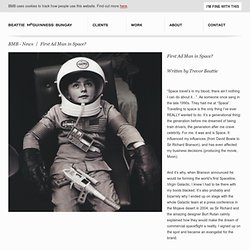 Beattie McGuinness Bungay - Our Clients - BMB - News - First Ad Man in Space?
Weapon 7 | Ideas with little beating hearts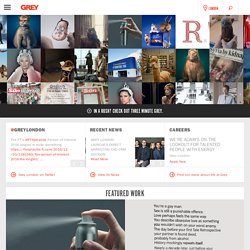 Grey London is behind a new educational campaign for gum health brand Corsodyl; 'Ignore' - aimed at changing consumer perceptions to realise that spitting blood when brushing teeth is a warning sign of gum disease. Directed by Ryan Hope, the visually-arresting spot looks to drive awareness of gum disease, drawing attention to the idea that people would not ignore blood from any other part of the body. If they continue to ignore the sign of spitting blood when brushing their teeth, the ultimate consequence could be tooth loss. The ad features a disruptive creative approach similar to our previous campaigns for the brand ('Gorgeous' and 'Undress'), that aims to subvert the fashion/beauty world before the big 'reveal' of a missing tooth.
Honda - Portfolio - Grey London
Media Agency | Media Buying Agency | Media Planning Agency | Media Planning and Buying
Aegis Africa | The fastest growing network in Sub Saharan Africa.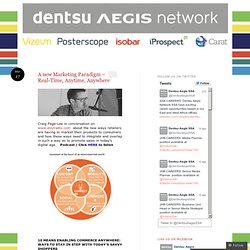 Few businesses have made sustainability a core part of their strategy, some are doing the minimum for compliance sake, the majority are on a carry on a "business as usual" path without stopping to question their negative impacts on society or the environment, let alone looking at the full life cycle of their brands. While we are seeing certain countries displaying improved political leadership the African continent is still characterised by self serving leaders, political instability, corruption and social and environmental sustainability not very high up on the majority of Africans national agenda, despite all of this, Africa is becoming the darling of emerging market, investors and growth rates in Africa are above 5 %.
There is no doubt that the world of communications has changed and as a result of technology remains ever-changing. We believe that we are uniquely placed to help clients navigate the incredibly complex new world. We have spent the last couple of years working on how we might move our relationship with clients much more upstream and in so doing deliver great ideas that truly answer out clients business problems. There are 12 different businesses in the UK Group and one of our major innovations has been to bring together strategists from all the disciplines to sit and work together in our Central Strategy Unit (CSU). The CSU brings together strategists from advertising, brand, PR, CRM, data and digital and enables clients to work with us in a number of different ways - as a strategic advisor or as a full service partner delivering everything from strategic thinking to execution across all disciplines. We absolutely believe in creativity but we believe it is no longer enough.
M&C Saatchi – London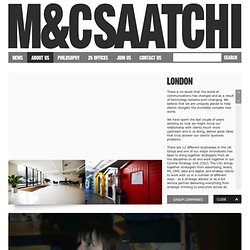 The Red Brick Road
:: ico design ::
Creative web design | brand consultants | graphic designers
AMV BBDO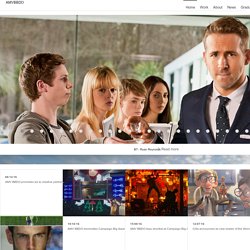 <div class="alert alert-error"><h4>Warning!</h4> You do not have JavaScript enabled. This may cause some issues with how this site works.
Mother London | Creative Work
Homepage | Tangible: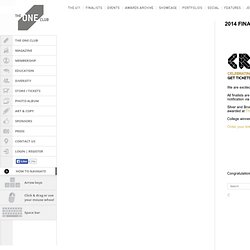 The International One Show Arrives in Denver for special screening of the Year's Best in Advertising. Try to keep your envy in check when viewing the 2013 International One Show awards. They're coming to Denver with a special gallery exhibition of local college student work on display before the screening.
The One Club / Home
Euro RSCG Worldwide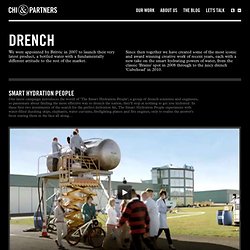 Our latest campaign introduces the world of 'The Smart Hydration People'; a group of drench scientists and engineers, so passionate about finding the most effective way to drench the nation, they'll stop at nothing to get you hydrated. In these first two instalments of the search for the perfect hydration hit, The Smart Hydration People experiment with water-filled dunking skips, elephants, water curtains, firefighting planes and fire engines, only to realise the answer's been staring them in the face all along…
Drench
Less than a year after launch, TalkTalk is celebrating being Britain's fastest growing TV service with a new brand campaign. Created by Neil Clarke & Jay Phillips and directed by Si & Ad through Academy, the 60" Brand TV spot which launches this Saturday is set in a typical TalkTalk family home and shows two characters coming to life and following an epic journey to the TV, for their perfect date. This concept has been extended into The X Factor sponsorship adverts, ensuring a fully integrated campaign, which again show characters coming to life to enjoy the popular show on TalkTalk TV – created by Colin Smith & Angus Vine and directed by Us through Academy. Neil Clarke, CHI&Partners Creative Director said: ''Date Night is a typical love story; boy meets girl and they go on a fun-filled adventure together. It just happens that our two characters are made from fabrics within a family home. One is a cute little spaceman on wallpaper, the other is a ballerina on a lampshade.
TalkTalk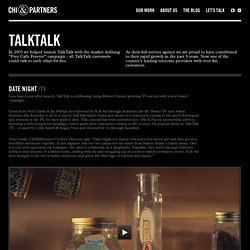 Digital Marketing & Consulting Services | Company - Acceleration
It's All Good Confronted by worrying media reports about obesity, traffic lights on their packaging and a certain Mr Oliver questioning the nation's food habits, the people of Britain reassessed what was and wasn't appropriate for family mealtime. All of a sudden, chips were bad and McCain's sales suffered. McCain Oven Chips are made of potatoes and sunflower oil. Nothing else, just tasty chips and only 5% fat.
Beattie McGuinness Bungay - Our Clients - McCain - It's All Good
brothers and sisters | +44 (0)20 7199 3100
Posted by admin Category Uncategorized We create campaigns that deliver emotion at every point of interaction, because to move products you have to move people. We find the best way to do this is to have one creative team execute the idea through the whole process, across all media.
Facebook competitions | Factor 3 Blog
If no one 'likes' you, then it's time to embrace other techniques to get that Facebook page working harder. A well run and well publicized contest or sweepstake is a fun and effective way to increase engagement and awareness of your company Facebook page. A contest is a competition where the contestant is required to either upload a video, image or essay and will involve some type of judging or voting. A sweepstake is a competition that selects a winner at random from contestant's entries. To start with: Set yourself a budget, and remember that the budget you put aside for a Facebook competition doesn't need to be big.
Career - Job Search
Reebok Fit Hub To millions of enthusiasts, fitness is more than just a prelude to competition. The Fit Hub is for them: an in-store experience that establishes Reebok as the official supplier to the Sport of Fitness. SERVICES: Retail Strategy and Design, Service Innovation View Project ViSi Mobile Sotera Wireless had designed a new kind of patient monitoring system, that helps clinicians spot complications before they start. Ziba helped make sure the interface fit seamlessly into the busy hospital environment. SERVICES: Interaction Design View Project Logitech Multimedia Speakers Ziba designed an attention-grabbing, low cost line of multimedia speakers for Logitech that make performance clear. SERVICES: Product Design View Project adidas Gear Case The Gear Case for adidas is a versatile storytelling platform for retail environments, engaging and informing customers.
Work
Bartle Bogle Hegarty | When the world zigs, zag | London
sisomo – Sight, Sound & Motion
Stella Artois Black presents the Black Diamond