Videos
Normal faces look distorted when seen quickly and compared to other faces
An undergraduate conducting an experiment that required skimming through a bunch of images of faces discovered that if you try to look at two faces at once only for a moment they will both look distorted, even if they are normal, pretty faces.
This video combines the audio of Beethoven's 5th Symphony with a graphical version of the score that represents what each instrument is playing at the moment… Color key for the instruments… These content links are provided by Content.ad.
Follow what each instrument does in Beethoven's 5th on a scrolling graph
Unlikely duo on "Britain's Got Talent" will amaze you with opera rendition - The Feed Blog
(CBS) - Remember Susan Boyle?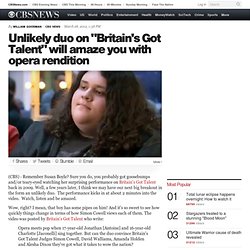 Two Lesbians Raised A Baby And This Is What They Got
Video: A Water-Propelled 'Dolphin Jetpack'
Base Jumping