Other Design
Celtic knot tutorial - WoodworkersZone WoodWiki. From WoodworkersZone WoodWiki Created by EZ Wood This isn't rocket science but some folks asked how to do Celtic rings/knots so, here is a short tutorial.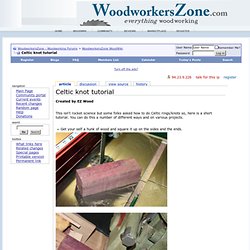 You can do this a number of different ways and on various projects. Get your self a hunk of wood and square it up on the sides and the ends. Epic Homemade Porsche Win. Epic Homemade Porsche Win373 By jason in Win on April 17, 2011 Browsing: Epic Homemade Porsche Win.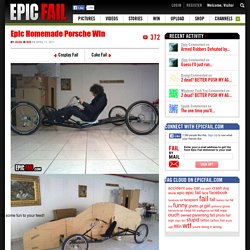 13 Cool Plastic Shopping Bags. Apparently the U.S. is lagging way behind Europe when it comes to witty shopping bag design.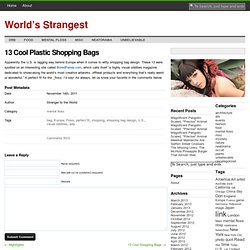 These 13 were spotted on an interesting site called BoredPanda.com, which calls itself "a highly visual oddities magazine dedicated to showcasing the world's most creative artworks, offbeat products and everything that's really weird or wonderful." A perfect fit for the _floss, I'd say! As always, let us know your favorite in the comments below. Amazing Digital Rug Design. Eye catching Trendy Collection of Rare Creative Ring Designs. Ring is a band worn as a type of ornamental jewelry around a finger.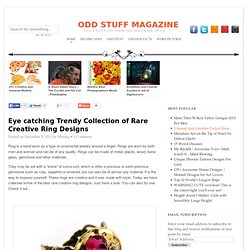 Rings are worn by both men and women and can be of any quality. Rings can be made of metal, plastic, wood, bone, glass, gemstone and other materials. They may be set with a "stone" of some sort, which is often a precious or semi-precious gemstone such as ruby, sapphire or emerald, but can also be of almost any material. Great Resume Designs that Catch Attention–and Got People Hired. Inspiration June 21, 2011 When applying for a job, you have no choice but to do your best to outshine competition.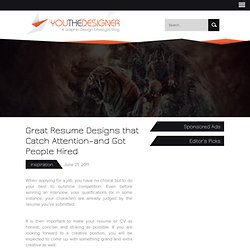 Even before winning an interview, your qualifications (or in some instance, your character) are already judged by the resume you've submitted. It is then important to make your resume or CV as honest, concise, and striking as possible. If you are looking forward to a creative position, you will be expected to come up with something grand and extra creative as well. Take a look at how other designers compose their creative resumes.
---