Interior Design
Color — Method of Action. Stylish Home Decor & Chic Furniture At Affordable Prices | Z Gallerie. Ultimate Pirate Ship Bedroom (14 pics) "The rope bridge is connected to the top of the jail cell, built to accommodate evil doers, thieves and little sisters.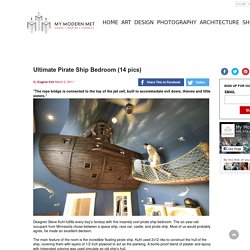 " Designer Steve Kuhl fulfills every boy's fantasy with this insanely cool pirate ship bedroom. The six-year-old occupant from Minnesota chose between a space ship, race car, castle, and pirate ship. Climate-Friendly Sunken Pool Converts into Radiant Floor. Here's a truly glamorous idea for a pool.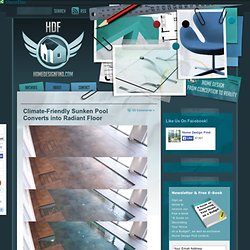 A sinking pool! The apparently permanent stone floor in this room literally slowly drops to reveal the pool underneath. In the raised position, you can walk on the same surface radiantly warmed from beneath. And of course, having the swimming pool convert itself into a floor makes it child-friendly too: this is not a pool that a child can fall into. Once it is sunken it looks like any other indoor pool – as permanent as you could possibly want. Unbelievable and Incredible Staircase…!! Sometimes architects can get a bit carried away.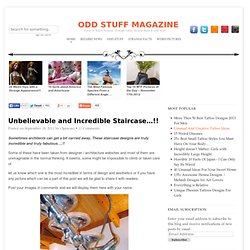 These staircase designs are truly incredible and truly fabulous….!! Some of these have been taken from designer / architecture websites and most of them are unimaginable in the normal thinking. It seems, some might be impossible to climb or taken care of. let us know which one is the most incredible in terms of design and aesthetics or if you have any picture which can be a part of this post we will be glad to share it with readers. Post your images in comments and we will display them here with your name. How to Choose Foolproof Wall Paint Colors for the Home. The Psychology of Color [Infographic] | Louisville Painters. Unusual and Creative Staircase Designs.
Collection of unusual and creative staircase designs from around the world.
Floating Stairs Creative "floating" stairs designed by Florence architect Guido Ciompi for The Gray Hotel in Milan, Italy. [link] Skateboard Stairs.
---