Design
Artsy Spot. 35 Cool Billboard Ads from Around the World | Best Design Option. People love to be entertained.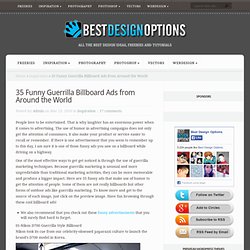 That is why laughter has an enormous power when it comes to advertising. The use of humor in advertising campaigns does not only get the attention of consumers, it also make your product or service easier to recall or remember. If there is one advertisement that you seem to remember up to this day, I am sure it is one of those funny ads you saw on a billboard while driving on a highway. One of the most effective ways to get get noticed is through the use of guerrilla marketing techniques. Because guerrilla marketing is unusual and more unpredictable than traditional marketing activities, they can be more memorable and produce a bigger impact.
Design Ideas and Tech Concepts - Toxel.com. Baekdal.com - Online Magazine About the Great Experience. Best Design Options-Free design resources, Design tutorials and.
---