Web Design
The 55 best free Photoshop brushes | Photoshop. To save you time, we've rounded up of our favourite sets of free Photoshop brushes that we think every designer should have.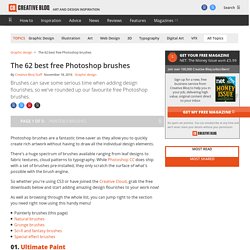 Photoshop brushes are a fantastic time-saver as they allow you to quickly create rich artwork without having to draw all the individual design elements. There's a huge spectrum of brushes available ranging from leaf designs to grungy textures, clouds to typography. While Photoshop CS6 and Photoshop CC do ship with a set of brushes pre-installed, these only scratch the surface of what's possible with the brush engine, so grab the free downloads below and start adding superb design flourishes to your work! 01. Domain Superstar. WordPress. CSS demonstrations. Below is a list of CSS demonstrations that range from the simplest for beginners, to the most complex for advanced users.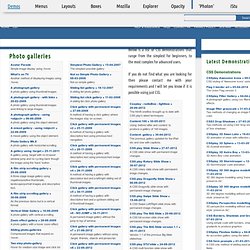 If you do not find what you are looking for then please contact me with your requirements and I will let you know if it is possible using just CSS. Avatar ParadeSimple image display using :hover. What's on TVAnother method of displaying images using :hover. A photograph galleryA photo gallery using thumbnail images. A photograph gallery - with links » 20-02-2009A photo gallery using thumbnail images amd linking to large images. Zen Cart ecommerce solution.
W3Schools Online Web Tutorials. JavaScript Tutorial. Easy Slider 1.7. I got a lot of emails and feedback about my easySlider plugin, thank you all for that.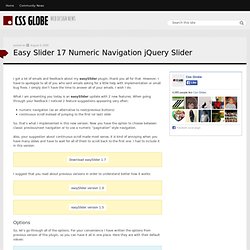 However, I have to apologize to all of you who sent emails asking for a little help with implementation or small bug fixes. I simply don't have the time to answer all of your emails. Paper.js Vs. Processing.js Vs. Raphael. Advertisement Before drawing anything in a browser, ask yourself three questions: Do you need to support older browsers?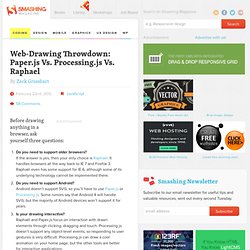 If the answer is yes, then your only choice is Raphaël. It handles browsers all the way back to IE 7 and Firefox 3. Raphaël even has some support for IE 6, although some of its underlying technology cannot be implemented there.Do you need to support Android? JavaScript Kit- Your comprehensive JavaScript, DHTML, CSS, and Ajax stop.
Web Design Ledger. The Secret Law of Page Harmony - Retinart. "A method to produce the perfect book."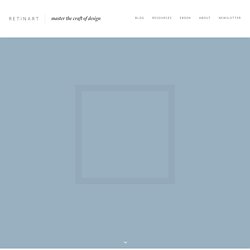 The perfect book. This is how designer-genius Jan Tschichold described this system. Not the ok book, nor the pretty good book, but the perfect book. Web Design Library. 20 Best Design Tutorials From 2010 To Create an Mind-blowing Website. Smashing Magazine. CreativePro. Designing for the Web. The web professional's online magazine of choice.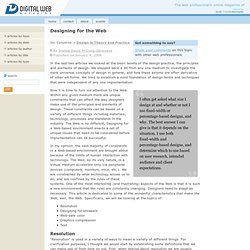 In: Columns > Design in Theory and Practice By Joshua David McClurg-Genevese.
IP Address Geolocation to Identify Website Visitor's Geographical Location.
---