Circuits
Drive a floppy motor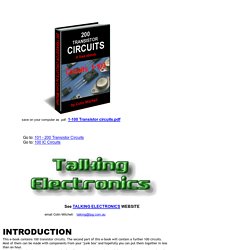 200 Transistor Circuits
1-WATT LED - a very good design The 1n capacitor was initially pushing against the voltage-rise on the base of the BC547 but it now has a reverse-effect of allowing the BC547 to turn ON.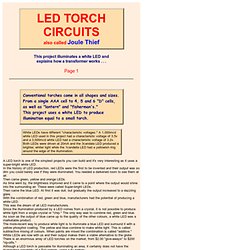 TALKING ELECTRONICS LED Torch
A LED torch is one of the simplest projects you can build and it's very interesting as it uses a super-bright white LED. In the history of LED production, red LEDs were the first to be invented and their output was so dim you could barely see if they were illuminated.
MOSFET fall time too slow - Electrical Engineering - Stack Exchange
Concise electronics for geeks
Copyright (C) 2010 by Michal Zalewski < lcamtuf@coredump.cx > There are quite a few primers on electronics on the Internet; sadly, almost all of the top hits resort to gross oversimplifications (e.g., hydraulic analogies ), or convenient omission, when covering subtle but incredibly important topics such as the real-world behavior of semiconductors.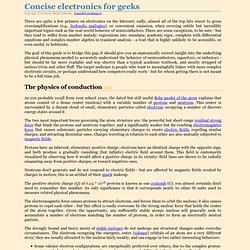 JeremyBlum.com
NerdKits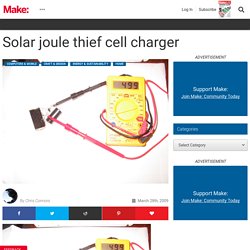 Solar Joule Thief
<img alt="SolarChargeAmps.jpg" src="http://makezineblog.files.wordpress.com/2009/03/solarchargeamps.jpg?
Joule Thief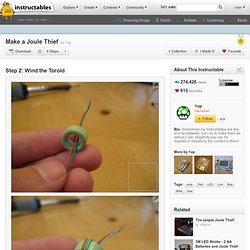 The first step is to wind the toroid.
Joule Thief
555 Square Wave Generator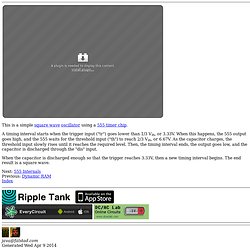 This is a simple square wave oscillator using a 555 timer chip . A timing interval starts when the trigger input ("tr") goes lower than 1/3 V in , or 3.33V.
555 timer
555 Timer Navigation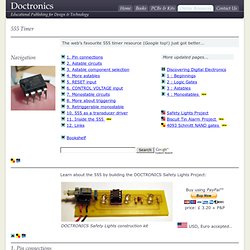 Current Mirror (with MOSFETs) - Circuit Simulator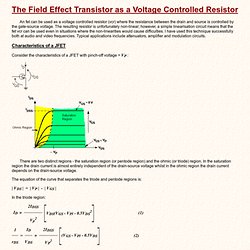 An fet can be used as a voltage controlled resistor (vcr) where the resistance between the drain and source is controlled by the gate-source voltage. The resulting resistor is unfortunately non-linear; however, a simple linearisation circuit means that the fet vcr can be used even in situations where the non-linearities would cause difficulties.
Using a FET as a Voltage Controlled Resistor
Sample-and-Hold - Circuit Simulator
Soft Latching Power Switch Circuit
Schmitt trigger provides toggle function - 2011-03-17 10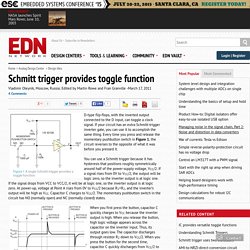 Vladimir Oleynik, Moscow, Russia; Edited by Martin Rowe and Fran Granville - March 17, 2011 D-type flip-flops, with the inverted output connected to the D input, can toggle a clock signal.