Scholarly community
International Cooperation for Research
What is an Intra-European Fellowship?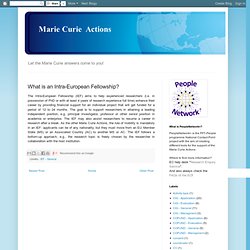 The Intra-European Fellowship (IEF) aims to help experienced researchers (i.e. in possession of PhD or with at least 4 years of research experience full time) enhance their career by providing financial support for an individual project that will get funded for a period of 12 to 24 months. The goal is to support researchers in attaining a leading independent position, e.g. principal investigator, professor or other senior position in academia or enterprise. The IEF may also assist researchers to resume a career in research after a break. As the other Marie Curie Actions, the rule of mobility is mandatory in an IEF: applicants can be of any nationality, but they must move from an EU Member State (MS) or an Associated Country (AC) to another MS or AC. The IEF follows a bottom-up approach, e.g., the research topic is freely chosen by the researcher in collaboration with the host institution.
Prijava
Every year in the January issue, in print and online, Choice publishes a list of Outstanding Academic Titles that were reviewed during the previous calendar year. This prestigious list reflects the best in scholarly titles reviewed by Choice and brings with it the extraordinary recognition of the academic library community. The list is quite selective: it contains approximately ten percent of some 7,000 works reviewed in Choice each year. Choice editors base their selections on the reviewer's evaluation of the work, the editor's knowledge of the field, and the reviewer's record. The list was known as Outstanding Academic Books until 2000. The new name reflects an increase in reviews of electronic products and Internet sites.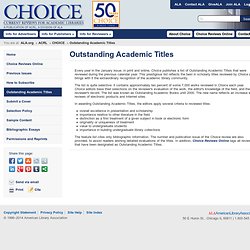 Outstanding Academic Titles | ACRL Choice
accueil [Centre Alfred Ernout]
H-Net: Humanities and Social Sciences Online
www.teofilofolengo.org
Center za Slovenščino - Simpozij Obdobja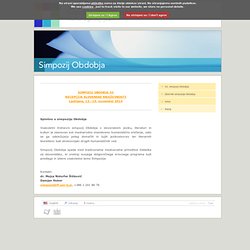 Ljubljana, 13.–15. november 2014 Splošno o simpoziju Obdobja Vsakoletni tridnevni simpozij Obdobja v slovenskem jeziku, literaturi in kulturi je zasnovan kot mednarodno znanstveno humanistično srečanje, zato se ga udeležujejo poleg domačih in tujih jezikoslovcev ter literarnih teoretikov tudi strokovnjaki drugih humanističnih ved. Simpozij Obdobja spada med tradicionalne mednarodne prireditve Oddelka za slovenistiko, ki znotraj svojega dolgoročnega krovnega programa tudi predlaga in izbere vsakoletno temo Simpozija. Kontakt:
AcademLink
Renæssanceforum
Historical Sociolinguistics Network (HiSoN)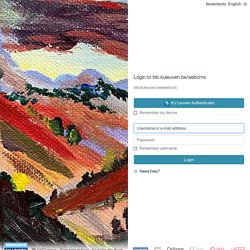 Open Access @ KU Leuven KU Leuven supported the Open Access movement by signing the Berlin Declaration , stimulating researchers to provide free access to their research output to foster inquiry and knowledge, according to the principles of the Green Road to Open Access. Publishing in an OA journal guarantees free availability of the articles, in which case there are no issues with copyright ( ).
Katholieke Universiteit Leuven
Ludwig Boltzmann Institute Neo-Latin Studies
IANLS
Akademska solidarnost
U kontekstu svakodnevnih propadanja tvornica i uništavanja radnih mjesta te ofenzive usmjerene protiv javnog, zajedničkog dobra, štrajk zaposlenika Croatia Airlinesa, kao i štrajk solidarnosti koji su pokrenuli radnici Hrvatskih željeznica, predstavlja jasno artikuliran otpor takvim tendencijama kao i nezapamćenom ponižavanju radnica i radnika te pokušajima zabrane njihova prava na adekvatnu zdravstvenu skrb i zasluženo bolovanje. Na djelu su isti mehanizmi kojima je gotovo u potpunosti uništena hrvatska privreda: višedesetljetno loše upravljanje kompanijom rješava se »nužnim« rezovima radničkih plaća, umjesto da se odrede i sankcioniraju krivci koji su kompaniju u nezavidnu financijsku situaciju i doveli. Bivši članovi uprave i menadžeri, isplativši si astronomske otpremnine, nastavili su karijere na profitabilnijim pozicijama, ostavivši dugove koji će se pokrivati rezanjem plaća radnika nacionalnih avioprijevoznika i Hrvatskih željeznica.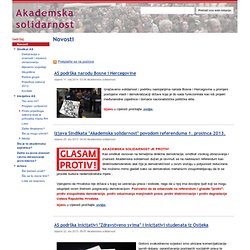 Renaissance Society of America Annual Meeting