Punto y ganchillo
simplycrochetmag.co
midnight knitter
lanaconnection | unidas por la lana
Primera reunión hermanados con "Punto Cuqui". Se ruega confirmación en el blog o en el evento de Facebook Día: Sábado 26 de Abril 2014Hora: De 17 a 21 horasLugar: 17 h. Museo Sorolla. C/ Martínez Campos, 37 .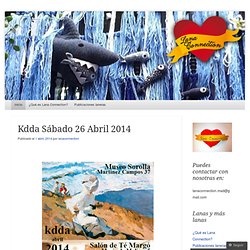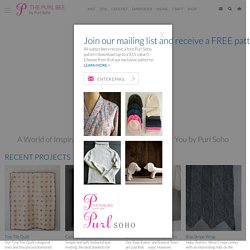 I've written several books with the words "Last-Minute" in the title, so you can imagine that I occasionally relish the exact opposite! Especially in the depths of winter, I love to sink my teeth into a project whose gratification may not be immediate but whose pleasure is deeply satisfying. My Diagonal Pinstripe Scarf is just that!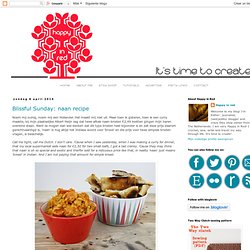 Happy in Red
**Experienced quilters and those of you under age 18 better cover their eyes** Als ik langs één van mijn favoriete winkels in Utrecht kom en ik zie de schitterende quilts in de etalage hangen, of als ik prachtige lappendekens online voorbij zie komen, denk ik altijd: dat moet ik toch ook kunnen? Waarom zou ik dat nou niet kunnen? Dus toen ik bij een goed doel de vraag voorbij zag komen om een quilt te maken voor een weeshuis in Kenia, dacht ik: ik stort mij in het quilt geweld. When I'm walking past one of my favorite shops in Utrecht and I see the pretty quilts in the window or when I see those gorgious patchwork blankets online, I can never help but thinking: I should be able to do that, why wouldn't I be able to do that? So when I read a charity was looking for quilts to send to a childrens hospital in Kenya, I decided to jump at the opportunity to become a crazy quilter.
We Are Knitters...DO IT YOURSELF!
rain knitwear designs - knitting patterns
Madeline Bea
left: Dana / right: Maegan Some weeks, I see Dana's image and I start to envision my "response" right away. The colors or the pattern or the composition will put me in mind of something I'm working on, have tucked away, or a certain yarn I would pair with her image. Some weeks, like this one, I truly have no idea what I'm going to photograph until the last moment when it all comes together. This week's pairing was somewhat of a happy accident. I took this photograph of the shawl I'm currently working on.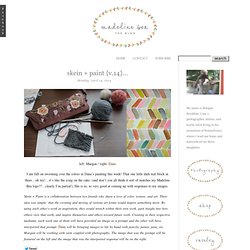 I've been talking a lot with Lily about what some of her favourite winter knits are. There's a reason for that.It's cold, yes but she's also been exploring her extensive wardrobe of knits and wearing lots of different things. It's so lovely to see her wearing knits that I knit her a couple of years ago, knits that are getting a second go at being loved.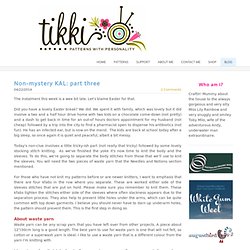 tikki - Blog
DROPS Design ~ Patrones gratuitos
brittney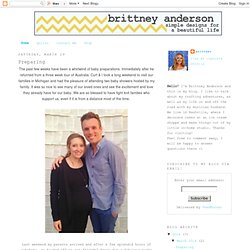 Curt left for his Australian tour a week ago which is a bummer for me, but actually big ups for my belly. See, when he goes away I can cook whatever I want - no need to worry about his picky eating habits. Not only do I find new recipes on Pinterest, I also like to house them there. Here's what I've been eating for the last week. ~Shrimp-stuffed avocados (Click the pics or links for Pinterest click-throughs)
January Classes Happy New Year everyone! Mother Nature has been quite active and tempermental these last few weeks, but it's good of the yarn business. Here's a list of the knitting, crochet and fiber arts classes available in January. Call the store to book (416-203-9970):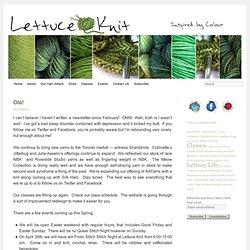 wood & wool stool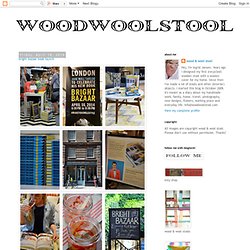 6 days in Marrakech! Crochet while discovering the town. Price € 525,00 per person. The price is based on a shared double room and excluding flight ticket. Single use of room € 15,00 extra per night and € 18,00 extra per transfer. Extra nights possible - info: www.chambredamis.com