Recetas
Cupcake23recipesmall.jpg (800×400) Campfire Delight: 6-Layer Rich Chocolate Malted & Toasted-Marshmallow Cake. There's something about layer cakes that always brings me great comfort–from both making them and eating them.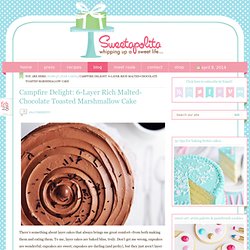 To me, layer cakes are baked bliss, truly. Don't get me wrong, cupcakes are wonderful; cupcakes are sweet; cupcakes are darling (and perky), but they just aren't layer cakes. Perhaps part of the glory of layer cakes is the intrigue of what's beneath all of that swirled frosting, or the wonder of what fills the stacked layers under a perfectly composed exterior. Ever notice how layer cakes will offer one or two little hints as to what's inside, without giving too much away? Candy Corn Cupcakes. Candy corn colors just have that October feel… and when you put them in a dark chocolate cupcake they scream Halloween!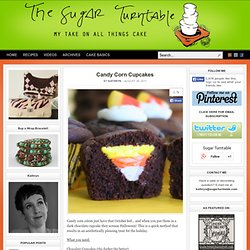 This is a quick method that results in an aesthetically pleasing treat fot the holiday. What you need: Chocolate Cupcakes (the darker the better) Sixlets Cake for a Blog Birthday, and a Giveaway! One year ago I was baking up a scratch-made confetti cake for this blog's first birthday.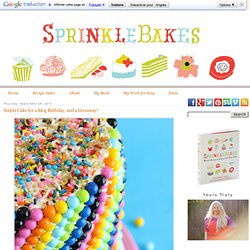 Not only was it fun to make - in a fling-sprinkles-everywhere kind of way - it was incredibly well received. Many of you made your own version and sent me pictures of the happiest faces behind lit candles, which makes me more than a little teary as I type this. Words can't express how special those emails are. Spaghetti and Meatball Pot Pie.
Remember those meatballs I made for a "special idea" on Friday?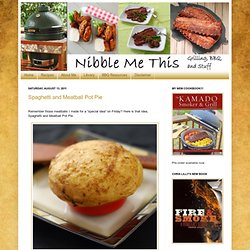 Here is that idea, Spaghetti and Meatball Pot Pie. I took the concept and figured if pizza was a good pot pie, then spaghetti and meat balls would be too. Over 100 Quick and Easy Recipes. We Have Preparation and Cooking Times of 30 Minutes or Less The majority of recipes we offer can be both prepared and cooked in 30 minutes or less, from start to finish.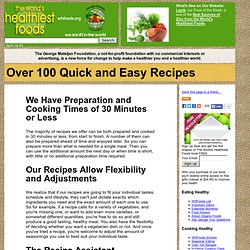 A number of them can also be prepared ahead of time and enjoyed later. So you can prepare more than what is needed for a single meal. Then you can use the additional amount the next day or when time is short, with little or no additional preparation time required. Gooey Chocolate Chip Sandwich Bars. Gooey Chocolate Chip Sandwich Bars… Cookies for Kids' Cancer Cookbook September is Pediatric Cancer Awareness month, and today I'm sharing some Gooey Chocolate Chip Sandwich Bars.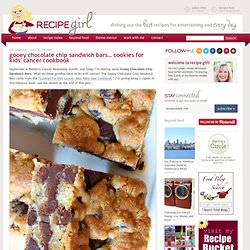 What do these goodies have to do with cancer? The Gooey Chocolate Chip Sandwich Bars come from the "Cookies For Kids Cancer: Best Bake Sale Cookbook." I'm giving away 3 copies of this fabulous book– see the details at the end of this post… The Cookies for Kids' Cancer cookbook provides directions on how to hold a bake sale, signage, and lots of recipes and photos. LaSaGnA TiMpAnO.
I went to see tUnE-yArDs on Monday night with some friends, and as always we wanted to cook a meal that somehow related to the show we were heading to.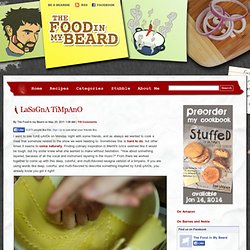 Sometimes this is hard to do, but other times it seems to come naturally. Finding culinary inspiration in Merrill's lyrics seemed like it would be tough, but my sister knew what she wanted to make without hesitation. "How about something layered, because of all the vocal and instrument layering in the music? " From there we worked together to come up with this deep, colorful, and multi-flavored lasagna version of a timpano. If you are using words like deep, colorful, and multi-flavored to describe something inspired by tUnE-yArDs, you already know you got it right!
50 Mashed Potatoes : Recipes and Cooking. 1.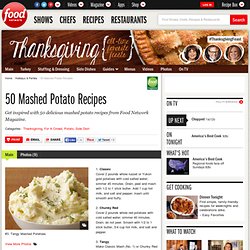 Classic Cover 2 pounds whole russet or Yukon gold potatoes with cold salted water; simmer 45 minutes. Drain, peel and mash with 1/2 to 1 stick butter. Add 1 cup hot milk, and salt and pepper; mash until smooth and fluffy. Sugarcrafter. How to Make Chocolate Ice-cream Cups Using Balloons - Funny Mike. Ginas Skinny Recipes. Turtle Burgers, Anyone? | Florida Mom Blog, Reviews and Giveaways | The Life... I got an email today with directions on how to make Turtle Burgers, and I am still laughing about it!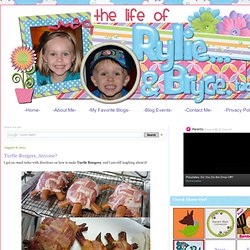 Crazy, right? Not to mention a heart attack waiting to happen. Next time you want to grill hamburgers and hot dogs, put them together, slap some bacon on them and create these, um, delicious turtles. Rainbow Cake in a Jar. I've always had a penchant for sunshine in a jar.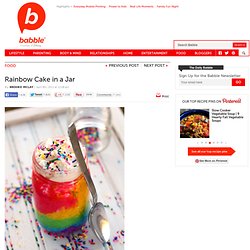 Doesn't the very phrase itself, "sunshine in a jar," roll off your tongue and fill your mouth with magic? While I've never yet found myself a sunshine in a jar, I think we may have just concocted it in our kitchen tonight. How to Make a Cake with Zebra Stripes on the Inside! & MyCakeSchool Blog. Hi everyone! Happy Friday! Okay, it is just about 15 minutes until Saturday here, but I'm still going to call this a Friday blog -:0) — Let's celebrate by making a zebra cake! In my last video tutorial, I demonstrated how to decorate a cake with zebra stripes–a very fun look for your safari, fashion or just plain funky themed cakes! Well, today I'll show you how to continue the theme to the inside of the cake. Chicken Lo Mein Recipe. 270 Really Delicious National Food Of The World. Let's go for a journey around the world. I love food. Delicious mouth watering ones. The city where I come from is very well known in the country for it's food.
Staying in shape is a challenge. Because of my origins, I have been taste-trained to appreciate good food. A Taste of Koko: Hot chocolate. Uncategorized "There's nothing better than a good friend, except a good friend with Chocolate" Linda Grayson This is my take on 'Hot Chocolate'.
Jerk Chicken Recipe : Double Trouble:... CakeSpy Note: This is a guest post from The Rice Kernel. Named for a little boy who came along and transformed one family's kitchen experiences, Rice Kernel features wholesome, homemade recipes to help you achieve a "rainbow a day" of colorful and nutritious foods. For the sweets lover, Rice Kernel's "rainbow" includes plenty of indulgences, often made over with healthful ingredients. This triple strawberry cheesecake is the perfect collaboration of creamy, decadent cheese and fresh, tart summer berries. Recipe: Chicken With Orzo Pasta. The Bakers Daughter: Polka dot cheesecake.
Sick of the Same Old Salads? 17 New Ways to Enjoy Leafy Greens - KitchenDaily. Chocolate kiwi popsicles in Desserts recipes. Cookies. Pizza Braid.
---