Literature
Inprint! Best of 2010. Book Club Picks: Literature Classics. Literary (or almost) Sci Fi & Fantasy; one book per author. The Compulsive Reader :: A Haven for Book Lovers. Umberto Eco: Porta Ludovica - Author Homepage. Paradox of Porta Ludovica (A Study of Ambiguous Triangulation) (Introduction) A short explanation on who I am and why this site is named for a place that may or may not be in Milan.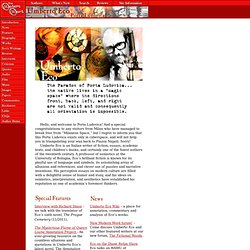 My name is Umberto Umberto (Biography) A small biographical sketch of Umberto Eco. Thomas R. Pynchon: Spermatikos Logos - Author Homepage. "Interested in sophisticated fun?"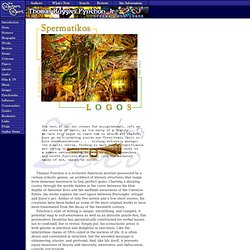 (Introduction) Or: "Why is this site called Spermatikos Logos?" A short explanation of the birth of this site and an introduction to its parents. Title Page. So I illustrated Gravity's Rainbow-- nobody asked me to, but I did it anyway.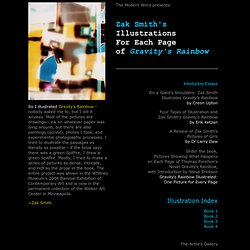 Most of the pictures are drawings-- ink on whatever paper was lying around, but there are also paintings (acrylic), photos I took, and experimental photographic processes. I tried to illustrate the passages as literally as possible-- if the book says there was a green Spitfire, I drew a green Spitfire. Mostly, I tried to make a series of pictures as dense, intricate, and rich as the prose in the book. The entire project was shown in the Whitney Museum's 2004 Biennial Exhibition of Contemporary Art and is now in the permanent collection of the Walker Art Center in Minneapolis. The Mysterious Flame of Queen Loana - Literary Wiki.org. From Literary Wiki.org These annotations were originally online here.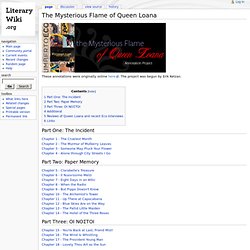 The project was begun by Erik Ketzan. Part One: The Incident. The 100 Best Books of All Time. The World Library is a list of the 100 best books, as proposed by one hundred writers from fifty-four different countries, compiled and organized in 2002 by the Norwegian Book Club.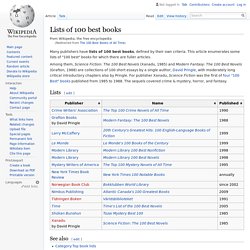 This list endeavours to reflect world literature, with books from all countries, cultures, and time periods. Eleven of the books included on the list are written by women, eighty-five are written by men and four have unknown authors. Each writer had to select his or her own list of ten books. A place for poetry - Hello Poetry. Danteworlds.
---