Funny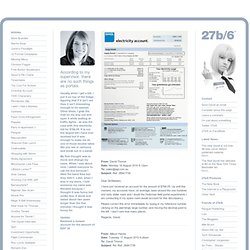 I am not questioning the calculation, I am questioning the number the calculation is based on.
From: David Thorne Date: Monday 16 August 2010 8.12pm To: sales@agl.com.au Subject: Ref. 28941739 Dear Sir/Madam, I have just received an account for the amount of $766.05. Up until this moment, my accounts have, on average, been around the one hundred and sixty dollar mark and I doubt the Holtzman field portal experiments I am conducting in my spare room would account for this discrepancy. Please correct this error immediately by typing in my reference number, clicking on the alarmingly large number, and moving the decimal point to the left. I don't care how many places.
Power is intoxicating. Everyone loves having the ability to make their decisions into reality — to think "this should be something that happens," and then actually be able to make that thing happen. It is also dangerous. And it is especially dangerous when applied to four-year-olds. Four-year-olds lack the experience to wield power responsibly.
Hyperbole and a Half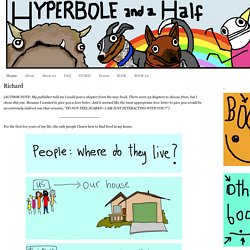 Comics, Quizzes, and Stories
The Man Repeller
This Is Why You're Fat | Where dreams become heart attacks.