For Grown-ups
How to Sew Your Own Maternity Shirt by Altering a Non-Maternity Pattern. Background I am newly entering the realm of sewing clothes for myself and just as I started attempting this new hobby I got pregnant.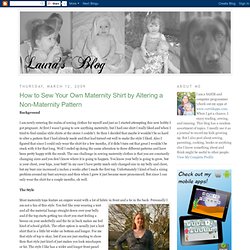 At first I wasn't going to sew anything maternity, but I had one shirt I really liked and when I tried to find similar style shirts at the stores I couldn't. So then I decided that maybe it wouldn't be so hard to alter a pattern that I had already made and that had turned out well to make the style I liked. Free Maternity Patterns: Maternity Shirt Pattern. Maternity patterns are the best thing that ever happened to your budget.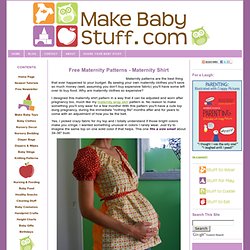 By sewing your own maternity clothes you'll save so much money (well, assuming you don't buy expensive fabric) you'll have some left over to buy food. Why are maternity clothes so expensive? I designed this maternity shirt pattern in a way that it can be adjusted and worn after pregnancy too, much like my maternity wrap skirt pattern is.
Free Maternity Yoga Pants Pattern. These maternity yoga pants are so comfortable!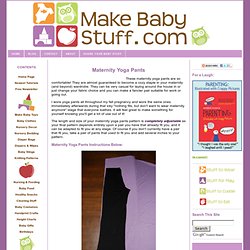 They are almost guaranteed to become a cozy staple in your maternity (and beyond) wardrobe. They can be very casual for laying around the house in or just change your fabric choice and you can make a fancier pair suitable for work or going out. I wore yoga pants all throughout my fall pregnancy and wore the same ones immediately afterwards during that icky "nothing fits, but don't want to wear maternity anymore" stage that everyone loathes. It will feel great to make something for yourself knowing you'll get a lot of use out of it! The length and size of your maternity yoga pants pattern is completely adjustable as your final pattern depends entirely upon a pair you have that already fit you, and it can be adapted to fit you at any stage.
Big Ugly Shirt Refashioned into Maternity! Apron Tutorial. Tutorial: how to sew a simple maxi dress. Haunted Halloween: Wicked Apron - Sew4Home. It's Halloween season and costume shops have popped up in all sorts of unusual places.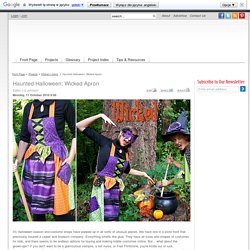 We have one in a store front that previously housed a carpet and linoleum company. Everything smells like glue. They have all sizes and shapes of costumes for kids, and there seems to be endless options for buying and making kiddie costumes online.
---