For Baby
Get flash to fully experience Pearltrees
I thought this would make such a cute gift for a new baby. I've never had one for any of my babies, (and wouldn't you know it I'm having a boy so this cute girly one won't work) but I've heard babies just love them. Both are easy and quick to make. Ribbon blanket measures approx. 18 1/2" square, block is about 4" square. Block:
I've been planning some baby gifts lately and I must say, My Happy Nursery couldn't've come at a better time! After doing a dry run on this simple and stylishly contoured burp cloth, I thought to share the project with you. I made these 4 in under an hour, so it's a fast, practical but fun, last minute project, too. You can get 2 burp cloth faces out of a fat quarter (18"h x 22"w), which makes it economical if you made two of the same print per set- or even two sets of assorted patterns. Each is backed in our organic Cloud white flannel (1/2" yard needed for 4). The flannel not only makes for a more absorbent mopping-up-side (let's be honest here, these things are intended to be USED!)
The baby bib's number one job is to be a stain force field. It is often the only line of defense between that adorable handmade white sweater from Aunt Lisa and a favorite bottle of fruit punch. The best bib should: fit snuggly around baby's chinny-chin-chin, be absorbent, easy to launder, fast to get on and off, and in my book, super cute.
Drool. Spit up. Food smears. There's a lot of stuff that comes out of babies' mouths. It's a darn good thing a sweet little coo or heart-melting smile comes out once in awhile too. That makes it all worthwhile.
Once upon a time there was a beautiful baby with golden curls. Admirers came from far and wide with gifts of soft, cozy blankets; each visitor trying to out-do the one who came before. The beautiful baby smiled and laughed and shook her golden curls.
We've had quite a few requests for more quilts and have a number of them planned in the coming weeks. Today's uses Fig Tree's nostalgic fabric collection by Joanna Figueroa for Moda in a handy pre-cut Charm Pack. Coordinating yardage and Bella Solids make up the back, sashing and binding. Even if you've never quilted before, you'll find this to be a very simple design in a very manageable baby size.
If you want to ease into trying your hand at quilting, this project is for you. It introduces the technique of joining together small strips to create a single large piece. We originally designed this tutorial as a little crib quilt, but decided we liked it better as a dresser cloth for our changing table.
We've had several requests for a stylish nursing cover, and have risen to the challenge with this very easy-to-make version – complete with a hidden inside pocket for nursing pads or baby wipes. The more common name for this item out on the Internet appears to be: 'Hooter Hider' – uh, alrighty then. Makes me think of skimpy t-shirts and chicken wings, so I'm stickin' with Nursing Cover if it's all the same to you. Ours is soft knit on the outside with a woven cotton print on the inside, giving Mom something pretty to look at.
This baby gift bundle of two binkys on their own little leashes and a matching drawstring carry bag is at the very Tip-Top of the Cutie-Pie Ranking & Rave Scale. For those of you unfamiliar with the C.P.R.R.S., a project's ranking consists of the combined number and volume of "Ahhhhhhhhhhhhhs" generated at baby showers. It's an independent ranking, so don't even try to find it on Google.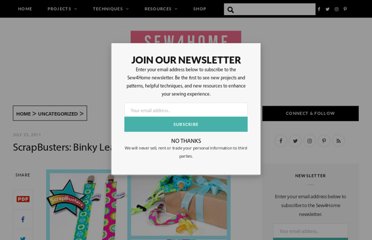 This is absolutely one of the best baby gifts ever! Bundling up baby after bath time with a hooded towel is easier and cozier. The hood doesn't help dry those clean mop tops, it actually acts as a little anchor, allowing mom or dad to more quickly wrap the rest of the towel around squirming, slippery baby-boo. Ours is made with Michael Miller Fabrics' great new organic terry cloth and features a matching bound washcloth. Free patterns are included.
Go, baby, go! Diaper bags are great, but sometimes seem so big and bulky. When you're on-the-go and need a clean, soft surface for a quick change, this travel pad is perfect. The center panel, where baby's buns go, is a heavy, quality polar fleece. It resists water (for quick mop up) and is super soft. Works like a charm without being bulky.