Naomi Novik
Naomi Novik (naominovik) on Twitter
Dragons! Lip gloss! Death!
ETA: Hey all, Suvudu tells me they had to reset the votes on all the cage matches! Er, it wasn't any of YOU power-voting, was it? *lulz* Re-vote here! Okay, so this one is going to be tough.
Temeraire: the official website of Naomi Novik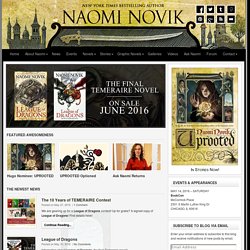 Blood of Tyrants, the new Temeraire novel by Naomi Novik, will be in bookstores this August! It is the second to last book in the series. It's going to be a sad day when that last book publishes.