Science Fiction
Just Say AH! :: The Official Adam Hughes Website. Alien_contact_infrographics.png (PNG Image, 1920×1200 pixels)
Video
Images. The Future of Interactive Glass (by @baekdal) #trends. I love it when companies create "future visions" videos - like this one from Microsoft, or these from Penguin (ebooks) and Goab (TV).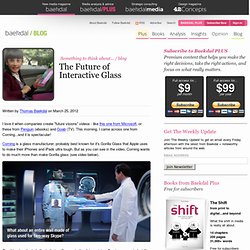 This morning, I came across one from Corning...and it is spectacular! Corning is a glass manufacturer, probably best known for it's Gorilla Glass that Apple uses to make their iPhones and iPads ultra tough. But as you can see in the video, Corning wants to do much more than make Gorilla glass (see video below). One thing I particularly like is that, unlike most other future vision, Corning seems to 'get it'. Most other brands seem to have this idea that we will have separate computers in every room. @Baekdal - The Magazine About the Great Experience. Television, Media & Speeches : Welcome to Explorations in Science with Dr. Michio Kaku. Fans of Michio Kaku and Jon Stewart came together on February 25th, 2014 when Dr.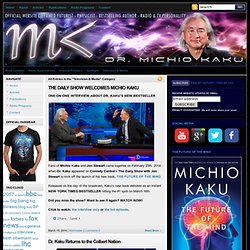 Kaku appeared on Comedy Central's The Daily Show with Jon Stewart to kick off the launch of his new book, THE FUTURE OF THE MIND. Released on the day of the broadcast, Kaku's new book debuted as an instant NEW YORK TIMES BESTSELLER hitting the #1 spot on March 16th. Did you miss the show? How to Build a Universe That Doesn't Fall Apart Two Days Later.
First, before I begin to bore you with the usual sort of things science fiction writers say in speeches, let me bring you official greetings from Disneyland.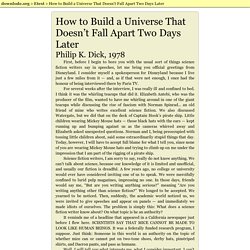 I consider myself a spokesperson for Disneyland because I live just a few miles from it — and, as if that were not enough, I once had the honour of being interviewed there by Paris TV. For several weeks after the interview, I was really ill and confined to bed. I think it was the whirling teacups that did it. Elizabeth Antebi, who was the producer of the film, wanted to have me whirling around in one of the giant teacups while discussing the rise of fascism with Norman Spinrad... an old friend of mine who writes excellent science fiction. We also discussed Watergate, but we did that on the deck of Captain Hook's pirate ship. Sci-Fi Lists - Top 100 Sci-Fi Books.
---