Artists
This is all kinds of cool, and everything your mother told you not to do. Bryan Lewis Saunders is an artist from Washington D.C., not just any artist though. Saunders prefers to take a more unconventional approach to his artwork. Arguably his most interesting project, entitled DRUGS is described as follows: Below, you can view a collection of portraits Saunders drew while under the influence of various substances ranging from cocaine, to marijuana, to DMT. Each portrait is an astonishing look into the mind of someone tweaked out on drugs, something that your eyes will surely appreciate.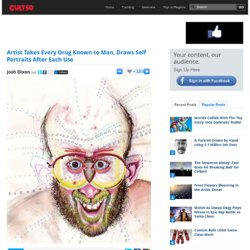 Shaun Ferguson - Gallery 3
Realistic Oil Paintings › Illusion
Peter Aurisch , a tattoo artist based out of Berlin, Germany, creates amazing one of a kind works of art that are unlike anything you've ever seen before. Each piece mirrors Peter's signature style, merging a whimsical aesthetic with an overall edgy and visually enticing demeanor. His tattoos are exploding with creativity, as he intermingles a vast array of subjects and figures into his works, somehow they all come together to create an overall brilliant cohesive design. Want to see more? Be sure to check out his Facebook page to view his extensive collection.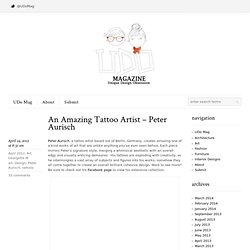 Santiago Calatrava : Selected works > Art
Arthur Ganson Kinetic Sculpture
Unraveling Wire Sculptures
atelier bow-wow at venice architecture biennale 2010
first image 'house behaviorology' by atelier bow wow at the venice architecture biennale 2010 image © designboom for the 12th international architecture biennale in venice, italy, atelier bow-wow presents a visual anthology of their dwelling projects in an exhibition entitled, 'house behaviorology'. since the firm's inception in 1992, the studio has been interested in the elements and behaviour of the micro/macroclimates in our living environment, of people, and buildings. the accurately detailed models present in venice focus on illustrating space as a component of living, demonstrate the power of physical models, as well as showcase the diverse design approach of the practice. exhibition view image © designboom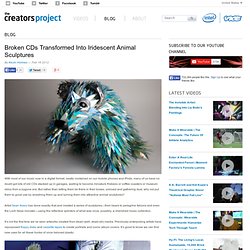 Broken CDs Transformed Into Iridescent Animal Sculptures With most of our music now in a digital format, neatly contained on our mobile phones and iPods, many of us have no doubt got lots of old CDs stacked up in garages, waiting to become miniature frisbees or coffee coasters or museum relics from a bygone era. But rather than letting them lie there in their boxes, unloved and gathering dust, why not put them to good use by smashing them up and turning them into attractive animal sculptures? Artist Sean Avery has done exactly that and created a series of sculptures—from bears to peregrine falcons and even the Loch Ness monster—using the reflective splinters of what was once, possibly, a cherished music collection. It's not the first time we've seen artworks created from dead (well, dead-ish) media. Previously enterprising artists have repurposed floppy disks and cassette tapes to create portraits and iconic album covers.
Villa del Arte
First: watch the video. Japanese artist Riusuke Fukahori paints three-dimensional goldfish using a complex process of poured resin. The fish are painted meticulously, layer by layer, the sandwiched slices revealing slightly more about each creature, similar to the function of a 3D printer. I really enjoy the rich depth of the pieces and the optical illusion aspect, it's such an odd process that results in something that's both a painting and sculptural. Wonderful.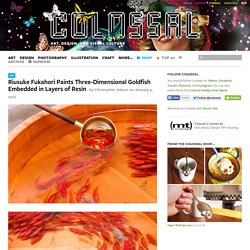 ROBERT MONTGOMERY
Martin Schoeller
LuftWerk's Luminous Field Lights Up Anish Kapoor's Cloud Gate If you like your public art with a dash of neon and a sci-fi aesthetic, then you'll like what multimedia designers LuftWerk have done to Anish Kapoor 's Cloud Gate sculpture (nicknamed The Bean), which resides in Chicago's Millennium Park. This shiny alien bean consists of 168 stainless steel plates that gleam out at the citizens of the Windy City. It looks like the sort of structure that, if you prod it, will make some hydraulic hisses before opening up and firing plasma bolts onto fleeing humans.
LuftWerk's Luminous Field Lights Up Anish Kapoor's Cloud Gate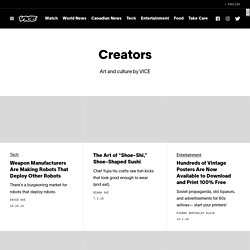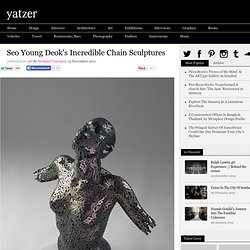 photo © Seo Young Deok T he human body and its formation lie at the core of the Korean artist Seo Young Deok 's work who is preoccupied with the stories told through the human figure. His solo exhibition ' Dystopia ' took place at the INSA/Arko Art Centre in Seoul from 26 October 2011 until 31 October 2011 and showed his nude sculptures made meticulously in welded metal chain links piece by piece. Seo Young Deok presented a number of nude sculptures, some lying on the ground, some hung on the walls. He used welded metal chains in order to model them linking them piece-by-piece.
Gregor Gaida
I love old photos. I admit being a nosey photographer. As soon as I step into someone else's house, I start sniffing for them. Most of us are fascinated by their retro look but to me, it's imagining how people would feel and look like if they were to reenact them today… Two years ago, I decided to actually do this. So, with my camera, I started inviting people to go back to their future..