Blogs/Games
How to Catch Mew in Pokémon Red/Blue/Yellow. Yes, believe it or not, it can be done without a GameShark or other cheating device.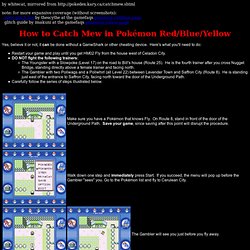 Here's what you'll need to do: Once you've caught Mew, you can save your game without any ill-effects. The Animé Café - Café Latté. Programming Language Inventor or Serial Killer? 13 Simple Steps To Get You Through A Rough Day. Animals with a Sense of Humor Video. Pokemon Secrets, Pokemon Easter Eggs, Pokemon Facts. Pokemon Tower Defense - Gonzo Games. Making Fake Pokémon | The Cave of Dragonflies. I hereby promise to all of my visitors that this site should only contain accurate, up-to-date information.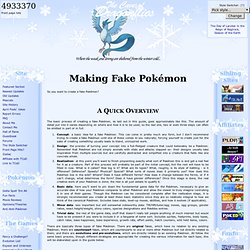 For example, all cheats on this site have been personally tested by me. All information you will find here will therefore be true, unless I a) clearly state that said information is false, b) do not know the truth, or c) did not know it at the time of writing said information and have not updated the section since. If you spot cases of b) or c), please report them via this form and they will be fixed as soon as possible. Pokémon, Pikachu and all other Pokémon characters are © 1995-2014 Nintendo, GAME FREAK and Creatures, Inc. Animal Jam Flash - LoveLost's Animal Jam Blog - Welcome to Spring!
---