Yoga
Postures. 11 Easy Ways to Meditate (Or, There's No Such Thing As Being Bad At Meditation) Posted by Siobhan on Wednesday, September 14, 2011 · 50 Comments This is a pep-rally post: I want you all to do the challenge, and I want to make it easier because meditation can seem really hard!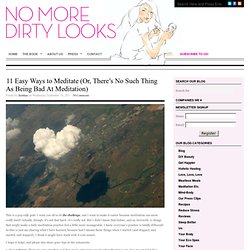 Actually, though, it's not that hard—it's really not. But I didn't know that before, and so, herewith, 11 things that might make a daily meditation practice feel a little more manageable. I know everyone's practice is totally different! So this is just me sharing what I have learned, because had I known these things when I started (and stopped, and started, and stopped), I think it might have stuck with it a lot sooner. YogaTailor - Custom Online Yoga Videos. DVD-Quality Video downloads of Yoga Exercises for Health and Stress Relief. Yoga Poses to Relieve Pain, Calm Anxiety and More. Yogayak ~ Free Yoga Videos, Classes, Meditation, Pranayama. Ease Neck and Shoulder Tension Quickly with Desk Yoga.
Morning Yoga for Flexibility. iYogaLife Slideshows - Bedtime Yoga. Yoga For Bedtime Whether you are a night owl who would rather be a morning bird, have trouble falling asleep at night, or just need a little extra help relaxing before going to sleep, doing a little yoga before bedtime can help.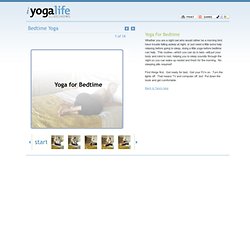 This routine—which you can do in bed—will put your body and mind to rest, helping you to sleep soundly through the night so you can wake up rested and fresh for the morning. No sleeping pills required! First things first. Get ready for bed. ACU-YOGA: Acupressure & Yoga Therapy. Yoga - Bing Videoer.
---