Writing reading
Important Infrequently Used Words To Know. Paul V.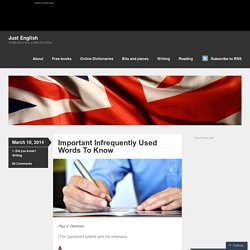 Hartman (The Capitalized syllable gets the emphasis) alacrity a-LACK-ra-tee cheerful willingness and promptnessanathema a-NATH-a-ma a thing or person cursed, banned, or reviledanodyne AN-a-dine not likely to cause offence or disagreement and somewhat dull//anything that sooths or comfortsaphorism AFF-oar-ism a short, witty saying or concise principleapostate ah-POSS-tate (also: apostasy) person who has left the fold or deserted the faith.arrogate ARROW-gate to make an unreasonable claimatavistic at-a-VIS-tic reverting to a primitive typeavuncular a-VUNC-you-lar "like an uncle"; benevolent bathos BATH-ose an anticlimaxbereft ba-REFT to be deprived of something valuable "He was bereft of reason."
"The Red Book and The Red Book: Jung, Tolkien and the Convergence of Images" 6 Aug Fascinating and oddly relevant for our times, one hundred years hence!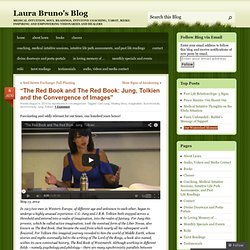 May 13, 2014 In 1913 two men in Western Europe, of different age and unknown to each other, began to undergo a highly unusual experience: C.G. Jung and J.R.R. Tolkien both stepped across a threshold and entered into a realm of imagination, into the realm of fantasy. Women of Words | Becca Psyche Tarnas. "For if it be allowed that women were destined by Providence to acquire human virtues, and by the exercise of their understandings, that stability of character which is the firmest ground to rest our future hopes upon, they must be permitted to turn to the fountain of light, and not forced to shape their course by the twinkling of a mere satellite."[1] – Mary Wollstonecraft The role of women in 18th century England was constrained almost solely to the realm of marriage and motherhood, and few women had the means to raise their voices in protection of their rights.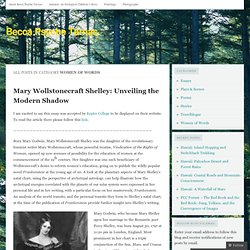 Yet one woman, Mary Wollstonecraft, had a voice so powerful that she is considered by many to have been the first feminist to rise out of Europe. In her emphatic treatise Vindication of the Rights of Woman, Wollstonecraft speaks out with little restraint about her thoughts on women's education, women's duties as mothers and wives, and women's roles and rights in society. Writing is Easy. "There is nothing to writing.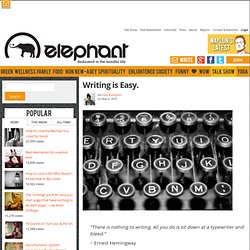 All you do is sit down at a typewriter and bleed." ~ Ernest Hemingway. 3 Quotes every Writer should Ink to their Souls. Some days we stumble across words that leak into our souls and feel like a breeze on a sweltering, hot August day.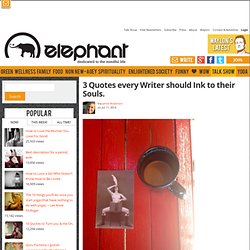 They give us some relief, sweet redemption and allow us to exhale festered artistic torment we didn't even know existed. As an artist, and a writer we essentially drop our soul's briefs each day. We let our souls bleed. Our hearts open and our words and love fills the edges of paper with our vulnerability. We get naked each time we publish an article. 11 Writing Tips. Writing is simple.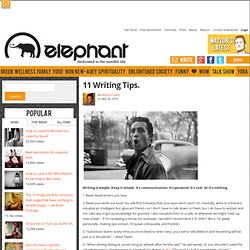 Keep it simple. It's communication. T.S. Eliot Reads His Modernist Masterpieces "The Waste Land" and "The Love Song of J. Alfred Prufrock" Did you know T.S.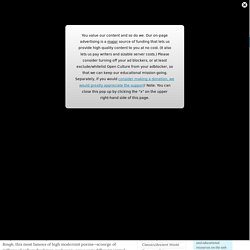 Eliot's portentous and heavily allusive 1922 masterpiece "The Waste Land" was originally titled "He Do the Police in Different Voices," a quote from Charles Dickens' Our Mutual Friend? Filled with references to Dante's Divine Comedy, Joseph Conrad's Heart of Darkness, and James Frazier's The Golden Bough, this most famous of high modernist poems—scourge of millions of college freshman each year—was a very different animal before notorious modernist impresario Ezra Pound got his hands on it.
Pound's heavy reworking is responsible for the poem you hear above, read by Eliot himself. LIBROS. My Love Affair with Dirt. ~ Ruby Claire. Via Ruby Claireon Jun 29, 2014 Dirt… dirty… mud… blood… wine… soil… soil… Soul.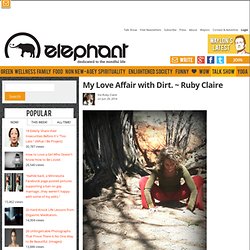 Mmmmm, I've always loved the taste of dirt. As a child I would eat it. I'd make mud pies and throw them at people when they weren't looking. Rhory's challenge - time sphere. Lh3.googleusercontent.com. Mosaic Commons | Inspiring & Mindful Musings. The 50 Books Everyone Needs to Read, 1963-2013. The thing about reading is this: it takes a long time.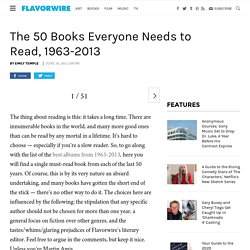 There are innumerable books in the world, and many more good ones than can be read by any mortal in a lifetime. It's hard to choose — especially if you're a slow reader. So, to go along with the list of the best albums from 1963-2013, here you will find a single must-read book from each of the last 50 years. Of course, this is by its very nature an absurd undertaking, and many books have gotten the short end of the stick — there's no other way to do it.
The choices here are influenced by the following: the stipulation that any specific author should not be chosen for more than one year, a general focus on fiction over other genres, and the tastes/whims/glaring prejudices of Flavorwire's literary editor. Toxic Talk and Words of Feather. Julian Wash, ContributorWaking Times Dear Humans, I wish to return to your awareness an aspect of the Human condition that remains as relevant today as when the first words were whispered into existence.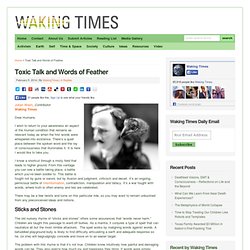 There's a quiet place between the spoken word and the ray of consciousness that illuminates it. Starfish Symbolism – Exploring the Magick of these "Star People" | Tania Marie's Blog. Magickal capture of rainbow light around these beautiful ochre starfish at Crystal Cove Every day of the weekend I get out in nature hiking in the mountains or hills and walking on the beach to be in the elements I love so much and to recharge. Each time is always a beautiful and invigorating experience, but yesterday had to be one of, if not the most magickal beach days yet. Happy (Quantum) Leap Year! I awoke this morning from a dream in which I identified the Hagalaz Rune to a former college professor of mine. He had begun to show me his latest research, found in a rare book with an ornate Hagalaz on the left page and a "picture" of an infinity sign made of bees on the other side. I put picture in quotes, because the bees buzzed around, keeping the infinity sign in living, breathing motion. "That's Hagalaz!"
I said to the professor, "Do you know what that means?!" I stared, transfixed by the bees, watching how their energy engaged the Rune, making it, too, seem to dance upon the page. Book Review: Starhawk's "The Fifth Sacred Thing" A local friend suggested I read "The Fifth Sacred Thing," so that some of us could form a book discussion group about the ideas and vision of this novel.
Although it took me awhile to get into the characters, I quickly saw why my friend has read this book three times and counting. It's filled with permaculture principles, magick, natural healing, and the tension between totalitarian dystopia and a power-from-within ecotopia based upon respect, not control. Books, Music on Celtic Mythology Tarot Fairy Magic Underworld RJ Stewart.
The Living World of Faery Book by RJ Stewart. 1995/1999. A definitive book on the faery tradition, with tales, ballads, visionary techniques, ceremonies, herb lore, faery healing, the Second Sight, and modern ways of working with the old traditions. Includes extracts from an 18th century journal, previously unpublished. The Snow Queen & The Frost Faeries - Witchcraft Diaries. 8 things Harry Potter fans are doing to fight real-life dark forces | Spirit In Action. If Harry Potter were a real person, he'd fight child labor, voter suppression, and poverty. Here are several ways Harry's fans have taken his values from the books and movies into the real world. By Katrina Rabeler, YES! Magazine / December 4, 2013 Actress Emma Watson (center) poses with actors Rupert Grint (left) and Daniel Radcliffe (right) at the world premiere of "Harry Potter and the Deathly Hallows – Part 2″ in London in 2011. Harry Potter fans have joined together to carry Harry Potter's fight against injustices into the real world.
The Psychedelic Secrets of Santa Claus. Books etc. Laurie Anderson's Farewell to Lou Reed. 8 Books For a Higher Existence. What DO you Create? A Simple Novel Outline - 9 questions for 25 chapters « H.E. Roulo. Female Perspectives: Five Novels That Bring Outsiders In. Free Classic AudioBooks. Digital narration for the 21st Century. Seven Tips From Ernest Hemingway on How to Write Fiction. The Magician's Book. "The Pinecone": Forgotten genius.
48 quick reads to impress university admissions tutors « i love english literature. Gimme some reads | Happy Birthday #CSLewis | gimmesomereads.com. 10 Essential Books for Book Nerds. 460+ FREE BOOK NOTES SUMMARY STUDY GUIDES Literature Notes Free Booknotes,Study Guide. Literature Project - Free eBooks Online. Ink - Quotes about writing by writers presented by The Fontayne Group. Writing. Well, At Least There Was Good Stuff to Read: The Books of the Decade | Books. Scheherazade in Blue Jeans. 15 Things Kurt Vonnegut Said Better Than Anyone Else Ever Has Or Will | Books | Inventory. Saying Thanks To My Ghosts. Shira Lipkin. Broken Toys. The Ultimate Guide to Writing Better Than You Normally Do. Choose Your Own Philosophical Adventure #1: Escape from the Dialectic - Waggish.
Nerd Paradise : How to Write a 20 Page Research Paper in Under a Day. Top 100. The War on Words or How I Learned to Stop Worrying and Love the F-Bomb. Fifty (50!) Tools which can help you in Writing. 80 Journal Writing Prompts | TomSlatin.com. Creating Remarkable Poetry Through Subtraction. Untitled. Cure writer's block with writing prompts - writing tips character name generator.
Internet Resources - Writers Resources - Writing Links & Writers Links for Writers - Fiction Writing. Thirty Question Character Survey. The Thirty-Six Dramatic Situations. Short Story Ideas - Random. How to use a semicolon.
Shoshone Legends (Folklore, Myths, and Traditional Indian Stories) Quotes. Literature to purchase. The Book Seer | Find your next book. Writers. The Best 100 Opening Lines From Books. Rare Book Room. Ten Novels Every Aspiring Writer Should Read.
Classics - A Nerd's Guide to Reading. Poet Seers - Poem of the Day. PoemHunter.Com - Thousands of poems and poets.. Poetry Search Engine. Poems.
---