Writing reading
Laurie Anderson's Farewell to Lou Reed
8 Books For a Higher Existence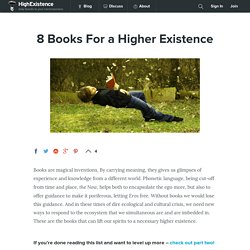 Books are magical inventions.
If you could create anything, anything at all, with no limits..... what would you create? Take a moment and think about that. One of my favorite authors of all time was Robert A Heinlein, and one of my favorite books was actually one of the last that he wrote before he passed in 1986.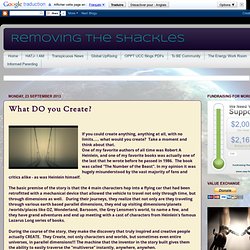 What DO you Create?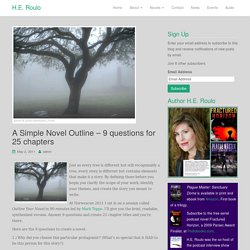 Just as every tree is different but still recognizably a tree, every story is different but contains elements that make it a story.
A Simple Novel Outline - 9 questions for 25 chapters « H.E. Roulo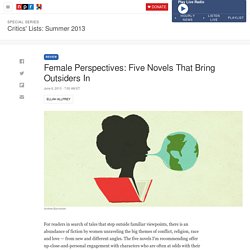 Female Perspectives: Five Novels That Bring Outsiders In
Andrew Bannecker For readers in search of tales that step outside familiar viewpoints, there is an abundance of fiction by women unraveling the big themes of conflict, religion, race and love — from new and different angles. The five novels I'm recommending offer up-close-and-personal engagement with characters who are often at odds with their communities or whose lives are so far on the periphery that we can be sure history books would pass them by. They make far-flung places and faraway lives feel immediate. This, for me, is the magic of good fiction: that outsiders — a child from the slums, an executed zealot, a reluctant immigrant, a guilty survivor and a suffering mother — can take center stage and make the world a bigger, yet more knowable, place.
Free Classic AudioBooks. Digital narration for the 21st Century
Seven Tips From Ernest Hemingway on How to Write Fiction
Before he was a big game hunter, before he was a deep-sea fisherman, Ernest Hemingway was a craftsman who would rise very early in the morning and write.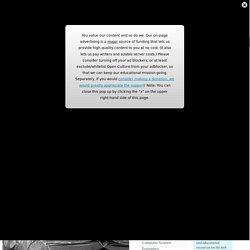 The Magician's Book
In a remote rural corner of northern England stands a small, deceptively simple-looking church, built in the early 1840s. The church, St.
"The Pinecone": Forgotten genius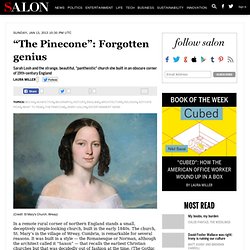 Like all the literary, visual and performing arts, great poetry simultaneously reflects deeply personal and staggeringly universal themes and images. And, of course, also remains firmly rooted in the creators' time and place, despite often possessing a transcendent nature.
20 American Poems Every Student Should Know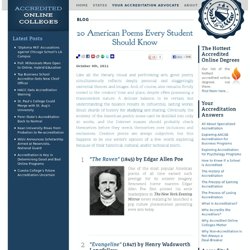 48 quick reads to impress university admissions tutors « i love english literature
gimme some reads | Happy Birthday #CSLewis | gimmesomereads.com
Today in 1898, one of my all-time favourite authors was born: C.
What makes a book nerd? Reading a lot of books — and liking to talk about said books — is a major requirement, of course, but there's often something a little more nebulous involved: book nerds are the kinds of people who get a little thrill when walking into a bookstore, who press volumes into their friends' hands with serious promises of life changing moments, who are fascinated by following the many tangled threads through authors and literature, happily wandering wherever they might lead. Robin Sloan's recently published Mr.
10 Essential Books for Book Nerds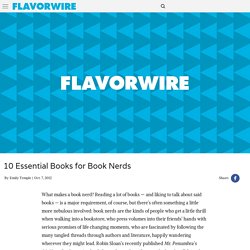 Note-Cliff Notes ™,Cliffnotes ™,Cliff's Notes ™ are registered trademarks of John Wiley & Sons, Inc. We have no relation, other than as a distributor. To access the content and explore our other offerings, simply click on a link from the navigation menu on the left side.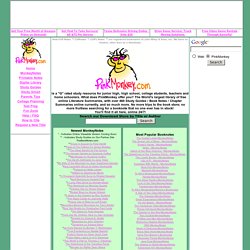 460+ FREE BOOK NOTES SUMMARY STUDY GUIDES Literature Notes Free Booknotes,Study Guide
Literature Project - Free eBooks Online
Ink - Quotes about writing by writers presented by The Fontayne Group
Well, At Least There Was Good Stuff to Read: The Books of the Decade | Books | The L Magazine - New York City's Local Event and Arts & Culture Guide
Anybody remember how anxious and thrilled we were in those last months of the 20th century? When we weren't at war and we had a budget surplus and it looked like Al Gore would be president? The prospect of a 21st century filled with new technologies, new art and literature loomed large and bright.
Scheherazade in Blue Jeans
1. "I urge you to please notice when you are happy, and exclaim or murmur or think at some point, 'If this isn't nice, I don't know what is.'"
15 Things Kurt Vonnegut Said Better Than Anyone Else Ever Has Or Will | Books | Inventory
Saying Thanks To My Ghosts
Shira Lipkin
T his is what I heard them say: "You can have the others, but Tinashe comes with me."
Broken Toys | MAMA
The Ultimate Guide to Writing Better Than You Normally Do.
Writing is a muscle.
Choose Your Own Philosophical Adventure #1: Escape from the Dialectic - Waggish
Nerd Paradise : How to Write a 20 Page Research Paper in Under a Day
Top 100
The War on Words or How I Learned to Stop Worrying and Love the F-Bomb
Fifty (50!) Tools which can help you in Writing
80 Journal Writing Prompts | TomSlatin.com
Creating Remarkable Poetry Through Subtraction
unnamed pearl
Cure writer's block with writing prompts - writing tips character name generator
Internet Resources - Writers Resources - Writing Links & Writers Links for Writers - Fiction Writing
Thirty Question Character Survey | National Novel Writing Month
The Thirty-Six Dramatic Situations
Short Story Ideas - Random
How to use a semicolon
Shoshone Legends (Folklore, Myths, and Traditional Indian Stories)
The Book Seer | Find your next book
Writers
The Best 100 Opening Lines From Books
Rare Book Room
Ten Novels Every Aspiring Writer Should Read
Classics - A Nerd's Guide to Reading
Poet Seers - Poem of the Day
PoemHunter.Com - Thousands of poems and poets.. Poetry Search Engine
The Compendium