Writing reading
The thing about reading is this: it takes a long time. There are innumerable books in the world, and many more good ones than can be read by any mortal in a lifetime. It's hard to choose — especially if you're a slow reader. So, to go along with the list of the best albums from 1963-2013, here you will find a single must-read book from each of the last 50 years. Of course, this is by its very nature an absurd undertaking, and many books have gotten the short end of the stick — there's no other way to do it. The choices here are influenced by the following: the stipulation that any specific author should not be chosen for more than one year, a general focus on fiction over other genres, and the tastes/whims/glaring prejudices of Flavorwire's literary editor.
The 50 Books Everyone Needs to Read, 1963-2013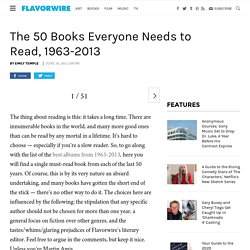 Julian Wash, ContributorWaking Times Dear Humans, I wish to return to your awareness an aspect of the Human condition that remains as relevant today as when the first words were whispered into existence. There's a quiet place between the spoken word and the ray of consciousness that illuminates it.
Toxic Talk and Words of Feather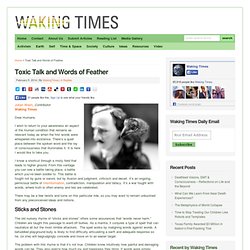 i 2 Votes Magickal capture of rainbow light around these beautiful ochre starfish at Crystal Cove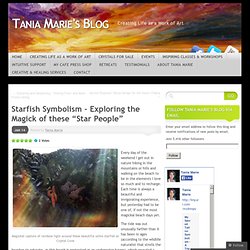 Starfish Symbolism – Exploring the Magick of these "Star People" | Tania Marie's Blog
Happy (Quantum) Leap Year!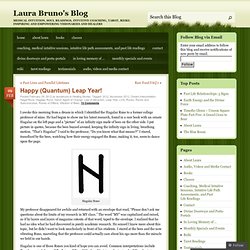 I awoke this morning from a dream in which I identified the Hagalaz Rune to a former college professor of mine. He had begun to show me his latest research, found in a rare book with an ornate Hagalaz on the left page and a "picture" of an infinity sign made of bees on the other side. I put picture in quotes, because the bees buzzed around, keeping the infinity sign in living, breathing motion. "That's Hagalaz!" I said to the professor, "Do you know what that means?!" I stared, transfixed by the bees, watching how their energy engaged the Rune, making it, too, seem to dance upon the page.
Book Review: Starhawk's "The Fifth Sacred Thing"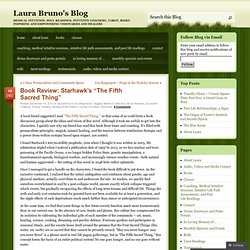 A local friend suggested I read "The Fifth Sacred Thing," so that some of us could form a book discussion group about the ideas and vision of this novel. Although it took me awhile to get into the characters, I quickly saw why my friend has read this book three times and counting. It's filled with permaculture principles, magick, natural healing, and the tension between totalitarian dystopia and a power-from-within ecotopia based upon respect, not control.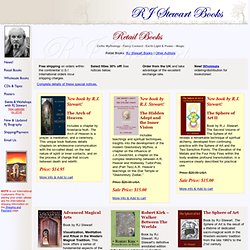 Books, Music on Celtic Mythology Tarot Fairy Magic Underworld RJ Stewart
The Living World of Faery Book by RJ Stewart. 1995/1999. A definitive book on the faery tradition, with tales, ballads, visionary techniques, ceremonies, herb lore, faery healing, the Second Sight, and modern ways of working with the old traditions. Includes extracts from an 18th century journal, previously unpublished.
▶ The Snow Queen & The Frost Faeries - Witchcraft Diaries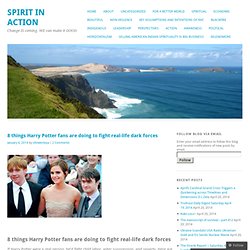 8 things Harry Potter fans are doing to fight real-life dark forces | Spirit In Action
If Harry Potter were a real person, he'd fight child labor, voter suppression, and poverty. Here are several ways Harry's fans have taken his values from the books and movies into the real world. By Katrina Rabeler, YES! Magazine / December 4, 2013 Actress Emma Watson (center) poses with actors Rupert Grint (left) and Daniel Radcliffe (right) at the world premiere of "Harry Potter and the Deathly Hallows – Part 2″ in London in 2011. Harry Potter fans have joined together to carry Harry Potter's fight against injustices into the real world.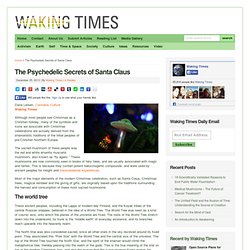 Dana Larsen, Cannabis CultureWaking Times Although most people see Christmas as a Christian holiday, many of the symbols and icons we associate with Christmas celebrations are actually derived from the shamanistic traditions of the tribal peoples of pre-Christian Northern Europe. The sacred mushroom of these people was the red and white amanita muscaria mushroom, also known as "fly agaric." These mushrooms are now commonly seen in books of fairy tales, and are usually associated with magic and fairies. This is because they contain potent hallucinogenic compounds, and were used by ancient peoples for insight and transcendental experiences. Most of the major elements of the modern Christmas celebration, such as Santa Claus, Christmas trees, magical reindeer and the giving of gifts, are originally based upon the traditions surrounding the harvest and consumption of these most sacred mushrooms.
The Psychedelic Secrets of Santa Claus
Laurie Anderson's Farewell to Lou Reed
8 Books For a Higher Existence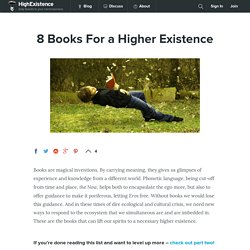 Books are magical inventions. By carrying meaning, they gives us glimpses of experience and knowledge from a different world. Phonetic language, being cut-off from time and place, the Now, helps both to encapsulate the ego more, but also to offer guidance to make it poriferous, letting Eros free. Without books we would lose this guidance.
If you could create anything, anything at all, with no limits..... what would you create? Take a moment and think about that. One of my favorite authors of all time was Robert A Heinlein, and one of my favorite books was actually one of the last that he wrote before he passed in 1986.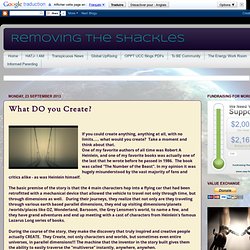 What DO you Create?
Just as every tree is different but still recognizably a tree, every story is different but contains elements that make it a story. By defining those before you begin you clarify the scope of your work, identify your themes, and create the story you meant to write. At Norwescon 2011 I sat in on a session called Outline Your Novel in 90-minutes led by Mark Teppo. I'll give you the brief, readable, synthesized version. Answer 9 questions and create 25 chapter titles and you're there.
A Simple Novel Outline - 9 questions for 25 chapters « H.E. Roulo
Female Perspectives: Five Novels That Bring Outsiders In
Andrew Bannecker For readers in search of tales that step outside familiar viewpoints, there is an abundance of fiction by women unraveling the big themes of conflict, religion, race and love — from new and different angles. The five novels I'm recommending offer up-close-and-personal engagement with characters who are often at odds with their communities or whose lives are so far on the periphery that we can be sure history books would pass them by. They make far-flung places and faraway lives feel immediate. This, for me, is the magic of good fiction: that outsiders — a child from the slums, an executed zealot, a reluctant immigrant, a guilty survivor and a suffering mother — can take center stage and make the world a bigger, yet more knowable, place.
Free Classic AudioBooks. Digital narration for the 21st Century
Free Audio Books Indexed by the Authors Last Name A B C D E F G H I J K L M N O P Q R S T U V W X Y Z Collections The downloads are available in mp3 and in m4b audio book format for iTunes and the iPod. The advantage of using the iPod format is that it remembers where you stop in a file. The iTunes player software is available for free download here. New books will be added often!
Seven Tips From Ernest Hemingway on How to Write Fiction
Before he was a big game hunter, before he was a deep-sea fisherman, Ernest Hemingway was a craftsman who would rise very early in the morning and write. His best stories are masterpieces of the modern era, and his prose style is one of the most influential of the 20th century. Hemingway never wrote a treatise on the art of writing fiction. He did, however, leave behind a great many passages in letters, articles and books with opinions and advice on writing.
The Magician's Book
In a remote rural corner of northern England stands a small, deceptively simple-looking church, built in the early 1840s. The church, St. Mary's in the village of Wreay, Cumbria, is remarkable for several reasons. It was built in a style — the Romanesque or Norman, although the architect called it "Saxon" — that recalls the earliest Christian churches but that was decidedly out of fashion at the time. (The Gothic Revival of London's Palace of Westminister, with its tower containing Big Ben, was both all the rage and regarded by some authorities as morally and theologically obligatory.) Instead of the saints, biblical scenes and other customary motifs of ecclesiastical architecture, the windows, stone ornamentation and wooden carvings used to decorate the interior of St.
"The Pinecone": Forgotten genius
48 quick reads to impress university admissions tutors « i love english literature
gimme some reads | Happy Birthday #CSLewis | gimmesomereads.com
10 Essential Books for Book Nerds
460+ FREE BOOK NOTES SUMMARY STUDY GUIDES Literature Notes Free Booknotes,Study Guide
Literature Project - Free eBooks Online
Ink - Quotes about writing by writers presented by The Fontayne Group
Well, At Least There Was Good Stuff to Read: The Books of the Decade | Books | The L Magazine - New York City's Local Event and Arts & Culture Guide
Scheherazade in Blue Jeans
15 Things Kurt Vonnegut Said Better Than Anyone Else Ever Has Or Will | Books | Inventory
Saying Thanks To My Ghosts
Shira Lipkin
Broken Toys | MAMA
The Ultimate Guide to Writing Better Than You Normally Do.
Choose Your Own Philosophical Adventure #1: Escape from the Dialectic - Waggish
Nerd Paradise : How to Write a 20 Page Research Paper in Under a Day
Top 100
The War on Words or How I Learned to Stop Worrying and Love the F-Bomb
Fifty (50!) Tools which can help you in Writing
80 Journal Writing Prompts | TomSlatin.com
Creating Remarkable Poetry Through Subtraction
unnamed pearl
Cure writer's block with writing prompts - writing tips character name generator
Internet Resources - Writers Resources - Writing Links & Writers Links for Writers - Fiction Writing
Thirty Question Character Survey | National Novel Writing Month
The Thirty-Six Dramatic Situations
Short Story Ideas - Random
How to use a semicolon
Shoshone Legends (Folklore, Myths, and Traditional Indian Stories)
The Book Seer | Find your next book
Writers
The Best 100 Opening Lines From Books
Rare Book Room
Ten Novels Every Aspiring Writer Should Read
Classics - A Nerd's Guide to Reading
Poet Seers - Poem of the Day
PoemHunter.Com - Thousands of poems and poets.. Poetry Search Engine
The Compendium